By G C Mays
Despite a tornado and a La Niña-induced mild winter, Compass Minerals (NYSE:CMP) posted rock solid profits in 2011. Full year revenues of $1.105 billion were 3.4% higher than 2010 but fell just short of the $1.167 billion in sales earned during 2008. Net income of $149.0 million was off last year's earnings of $150.6 million by a meager 1%. Will drought conditions persist and freeze revenues or will 2012 bring a blizzard and record earnings along with it?
Salt
Salt sales totaled $250.1 million in the during the fourth quarter, this was 16% lower than the year ago total of $296.9 million. Despite the fourth quarter slide full year sales of $885.3 million was 1.7% higher than a year ago. However, operating earnings did take it on the chin as margins dropped to 21% from 24% in 2010.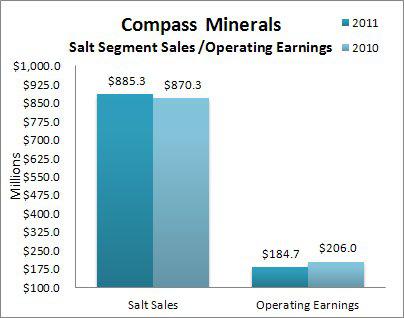 Source: The Mays Report
Highway de-icing tons sold tumbled 17% as La Niña insisted that the U.S. enjoy a mild winter on her. The mild winter also eased consumer and industrial demand as tons sold declined by 8%. Highway de-icing salt represents about 80% of total salt sales and 70% of de-icing sales occur between the months of November through March. We can quickly see how an unseasonably warm winter could melt this company's profits.
Click on charts below to enlarge: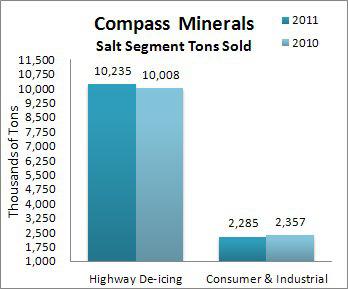 Source: The Mays Report
The realized price per ton for highway de-icing salt declined by 4.5% in the fourth quarter compared to the year earlier period while consumer and industrial pricing was flat. For the full year, realized prices for highway de-icing and the consumer & industrial salts were higher by 1.5% and 1.7%, respectively.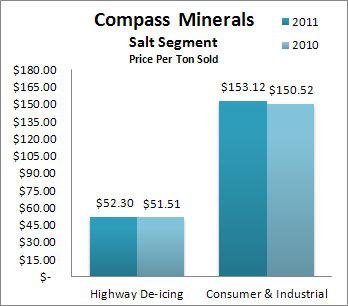 Source: The Mays Report
In addition to warm winter weather, an August 2011 tornado curtailed fourth quarter production at the company's rock salt mine in Goderich, Ontario. While there was no damage to the underground operations of the salt mine, the mine's surface structures and evaporation plant sustained significant damage. This reduced production resulted in higher per unit costs as well as caused the company to buy salt from third parties.
The company estimates losses from the tornado had a $16.4 million negative impact on operating earnings in the fourth quarter. The estimate includes lost sales volumes, higher per unit production costs etc. The company expects its business interruption insurance to cover most of the losses, but the exact amount will remain unknown until future periods. Under GAAP, these losses cannot be recognized until the company settles the insurance claim. The company expects an extra $20 million in tornado-related losses in its first quarter of 2012.
Specialty Fertilizer
Specialty fertilizer sales were $53.6 million in the fourth quarter, down by 5.3%. For the full year, revenues were higher by almost 12%. Boosting full year revenues of $209.6 million were the accretive revenues provided by the company's January 2011 acquisition of Big Quill Resources as well as an 18% increase in average realized prices. The extra revenues provided by the acquisition contributed greatly to the company's higher operating earnings during the quarter and full year. Specialty fertilizer sales have only represented between 13% to 19% of consolidated sales in the last five fiscal years.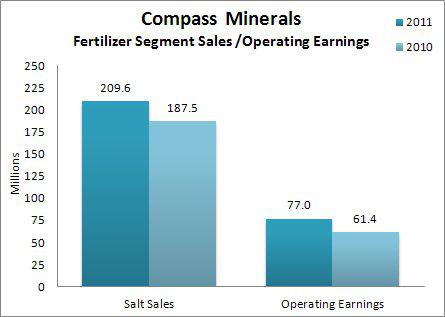 Source: The Mays Report
Average selling prices for the quarter and full year were higher at $631 and $610 per ton, respectively. Compass Minerals sells SOP or sulfate of potash. The most widely used is KCI or muriate of potash, which is less expensive than SOP. Market forces impact SOP & KCI pricing in the same way. However, SOP is generally priced at a premium to KCI. The chart below illustrates the premium price received for SOP by Compass Minerals versus prices received for KCI by Potash Corp (POT), and Agrium (AGU) for the last 5 years. I have excluded Mosaic (NYSE:MOS) from the illustration because its fiscal year ends in May and the company's average prices would not cover the same time period as the other companies.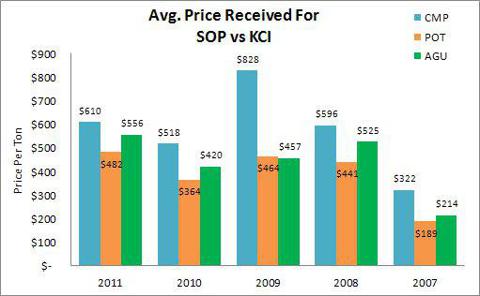 Source: The Mays Report
The company estimates that the average annual worldwide consumption of all potash fertilizers is roughly 62 million tons. Sulfate of Potash represents about 10% of all potash consumption. SOP is typically used by growers who have a need for a fertilizer with a low chloride content, higher yield or quality for their crops. Using SOP has been proven to improve the yields and/or quality of crops such as potatoes, citrus fruits, grapes, and almonds, some vegetables, tobacco and turf grass, including turf for golf courses.
Expenses were kept under control as SG&A as a percentage of sales was virtually unchanged at $94.5 million, or 11.6% of sales versus $88.4 million in 2010. In fact, in four of the last five years SG&A expenses as a percentage of sales were between 11.0% and 11.7%.
At a recent price of $72.08, the stock is almost fairly valued on a relative basis with the non-metal mining peer group, which includes the fertilizer companies. The stock is fairly valued at about $74.20. If the stock stumbled and dropped below $70 it would be an attractive pickup and would adequately compensate an investor for taking the risk versus holding a risk free asset. The company is also trading at an attractive dividend yield of 2.75% and has raised its dividend each year for the last nine years.
There are risks. One could safely assume that the first quarter revenues and earnings will be sub par due to continued warm winter temperatures in North America. Also, many customers may have higher than normal rock salt inventories going into the next winter and it could take a blizzard or two to force customers to restock.
Disclosure: I have no positions in any stocks mentioned, and no plans to initiate any positions within the next 72 hours.