Based in Sydney, Australia, Atlassian (TEAM) was founded in 2002 to help teams collaborate better. To start, the company developed software to help software developers because of the intensely collaborative and highly specialized nature of software teams. Atlassian started with helping software development teams, and over time the company's collaboration offerings expanded to other business teams, such as the HR department, the legal team, the finance team, etc.
Atlassian then recognized the need for collaboration solutions among all sort of teams within the collective work environment. It has built its applications to be usable by all teams and invest in new function and product development to further satisfy the needs for teams other than the software division.
Here is a road map of the company's software developments: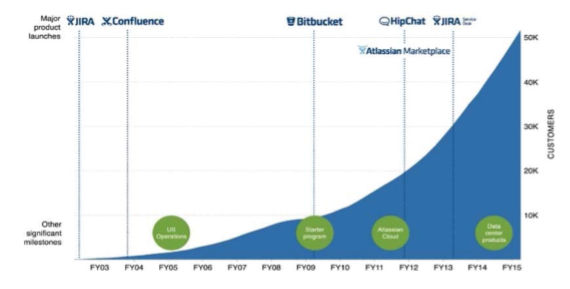 Source: Company filings
Massive Growing opportunity:
Over the last decades, the demand for easy-to-use and highly functional development collaboration tools among both traditional and software-drive companies rose tremendously. The shift toward software-driven business models increased the need for Atlassian's core collaboration technologies that address the challenges of software teams and streamline the software development process. The market for software developers is largely driven by two key segments. First, traditional companies that are innovating their business model to increase the efficiency and automate the businesses processes. These type of companies include General Motors, Comcast, and HSBC. On the other hand, it is also driven by newer technological entrants, typically the ones that are renovating and redefining their respective industry. They are Netflix, Tesla and Uber. Analysts estimate that the market for software and technical teams, business teams and IT and service teams is at about $8.5 billion worldwide.
The company have roughly 51,600 customers across a variety of verticals. Globally, there are more than 2 million companies that generate over 1 million in annual revenue that would have a need for Atlassian's collaboration software. The current penetration for this segment is only at 2.5%. Analyst estimate that Atlassian could reasonably hit 20% or higher penetration in the 1 million annual revenue customer base. This is because of the company's continuous reinvestment in its existing software's functionality, new product development, its scalable go-to-market strategy and its low-cost approach. This means that Atlassian can potentially be a $3 billion annual revenue company which is over 7 times the current run rate. Better yet, this does not include any upside from the company's potential expansion opportunity with its existing customers.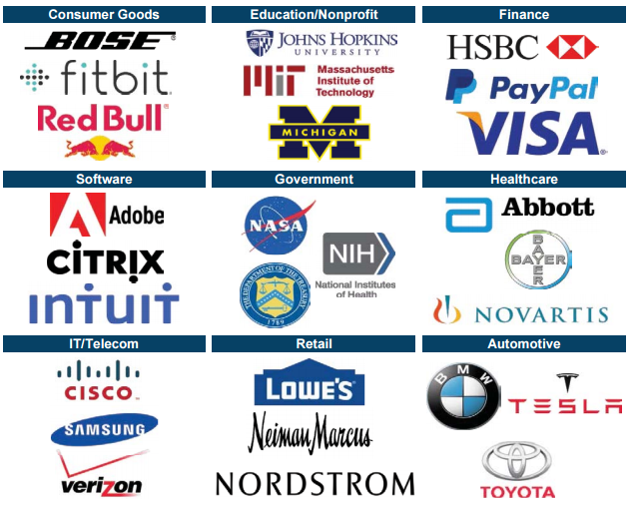 Source: Company Filings
Reference Customers:
Their current customers include technology companies, scientific companies, large telecommunication companies, E-commerce retailers, larger print and digital media companies and filmmaking software providers. Most of these customers have been with Atlassian for many years. Once the product is adopted they are extremely sticky because the learning curve for new products are usually very high. Atlassian can leverage upon its existing customers and offer additional products for further penetration. Customers typically increase use as the solution expands across different teams within the organization as existing Atlassian teams buy additional products. The company provided a cohort analysis showing that customers have spent around seven times their initial purchase over the next five years after their first purchase.
As of September 30, 2015, 79 of Fortune 100 companies and 273 of Fortune 500 companies are customers of Atlassian - this includes tens of thousands of users across multiple products. Translating to dollar figures, more than 850 customers are paying over $50,000 a year for Atlassian's software. Over the last three years, it has grown its customer base at a rate of 33% CAGR. More importantly, Atlassian focuses on customer success and almost all of the customers are referable to others. This is different from the traditional enterprise-based-quota-carrying sales team to win enterprise accounts.
Software integration:
Atlassian has been with most of its larger technology companies for 5-10 years, starting with JIRA to track bugs, resolve issues with data centers, and work the issues and bugs through different teams. Many customers also purchase Confluence since it fits into the same server set easily and its very favorable for customers to have a wiki system with its JIRA bug tracking system. It compliments well and integrates tightly unlike other third party software. Two years ago, many customers left Campfire and moved to Atlassian's Hipchat for additional features as photo sharing an social-media integrations. Last year, many customers added JIRA Service Desk to help track the process of their work. Companies chose Atlassian's JIRA Service Desk over other third party software companies because it was very easy to move deadlines and assignments between different teams. This was because of the tight level of integration among all of Atlassian's software and it was more intuitive for internal customers to use. Atlassian has been offering products that replaced a company's original software while integrating more deeply into the company's daily operations.
R&D:
The company is planning to invest aggressively in R&D over the long term to maintain and extend its technology advantage versus both existing competitors and potential startups. The company announced in its conference in November the updates for its software including double the speed of its JIRA software agile boards, five-times page response time for Confluence, increase the speed for HipChat by more than four times, and release of JIRA 7 which is a software for teams across the entire organization. These technological developments gave investors confidence that Atlassian is well positioned to continue delivering functionality that is well ahead of its competitors and disruptive to the traditional methods used by information workers.
Management team:
The company's co-founders and co-CEOS, Michael Cannon-Brookes and Scott Farquhar, have done an astonishing job developing and transforming the company's software over the last few years. They have been able to constantly expand their software offerings while developing new functionality for their existing products. Moreover, the company's CFO has over seven years of experience in the field and was the CFO of Adobe. I believe the management team has the executing ability and financing expertise to continue the growth and success stories at Atlassian.
Risk:
Lack of Long-Term Contracts:
Most of the company's cloud customers are on monthly contractual terms and on-premise customers are on annual contractual terms. If customers decide to switch to a new competing service, there is very little switching cost. This also limits the visibility of the company into future revenue compared with other SaaS companies that may have customers locked in for years.
Low Barriers of Entry:
Some of Atlassian's product are not very difficult to replicate and new entrants could develop competing products without a huge upfront investment. That being said, most of the new entrants are focused on selling point solutions instead of a workplace collaboration product that can be used for the full scope of their businesses activities.
Valuation:

Source: FactSet and William Blair estimates
Currently, Atlassian is trading at 9.6x its 2017 revenue which is at a premium to its peers. However, its estimated 2017 EV/FVF is lower than the fast-growth SaaS group. I think because of the company's massive growth opportunity, disruptive software and strong management team, the current valuation is largely justified and represents an attractive entry point for long-term growth investors.
Disclosure: I/we have no positions in any stocks mentioned, and no plans to initiate any positions within the next 72 hours.
I wrote this article myself, and it expresses my own opinions. I am not receiving compensation for it (other than from Seeking Alpha). I have no business relationship with any company whose stock is mentioned in this article.