To say that the broader market (NYSEARCA:SPY), (NYSEARCA:DIA), has had a rough start to the year would be a massive understatement. So far, it has actually been the worst start ever by various accounts.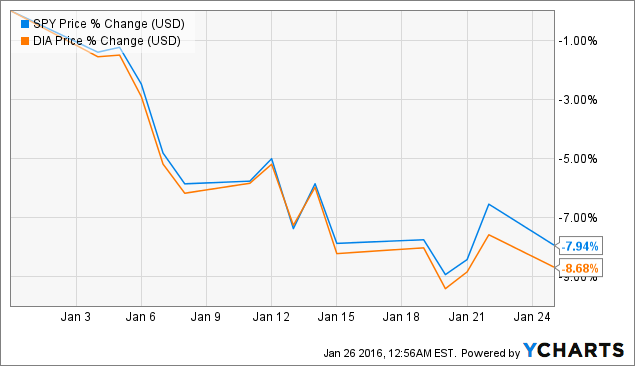 And the media is quite afraid as well. Many of them are worrying about the future of the U.S. market, suggesting that this could be the beginning of a huge bear market looming amid the horizon.
Worrying headlines are brewing everywhere.
CNN Money asks, "Is this 2008 all over again?"
Profit Confidential believes that a "stock market crash is a dire warning for Americans everywhere."
Bloomberg put out an article titled, "Are we headed for Recession?"
It should go without saying that the past week has been a trying time. People are worried about oil prices, slowdown of Chinese economic growth, etc. Fear is dominating the market.
Now, I'm not trying to say these worries are outright wrong. I have no problem acknowledging that these fears are valid; the aforementioned developments definitely do not bode well for the American economy overall.
But what I do know is that there have been numerous times in which the market was predicted to collapse even since 2008, and that potential bears during that period would have missed out on one of the greatest bull markets of all time. My view is that chances are, this probably won't be the end of the world as so many predict.
Again, I am not trying to completely discredit the bearish case, as during tough times, such as these past few weeks, their ideas obviously have some degree of merit.
I just want to shed some light on the failures of many arguments that have been used, as well as suggest increasing one's exposure if you're a contrarian with a mid to long term outlook.
First off, let's just go over some of the past predictions of a market collapse that have been made since the end of the 2008-2009 debacle, when the last real "crash" happened. You'll find that bears were and always have been bears, no matter what has actually developed since.
7/3/2010 - Robert Prechter, market forecaster and social theorist, in "another league entirely". Convinced we have entered a market decline of staggering proportions - perhaps the biggest of the last 300 years. Says that "buy-and-hold stock investors will be devastated in a crash much worse than the declines of 2008 and early 2009 or the worst years of the Great Depression or the Panic of 1873".
9/16/2011 - Harry Dent, who predicted that the markets would crash about a year ago now says "equities will fall by at least 50% and possibly as much as 75% to our best targets of 3,000 to 3,800 on the Dow."
9/18/2011 - Robert Weidmer, economist who predicted 2008 recession warns of greater problems ahead. Believes that "two more bubbles will burst probably by 2013 - of the dollar and of government debt".
11/6/2011 - Mark Spitznagel, mutual fund manager who returns 23%, anticipates another bear market on the horizon. The markets are "stupidly expensive".
6/15/2012 - Peter Schiff, economist, says that "New Crash will be worse than 2008. 2008 wasn't the real crash. The real crash is coming." Predicts a 90% stock market drop.
5/30/2012 - Keith Jurow, Ph.D., says to "prepare for the coming housing collapse."
7/30/2012 - Arch Crawford, technical analyst, says that his "technical analysis and astro indicators" predict an ensuing stock market crash.
10/25/2012 - Paul Farrell, columnist at MarketWatch, believes that Wall Street never learned from its mistakes during 2008 and is doomed to imminently repeat its crash cycle again.
1/8/2013 - Harry Dent, who predicted that the stock market would crash just over two years ago, predicts again that another ensuing crash would happen by the end of summer.
3/13/2013 - Chris Martenson, "world-renowned expert" on identifying dangerous, yet hidden, exponential growth patterns in global economies, predicts a 60% stock market collapse in the next three months.
Now, I can go on and on about finding various experts predicting extreme financial downturns in times of strife, but I hope the point has been made clear. There have been many sources and news sites proposing market collapses with reasonably plausible economic indicators. They have cited various negative developments over the years, such as Greece's enormous debt and its burden on the EU, China's secret shadow banking economy and their debts, the discrepancy between our markets and our underlying economic performance, a still-crippled real estate market, etc. They have said that these problems could lead to a global market collapse and the end of economic growth as we know it for years to come.
But they have still been wrong.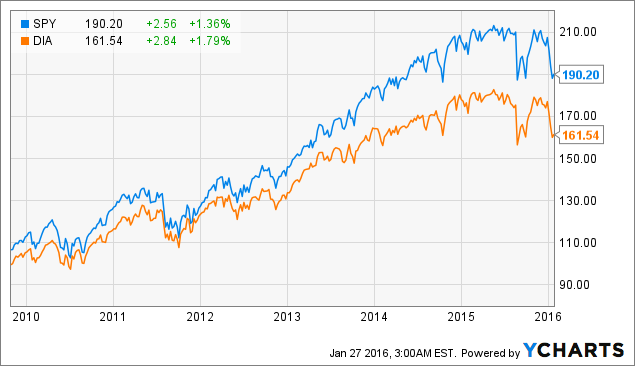 It doesn't take much insight to know that their predictions didn't come to the extent of fruition that they had all hoped.
I'll say it again, we have had one of the strongest bull markets of all time even with these experts saying that our market was doomed throughout the period.
I'm not jumping to a conclusion about the future of the market for the time to come. The situation happening today could still be the catalyst for a major sell-off and even a bear market.
But investors should keep in mind that many of these experts before have been wrong, even though the turbulent market at the time led many to believe that they would be right.
Who is to say that the predictions and worries over these past few weeks aren't going to be wrong either? Hopefully, your sense of this fear over the past few weeks should be diminished at the very least.
This is because it would really be in your best interest not to get overly afraid of the market swings that have been happening, and to not get caught in the game of rapidly changing emotion as a result.
This is just a hypothetical situation, but if the market swung down 5% in a week and you responded by liquidating a significant amount of your positions in fear, bracing for the worst, then found that the markets rose 4% the next week, and consequently happily reopened new positions, you would effectively get into the game of buying high and selling low. You would be reactionary, manipulated and moved at the market's whim.
Don't get caught in that situation.
So here's a suggestion of what you could do.
I would employ a strategy of incrementally dollar-cost averaging down.
Currently, the markets had a sell-off, which to contrarian investors, presents a fantastic opportunity to increase exposure.
I use the Fear and Greed index a lot for determining the overall emotion present in the markets. Currently they show an overwhelming sense of fear.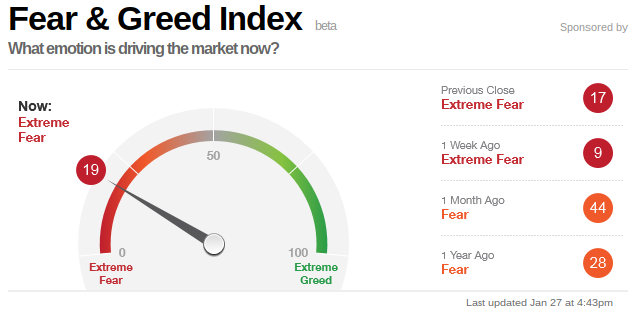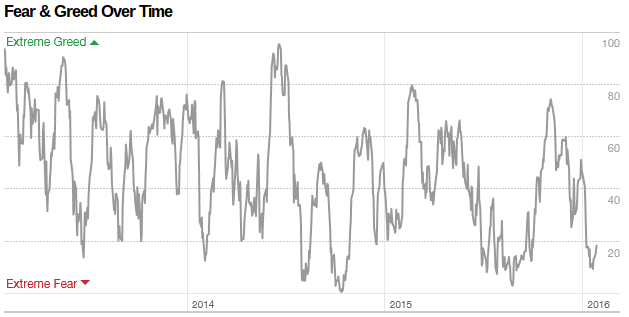 So if you're a contrarian who believes strongly in Buffett's saying, to "be fearful when others are greedy and greedy when others are fearful", now is probably a good time to begin initiating incremental purchases of more shares of these index tracking ETFs, if you haven't begun already. I wouldn't get into individual stocks for this play purely for the reason that they carry too much individual risk.
You don't want to over-commit, however. Make sure to gradually increase your position in these ETFs if they keep going lower over time. If the market rebounds from the sell-off, and to me chances are it very well may, your decision to capitalize on this sporadic fear inevitably found in the markets will appreciate significantly.
I understand. This is a ballsy trade; it always is hard to go against the grain and increase exposure when it seems as if the market is in for a rough time. The predictions and implications could possibly be correct, and if they are, then that would obviously be bad. (If you're still really skeptical about the near future, you could open a stop-loss order to cut losses if the ETFs go below your degree of comfort.)
But to me, the chances of the market plummeting to the degree implied by the financial media is quite slim. Chances are, from my experience with the countless amounts of market naysayers that have inevitably been wrong, this will just be a bump in the road, and will have been a good buying opportunity in retrospect.
Disclosure: I/we have no positions in any stocks mentioned, and no plans to initiate any positions within the next 72 hours.
I wrote this article myself, and it expresses my own opinions. I am not receiving compensation for it (other than from Seeking Alpha). I have no business relationship with any company whose stock is mentioned in this article.