Apple (NASDAQ:AAPL) is no longer a growth stock - it is a value stock. Investors should stop lamenting AAPL's lack of growth and start embracing the opportunities inherent in owning this value equity.
Much (probably too much) has already been written about AAPL's Q4 results and the slowdown in iPhone sales. Too little has been written about the fact that AAPL continues to sell massive amounts of product (74.8 million iPhones in Q4) and continues to have unprecedented levels of customer satisfaction (99% satisfaction with iPhone 6 and 6s - 451 Research) and extremely high prices (average selling price of $691 in US dollars and $740 adjusting for currency). The company, largely due to its brand, continues to grow share in the declining computer market (sales declined 4% compared to 11% market decline - IDC). Summing it up, absent another homer un, AAPL is likely to hum along, making vast amounts of money, but without the dramatic growth of years past.
Earnings estimates, especially for 2016, now reflect a more modest level of growth. As you can see below, estimates are down 7% for fiscal 2016 and 2017 in the past 90 days (and over 3% since the Q4 earnings report).

Source: Yahoo
AAPL regularly earns $20 billion of cash each quarter ($81 billion in operating cash flow in fiscal 2015 and $27 billion last quarter) and with the construction of the new campus in Cupertino, California, being completed this year, the company should have about $15 billion per quarter and $60 billion per year (after dividends and CapEx) to "play with." Last year, the company used $34.7 billion and $11.6 billion of cash generated to repurchase shares and pay dividends, respectively.
Going forward, my suggestions would be for AAPL to increase the $2.08/share annual dividend by 50% to $3.12/share with the strong suggestion of annual double-digit increases. At the current share count of 5.5 billion, the increase would cost AAPL $6 billion or about 10% of $60 billion in "excess" cash. Increasing the share repurchase program to $40 billion would, at current share prices, reduce share count by 7% annually.
Understanding that AAPL holds 93% of the company's cash overseas, the company will need to borrow to finance the dividend increase and share repurchase. Unlike many securities, the value of AAPL's bonds have actually increased in recent months, with the 2025 3.2% bond yielding less than 3% (the 2020 bond yields less than 2%).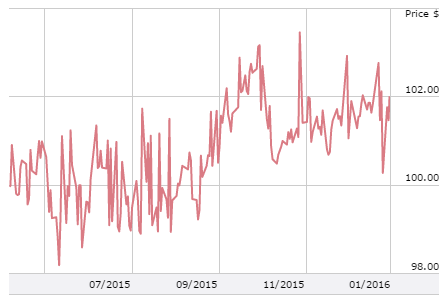 Source: FINRA via Morningstar
As the following analysis suggests, AAPL as value stock could continue to deliver solid if not spectacular returns for years to come. The analysis includes the following assumptions:
Annual base (today's) EPS declines of 1% annually (highly conservative, analysts suggest near 10% growth in 2017 - which would be material upside), actual EPS increases due to decrease in shares
Annual share buybacks of 7% annually (financed at least in part with debt, whose cost is reflected in annual EPS declines), considers stock options
Dividend increased by 50% in 2016 and 10% each subsequent year
Multiple of 12x forward earnings (adjusted for reduced share count)
2021 EPS and stock count values are used to calculate 2020 (as price is based on forward)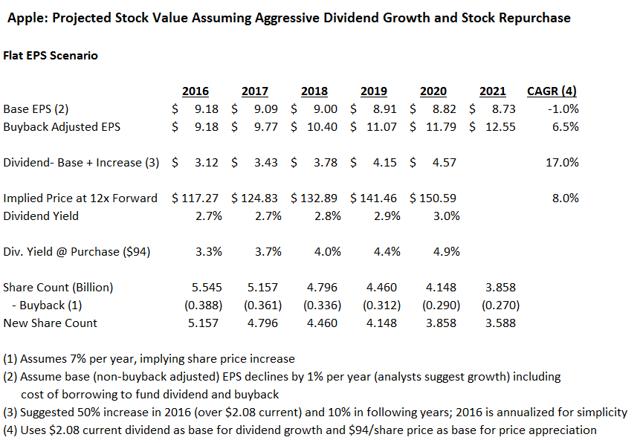 While the implied stock appreciation would be modest (and disappointing to most AAPL bulls), it would deliver (including dividends) double-digit returns. The analysis intentionally ignores the (very real) potential of another break-out product - consider that a free call option which could significantly grow the upside.
While there are strong and legitimate reasons to argue for AAPL's growth, I think it is time to consider AAPL as a value stock. If the company deploys its cash and credit resources in a shareholder friendly manner, AAPL could deliver strong (double-digit) returns for the foreseeable future while providing investors with a call option on any new smash product (e.g. car).

Disclosure: I am/we are long AAPL.
I wrote this article myself, and it expresses my own opinions. I am not receiving compensation for it (other than from Seeking Alpha). I have no business relationship with any company whose stock is mentioned in this article.