Recently, I introduced The ETF Monkey 2016 Model Portfolio and also built specific implementations for Vanguard, Fidelity, and Charles Schwab (NYSE:SCHW) investors, using ETFs for which each of the respective brokerages offers commission-free trading. In the course of doing so, I wrote brief summaries of each of the 8 ETFs involved in building each implementation. As I compared the various ETFs against each other, I began to get more intrigued and decided to write an in-depth analysis of at least a few of them.
The second of these will feature the iShares Core High Dividend ETF (NYSEARCA:HDV).
The Rough Start to 2016 Unearths a Potential Jewel
It will come as a shock to absolutely no one when I say that 2016 has gotten off to a rough start. The ETF Monkey 2016 Model Portfolio has certainly not come through this period unscathed, with the 3 implementations down approximately 5.5 - 5.7% as I write this article.
In comparing the performance of various ETFs against each other, I stumbled across the fact that, as of the close on 1/27/16, HDV is down a mere 2.52% while its competitors in the Vanguard and Charles Schwab implementations, the Vanguard High Dividend Yield ETF (NYSEARCA:VYM) and the Schwab US Dividend Equity ETF (NYSEARCA:SCHD), are down 5.75% and 5.13%, respectively.
At the time I wrote my article on the Fidelity implementation of the portfolio, I took note of the fact that HDV took a little different approach to building a high-dividend ETF than its competitors. Intrigued by the YTD performance difference, I decided to look at HDV a little more closely.
Composition
In contrast to VYM with its 435 holdings, HDV only contains 75 holdings. However, somewhat similar to the Vanguard Dividend Appreciation ETF (NYSEARCA:VIG), an ETF that I both hold in my personal portfolio and have written about for Seeking Alpha, it uses a proprietary index, in this case from Morningstar, to carefully screen the companies that are allowed into the fund.
According to HDV's prospectus, these are the two screens involved:
The Morningstar Economic MoatTM rating system. Stocks in the index are designated as having a rating of either "narrow" or "wide" based on the strength of the company's competitive advantage.
Morningstar's Distance to Default measure. This is a quantitative option pricing approach that estimates a company's probability of default.
To give an idea of what sorts of companies pass these tests, here from the product brief document for this ETF is a uniquely-presented Top-10 holdings list.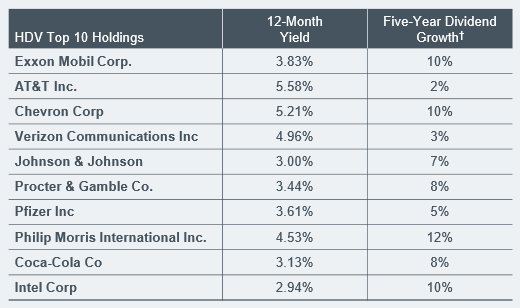 I love the fact that this graphic captures both the current yield of each of the Top-10 holdings, as well as their historical dividend growth rates. To me, this make this ETF sort of an interesting hybrid of Vanguard's VYM and VIG. Clearly, it features stocks that offer a high current dividend yield, similar to VYM. But the screening method also tends to capture companies that are also growing their yield, like dividend-growth champ VIG.
Here is another nicely-presented graphic, this time displaying HDV's sector weightings.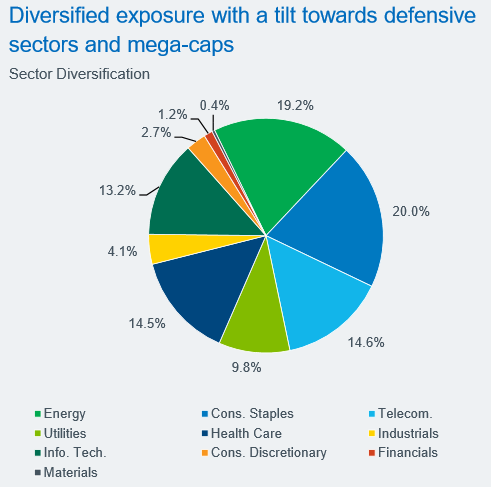 From the above graphic, you can see that Consumer Staples is the most heavily weighted sector. You will also note that the portfolio steers heavily toward mega-caps. ETF.com reports that the Weighted Average Market Cap of the companies found in HDV is $153.53 billion.
From that, you can draw the accurate conclusion that HDV tends to be somewhat of a conservative, defensive holding.
How, though, does all of this play out in its performance.?
Performance
I started this article by noting HDV's superior performance since the beginning of 2016. I decided, however, to put it up against VYM and SCHD over a longer term and see how it did.
Here is that comparative graphic, covering the past 5 years.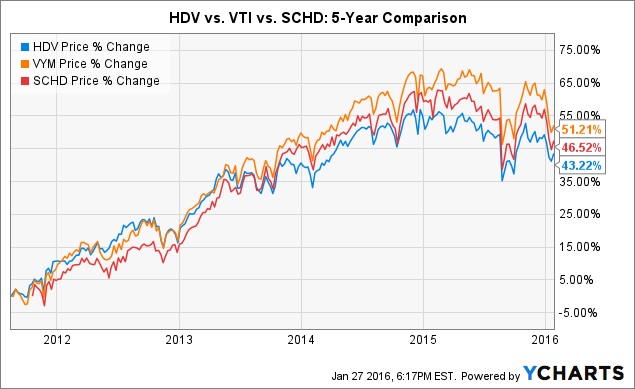 Over that time frame, HDV doesn't look so great, with VYM coming out as the clear winner followed by SCHD.
However, it must be remembered that this was a period of extremely low interest rates and an incredible performance by the U.S. stock market. Clearly, relatively stodgy HDV was a little, well, stodgy over this period.
Have a look, however, at the past year.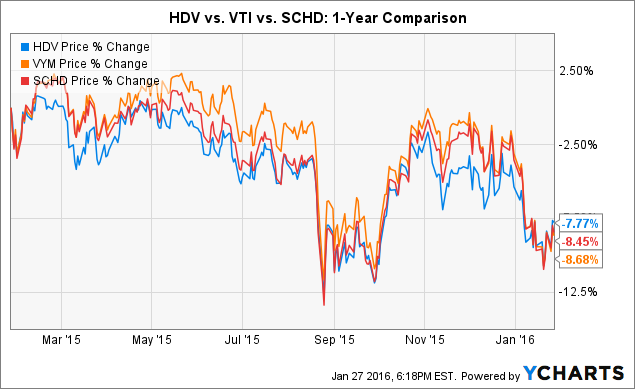 In this comparison, HDV comes out looking a little better.
Here is the question I think you should ponder. Do you see the next 5 years in the U.S. stock market being a repeat of the past five? Or do you agree with the view that returns are likely to be muted, with much volatility along the way?
I think you see where I am going. Combine all of this with HDV's 3.72% SEC yield and, in the environment we face ahead, HDV may be a winning choice for the dividend-producing portion of your portfolio. In fact, I am going to give it serious consideration as being worthy of a place in my own portfolio, particularly since I am a Fidelity client and can trade HDV commission-free.
Lastly, a brief note that HDV's expense ratio is .12%, a little higher than both VYM and SCHD, but not enough to be a decider, in my book.
Summary and Conclusion
I started the article with the heading 'The Rough Start to 2016 Unearths a Potential Jewel.' It was exactly this sort of 'ah-hah' moment that I was hoping for when I built the 3 iterations of The ETF Monkey 2016 Model Portfolio.
I hope it is the same for you. I hope your careful efforts to build your own portfolio yield moments such as these.
Finally, I hope to be writing a month-end update on the ETF Monkey 2016 Model Portfolio at the end of this turbulent month. Stay tuned.
For now, though, I bid you...
Happy investing!
Disclosure: I am/we are long VIG, VYM.
I wrote this article myself, and it expresses my own opinions. I am not receiving compensation for it (other than from Seeking Alpha). I have no business relationship with any company whose stock is mentioned in this article.
Additional disclosure: I am not a registered investment advisor or broker/dealer. Readers are advised that the material contained herein should be used solely for informational purposes, and to consult with their personal tax or financial advisors as to its applicability to their circumstances. Investing involves risk, including the loss of principal.