Federated National (NASDAQ:FNHC) has taken advantage of a competitive void within the market created by exists of large national insurers and the depopulation of Citizens. This opportunity combined with the management's expertise and the lack of storms have enabled the company to grow its top line by roughly 5 times since 2011.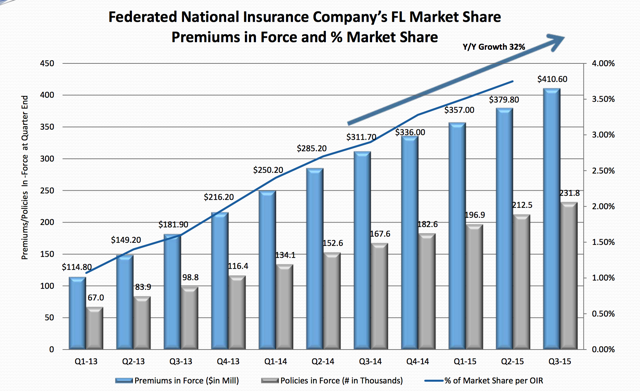 Changing competitive landscape:
Unfortunately, the lack of major storms and soft reinsurance market has attracted intense competition in the Florida Property and Casualty insurance market. The market has became saturated as Citizen's policy count has shrunk from 1.4million to 500k and a dozen other Florida homeowners' insurers have increased their premiums and capital base significantly. The level of premium needed to drive high levels of growth for these Florida Insurers have become significant. This is causing rates to decline and the market is becoming tougher. Moreover because of the low underwriting losses in the past few years, the competition level has the potential to deteriorate further in the near term.
Analysts are predicting that the premium growth for FNHC will reach its the lowest level in 5 year in 2016, and even slower in 2017.
Monarch:
Monarch is a separate statutory underwriting entity that the company has formed to write policies in the greater access to the lower and middle-demographic homeowner's market. FNHC commonly writes middle to higher market policyholders or higher-valued properties. They created this joint-venture for better segmentation to capture the lower end of the market. Monarch currently has 33M in capital and management thinks that it can write 3 to 1 on a gross premium written to equity ratio.
However, with the rates expecting to be down low to mid-single digits in 2016 due to nice weather and cheaper reinsurance, it will be challenging for Monarch to ramp up any significant amount of policies in this environment. It should be a gradual process instead of a hockey stick like sort of growth. The rollout this year, in my opinion, will be slow and only bring in several million dollars.
Another thing to keep in mind is that unlike most of its peers, FNHC has exclusively grown organically, no take-outs. This is usually a good sign. However, majority of this growth of the last few year s(roughly one-third according to JMP) is contributed to Federated's appointment to write voluntary homeowners' risk placed through Allstate (NYSE:ALL) agents, bundled with an Allstate auto policy. If Allstate suffers adverse loss trends in its auto book and decides to raise rates in any meaningful way, it could cutback FNHC's premium materially.
Valuation:
Although the company is facing a lot of headwinds in 2016, its valuation seems to be fair and reasonable. It is currently trading at around 9 times its 2016 forecasted EPS and 1.5 times price to book. This valuation is largely in line with most insurance stocks and likely appropriate. Most other insurers have low to no growth prospects going into 2016. That being said, all hope is not lost for its shareholders. If Monarch is able exceed the market's expectation and contribute a meaningful amount of revenue to FHNC in 2016, its shares can be severely underpriced.
Disclosure: I/we have no positions in any stocks mentioned, and no plans to initiate any positions within the next 72 hours.
I wrote this article myself, and it expresses my own opinions. I am not receiving compensation for it (other than from Seeking Alpha). I have no business relationship with any company whose stock is mentioned in this article.