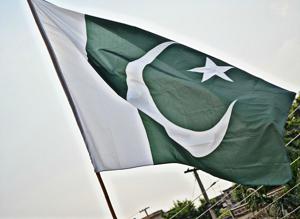 Pakistan is an incredibly relegated frontier market, with strong upside potential, driven both by the strong levels of growth ahead for the country, and Pakistan's discount to emerging Asia. The newly launched Global X MSCI Pakistan ETF (NYSEARCA:PAK) offers U.S. investors exposure to Pakistan's economy, by investing in a diverse portfolio of approximately 32 securities. I have noticed, along with other SA contributors, that ETFs are often not a pure representation of a country's economic potential, and have also personally observed that actively managed funds offer a superior alternative to outperform a stock market index/ETFs.
An extreme case of a poor performing ETF in a strong performing market is the Market Vectors Vietnam ETF (NYSEARCA:VNM), which curiously declined amid the VN Index gain for a wide number of reasons, mainly due to its industry approach and valuation. Investing in strategic, high-growth industries, while selecting stocks with lower valuation and higher dividend yields, is one of the clear cut ways to outperform the index and be successful in frontier and emerging markets. I have previously outlined a bull case for Pakistan in this article, and would like to follow through with an analysis of which industries in Pakistan should be sought after and avoided, and whether the Global X MSCI Pakistan ETF is an appropriate vehicle for this promising, frontier market.
Macroeconomic Overview
Pakistan's macroeconomic environment can be characterized as high growth, and experiencing strong levels of recovery:
Strong Fundamentals Further Catalyzed by the CPEC
The China Pakistan Economic Corridor, a $46 billion FDI pledge from China, will not only serve as a catalyst for increased economic growth, but also increased geopolitical interest from other countries. This is reflected in projects such as Russia signing a $2.5 billion accord to build a LNG pipeline, and the UAE investing $500 million in a refinery. 5 FDI projects proposed from the CPEC have received final closure, including the Lahore Orange Line metro, Gwadar International Airport, two coal power plants, and a solar park. This will prove to be a strong economic catalyst for Pakistan, and will primarily benefit the cement industry.
Emerging Again?
Pakistan was previously an emerging market, but lost its emerging market status in December of 2008; Pakistan's P/E peaked at 13.8 when it was an emerging market. The MSCI will reclassify Pakistan for its eligibility to be considered an emerging market this year, presenting an opportunity for higher valuation of Pakistan's stock market in the future. Nevertheless, Pakistan still stands out as a strong, high growth frontier market.
Strong Performing Stock Market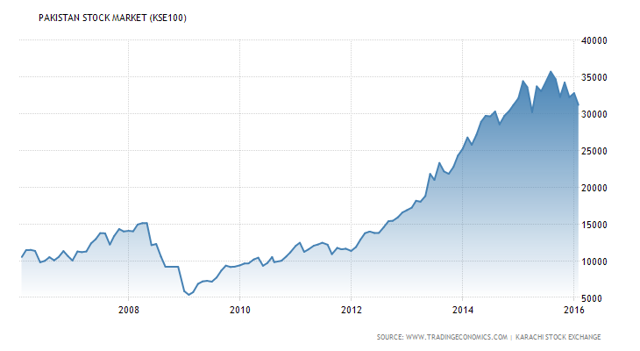 Pakistan's stock market has delivered a very impressive gain since the beginning of 2010, yet it still trades at a substantial discount to other frontier and emerging markets in Asia:
Average P/E: 8.1
Average ROE: 18.3%
Average Dividend Yield: 7.3%
Source: BMA Capital January 2016 Report
ETF Top Holdings
The following companies represent companies in which the ETF invests more than 2% of its total assets, and collectively these companies represent approximately 82% of the fund's total assets.
| | | | | |
| --- | --- | --- | --- | --- |
| % of Holdings | Company | Industry | P/E | ROE |
| 10.17 | MCB Bank Ltd | Banking | 8.15 | 19.84% |
| 9.72 | Habib Bank Ltd | Banking | 7.04 | 22.13% |
| 6.79 | Lucky Cement | Cement | 10.99 | 23.94% |
| 5.99 | Oil & Gas Development Co. | Oil and Gas | 5.85 | 17.46% |
| 5.31 | Fauji Fertilizer Co. Ltd. | Basic Materials: Chemicals | 8.01 | 48.17% |
| 5.09 | Engro Corporation Ltd. | Basic Materials: Chemicals | 10.83 | 19.14% |
| 4.72 | Pakistan State Oil Co. Ltd. | Oil and Gas | 17.45 | 5.91% |
| 4.68 | Hub Power Company | Utilities | 10.24 | 31.00% |
| 4.46 | United Bank Ltd. | Banking | 6.65 | 20.19% |
| 4.26 | Bank Al Habib Ltd. | Banking | 6.83 | 21.73% |
| 3.41 | National Bank of Pakistan | Banking | 7.02 | 9.36% |
| 2.83 | Fauji Cement Co. Ltd. | Cement | 11.81 | 28.25% |
| 2.80 | Pakistan Petroleum Ltd. | Oil and Gas | 8.11 | 14.11% |
| 2.62 | Kot Addu Power Company | Power | 7.42 | 31.12% |
| 2.21 | Bank Alfalah Ltd. | Banking | 5.48 | 18.00% |
| 2.17 | Indus Motor Company Limited | Automotive | 7.55 | 45.48% |
| 2.09 | Maple Leaf Cement Factory | Cement | 9.87 | 21.39% |
| 2.07 | Fatima Fertilizer Co. Ltd. | Basic Materials: Chemicals | 3.38 | 55.01% |
Source: Global X Funds and Reuters
Valuation: The average P/E for these top holdings is 8.5, near Pakistan's average of 8.1
ROE: The average ROE for these top holdings is 25.1%, compared to Pakistan's average of 18.3%
Strong Weighting in Banks: Ambivalent Outlook
Approximately, 34.2% of the fund's assets are invested in this industry, and while I am optimistic about Pakistan's banking industry, there are some issues that make an overweight in this industry less ideal.
Low Valuation: The average P/E for the banking companies in this ETF is 6.9, slightly lower than Pakistan's average of 8.1.
Large Unbanked Population: Only approximately 13% of adults in Pakistan have a bank account, compared to 31% in Bangladesh and 53% in India.
High Non-Performing Loans: NPLs were 12.5% as of the end of the 3rd quarter of 2015.
Pakistan's banking industry has strong growth ahead of it, and presents an interesting opportunity, although the issues of high NPLs results in higher levels of risk. Moreover, banks that are able to target SMEs in Pakistan, a key driver of Pakistan's economy, will be successful. Vietnam provides a similar benchmark of how reducing NPLs can result in an increasingly thriving banking industry that produces record returns. Vietnam's banks recently lowered NPLs from 17% in 2012 to 2.9%, and the country's three largest banks consequently returned an average of 62% as of Late November. Pakistan's banking industry still has strong growth ahead of it, and the reconciliation of its NPLs can make this an extremely strategic industry for investment.
Oil and Gas Companies: Discount Not Strong Enough, Given Oil Price Risk
Approximately, 17.8% of the fund's assets invest in the oil and gas sector, which given oil recently dropping to a new 12-year low, should necessitate fear from investors. Moreover, the removal of western sanctions against Iran rightfully produces fear for investment in this industry.
Strong Selloff: Oil and Gas Companies in Pakistan have experienced a 68.5% decline in the past year, yet even after such a strong selloff, the sector does not trade at a strong discount to the KSE Index.
Valuation: The average P/E for the above-mentioned companies in this sector is 10.5, well above Pakistan's average. The selloff has also been met with a strong decline in earnings, as a large number of companies are struggling amid low oil prices.
Sub $30/barrel oil would easily result in a further selloff, and continued struggle for companies in this industry, and therefore, I am not very optimistic about this ETF investing heavily in this industry. Vietnam can serve as an appropriate benchmark, as its oil and gas sector's P/E is currently 3.7 amid the sector selloff, as several companies in this industry have been able to cope well amid low oil prices. Stocks in Pakistan do not present this opportunity, and while some cases of value investing opportunities may be present, a strong weighting in this sector is not advisable.
Cement Industry: Perhaps the Best Industry for Investment
The fund invests approximately 13.1% of its assets in this industry. The cement industry is poised to be one of the strongest beneficiary industries of the CPEC, and BMA Capital projects that local sales will achieve 9% CAGR for the next five years. Apart from the rising domestic demand, a large number of companies are able to benefit from strong exports, although they face issues of anti dumping tariffs in South Africa, declining demand in Afghanistan, and the threat of cheaper cement from Iran. The removal of western sanctions will further amplify Iran's threat to Pakistan's cement industry.
In response to the increased domestic demand that is ahead, catalyzed by the CPEC, a large number of companies have projects planned that are expecting to go into full production between 2018-2019:
Lucky Cement announced its plan to begin constructing a new cement plant this year, with a total of $200 million invested. Operations are expected to begin during the 2nd quarter of 2018.
DG Khan Cement announced its plans to invest $300 million in a new cement plant, with targeted completion in late 2018.
Automotive Industry: Ample Room for Growth After the Boom
Stocks in this industry have delivered whopping returns, yet there is still strong room for growth:
The industry reported 62% YoY growth in sales last November.
There are current only approximately 14 cars per 1,000 people in Pakistan.
Decreased inflation, strong trends of consumption, Pakistan's increasing middle class, and strong macroeconomic growth can all serve as drivers for the continued growth of this industry.
The fund only invests approximately 4% of its assets in this industry, and given the strong growth prospects of this industry, an underweight in this industry is not ideal. Pak Suzuki Motor Co. Ltd., which has an approximate 55% market share in Pakistan's automotive industry, is a strong value pick in this industry, while other companies have a substantially higher P/B ratio. The stock has returned 649.25% in the past five years.
Concerns for Textile and Fertilizer Companies
Fertilizer Companies: Only 7.4% of the fund's assets are invested in fertilizer companies, excluding Engro Corporation, which is involved in fertilizer, food, chemical, and energy businesses. Although low gas prices are beneficial for this industry, gas price hikes in Pakistan have presented a challenge for this industry; the government is considering another gas price rate hike during the 2nd half of this year.
Textile Companies: This ETF does not invest more than 2% of its assets in textile companies, which is a strategic move, as this industry has been experiencing a wide variety of struggles. Issues associated with this industry include extremely high electricity costs, and the threat that the TPP presents to Pakistan, as its exclusion will make Vietnam's textile industry receive stronger benefits. Textile exports from Vietnam to the U.S. will increase substantially in the future, presenting a threat to Pakistan, which relies heavily on its textile exports to America.
While both industries have their struggles ahead of them, certain value based investment opportunities are present.
ETF Concerns
Despite being extremely bullish on Pakistan's economic outlook, I have some concerns that make me ambivalent about my outlook for the Global X MSCI Pakistan ETF:
Liquidity is extremely low, as the average 3-month trading volume is only 3,832. The benefit of trading on the NYSE for higher liquidity is not present at the moment.
The fund has a very strong weighting in banks and oil and gas companies, as the ETF invests approximately 52% of its assets in these sectors.
This newly launched ETF has not been received well by U.S. investors, despite the strong fundamentals and opportunities presented by Pakistan's stock market. I have a neutral outlook for the ETF's industry approach, which is extremely diversified and simply a means to track the index. For now, a wait and see approach is the best for this ETF, despite the strong fundamentals of Pakistan's stock market and economy.
Disclosure: I/we have no positions in any stocks mentioned, and no plans to initiate any positions within the next 72 hours.
I wrote this article myself, and it expresses my own opinions. I am not receiving compensation for it (other than from Seeking Alpha). I have no business relationship with any company whose stock is mentioned in this article.