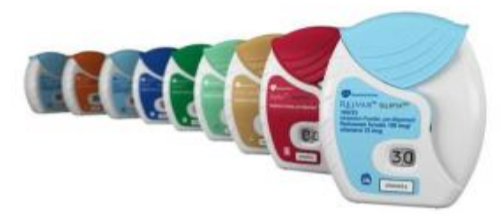 The impressive range of GSK's respiratory products coming in the Ellipta inhaler.
Yesterday, Seeking Alpha contributor Vishal Manchanda published his take on the prospects of GlaxoSmithKline's (NYSE:GSK) triple therapy for COPD.
While Mr. Manchanda provided a decent overview of the competitive environment, after having studied for a long time the respiratory segment and the company that actually developed the combination together with GSK (Theravance Biopharma (NASDAQ:TBPH) - see my coverage here), I believe his analysis of the market opportunity is far too pessimistic. In fact, he estimates "a peak sales opportunity of approximately $1b" and a slow sales ramp, leading to an estimate of $250m in annual sales by 2020 for GSK's triple therapy fixed dose combination.
As we will see, the devil is in the detail.
For example, it is true that Chiesi is developing a triple therapy composed of Beclomethasone + Formoterol + Glycopyrrolate, which is basically the already commercialized twice-daily LABA/ICS combination Foster plus the LAMA Glycopyrrolate. This is actually the same LAMA contained in Novartis's (NYSE:NVS) Ultibro(n) (EU: Ultibro; U.S.: Ultibron). Ultibron is a twice-daily product in the U.S. and a once-daily product in the EU. Chiesi is testing its triple combination at dosages of 1-2 puffs twice per day. Novartis's and also AstraZeneca's (NYSE:AZN) triple combinations under development are not expected to be once-daily meds, at least not in the U.S. In the EU, the only combination that has a chance to be once daily is the one studied by Novartis.
This means that there is only one triple that will be once daily everywhere in the world, i.e. the one by GSK. I expect this to be a major differentiator.
Patients that are currently using several different inhalers to create their "open" triple therapy by taking 1-2 puffs of one drug twice per day and one puff of another drug once per day will be done with just one inhaler and one puff every morning. After that, they will be able to forget about inhaling drugs for 24 hours, won't need to remember the second dose, won't need to carry their inhaler to the cinema in the evening etc. This will make GSK's closed triple a premium product with a clear value proposition.
Actually, we are not only talking about comfort - the most important issue here is adherence. How many patients end up in the emergency room with a severe exacerbation because they forgot to take their evening puffs or didn't take their inhalers with them to the cinema? Adherence is usually very bad in COPD, as many patients suffer from additional co-morbidities and already have to remember to take lots of different drugs. This is why I don't understand why Mr. Manchanda expects the triple to be sold at a discount to its single components. It will clearly be a premium product and presumably will and should be priced as such. Instead of combining several inhalers and some maybe twice daily, with one puff/day, you're done. Adherence gets improved, which means lower costs for hospitalizations. It will be in the whole healthcare system's interest to incentivize a greater use of the closed triple.
This is also why I would expect the number of patients on triple therapy to increase as soon as a simple, once-daily therapeutic option will be available. So the market size should increase.
I also don't share Mr. Manchanda's assumptions about market share. He sees GSK capturing up to 35% of a $2.7 billion market (priced at a 20% discount to the sum of the individual components of the triple combinations). I would see the company capturing at least 50% of a total market of $4 billion (priced at a 20% premium). This translates into a peak sales potential that is twice as high as Mr. Manchanda's estimate. And it may be even low, if the triple gets used more widely than now (which I expect to happen).
As far as the uptake is concerned, obviously nobody knows how things will play out. Yet, GSK has a huge competitive advantage, as it is already now selling the same closed triple it will have as an open combination. In addition, this open triple comes in exactly the same inhaler that will be used for the closed combination. So by the time when the closed combo will hit the market, there will already be many patients on the same combination and it will be a no-brainer for doctors to switch them to the new, more comfortable medication. This will certainly accelerate uptake.
Finally, Mr. Manchanda states that:
In a large clinical study it has been proven that systematic withdrawal of Inhaled corticosteroid dose in severe but stable COPD patients undergoing triple therapy treatment is non-inferior to continuation of triple therapy treatment with respect to risk of moderate to severe exacerbations. The study has been published in NEJM.

In the event there is more evidence that gathers around the subject we could see a change in treatment guidelines, which in turn could severely dent the prospects of triple therapy combinations in COPD.
The indicated study was sponsored by Boehringer Ingelheim, the maker of Spiriva, the gold standard of care in the LAMA segment. Interestingly, BI is the only major competitor in the space that does not have any triple combination in the works. So it should not surprise anyone that the company tries to undermine the overall necessity for a triple. However, while the mentioned study effectively concluded that the added ICS did not provide significant benefits as far as risks of moderate to severe exacerbations are concerned, the same study finds that the added ICS is actually very useful to improve the lung function:
In patients with severe COPD receiving tiotropium plus salmeterol, the risk of moderate or severe exacerbations was similar among those who discontinued inhaled glucocorticoids and those who continued glucocorticoid therapy. However, there was a greater decrease in lung function during the final step of glucocorticoid withdrawal. (Funded by Boehringer Ingelheim Pharma; WISDOM ClinicalTrials.gov number, NCT00975195.)
COPD is a progressive disease. Patients start with short-acting medications, taken "as needed," and year after year need longer-acting drugs at higher dosages and finally combinations of these drugs. Otherwise they can't breathe. So exacerbations are certainly an important part of the value proposition, but lung function is the most important one. The added ICS provides distinct benefits to patients, therefore I don't expect the triple therapy to go away anytime soon.
Disclosure: I am/we are long TBPH.
I wrote this article myself, and it expresses my own opinions. I am not receiving compensation for it (other than from Seeking Alpha). I have no business relationship with any company whose stock is mentioned in this article.