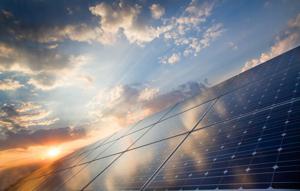 Sky Solar (NASDAQ:SKYS) is an independent solar power producer that owns solar plants and derives money by selling electricity. The company's revenues are dependent more on long-term sale of electricity than sale of low-margin solar panels. The company has been gradually increasing its electricity sales, while decreasing the focus on system sales. Sky Solar is engaged in developing, owning and operating solar parks and focusing on increasing it project pipeline. I had recommended buying the stock at dips and the current stock price has dipped a lot, offering an attractive entry point in my view. The stock price decline has been mainly due to the fall in the crude oil prices as well as the Chinese economic slowdown worries. However, the company's fundamentals have not been affected too much, as solar industry continues to grow rapidly due to government support and favorable economics.
Why SKYS is a good buying opportunity
1) Solar energy is becoming more affordable - Since the company is both a project developer and IPP, the declining costs of solar systems are proving beneficial for Sky Solar. With advancements in PV technology, the average system costs of solar parks will decrease further. Grid parity has already been achieved in some places like Italy. Grid solar power prices have touched a low of 4-6 cents/kWh in countries like USA, India and Dubai. Solar has become cheaper than wind and gas in a large number of countries and its cost curve should go below thermal power in the next 5-10 years. Given these dynamics, the demand for solar parks will increase throughout the world. Sky Solar with its focus on solar parks should benefit from this trend. Also with decreasing component cost, the profitability of EPC projects have increased.
2) Strong electricity sales marked Q3'15 growth - The third quarter was marked by strong electricity sales, leading to both top and bottom line growth. Electricity sales of $11.3 million was up 63.6% year over year. Total revenue also increased 17% from Q3'14. Sky Solar is gradually increasing its focus on the more profitable electricity sales segment and reducing exposure in the system sales business. As a result, the cost of sales and services declined to $3.6 million from $5.4 million in the same period in 2014. Gross margin increased to 70% from ~48% in Q3'14.
| | | | |
| --- | --- | --- | --- |
| Revenue Mix (million $) | | | |
| | Q3'15 | Q1'15 | Q4'14 |
| Electricity Sales | 11.3 | 5.1 | 3.4 |
| Solar system and Other Sales | 0.8 | 5.1 | 4.7 |
Though the company reported a loss per share of $0.01 in the most recent quarter analysts are expecting earnings per share of $0.03 for the upcoming quarter.
3) Increasing Project pipeline - Sky Solar had 117.5 MW of IPP assets in operation as of September 30, 2015, compared to 93 MW as of June 30, 2015. Sky Solar connected more than 24 MW of additional electricity generating capacity during the quarter.
Projects (in MW) as on 30th Sept, 2015

Under construction

36

Shovel-ready

242.4

Pipeline

1000
4) Expanding Footprint - Sky Solar has been expanding its sales and marketing efforts in Japan, China, Latin America and USA. These are the key markets for solar power globally. As can be seen from the table below, the company has diversified its revenues across geographies.
Revenue by Geographies
| | | |
| --- | --- | --- |
| (US$ in thousands) | Q3'15 | Q3'14 |
| Asia | 6,250 | 5,265 |
| Europe | 4,318 | 2,867 |
| N.America | 1,509 | 2,165 |
Data from Seeking Alpha
"Our current partnerships greatly strengthen our expansive reach and capabilities to develop new projects in our most promising geographies going forward. We have also begun the process to leverage existing synergies among our global teams to further expedite our project development and financing capabilities. We expect these initiatives to deliver a positive impact on our operational results in 2016" - Mr. Sanjay Shrestha, Chief Investment Officer of Sky Solar

Source: Global Newswire
5) New Financing Agreements to strengthen fund inflows - Sky Solar's good execution record helps it to access adequate financing at competitive rates. The company successfully secured an investment of about $33 million from an existing partner in Japan while another $100 million investment was announced from a new partnership with Hudson Clean Energy to fund solar project development in Latin America and Japan. Previously, the company inked an $85 million loan from Inter-American Development Bank and its affiliate funds for development of its project in Uruguay. Easy financing is a key to success for IPPs, since the business is very capital intensive.
6) Debt Position looks comfortable - Total borrowing increased to $85.8 million in the current quarter compared to $43.5 million in March. During the same time, total cash and cash equivalents reached ~$51 million and solar park assets were worth $241 million. It is very important for solar companies to maintain comfortable debt levels as project business is lumpy in nature and requires large amounts of cash to operate. Sky Solar has also entered into a number of finance deals with various banks to facilitate its project business.
Risks
a) Sky Solar will suffer competition from major solar companies like Trina Solar (NYSE:TSL), Canadian Solar (NASDAQ:CSIQ) and Jinko Solar (NYSE:JKS), who are fast expanding into project business in emerging markets. China is a big solar market and is witnessing a lot of activity. With Sky Solar aiming to expand into China, it will have to compete with many solar companies there. In addition to that the company might also suffer from the weakness in the Chinese economy.
b) Aversion to energy sector debt is leading to increased interest rates, which is raising the costs for solar power development. SunEdison (SUNE) has seen its stock price crash, as it took too much debt in a short period of time to aggressively finance its expansion in the global renewable energy market. The crude oil price crash has led to a negative sentiment towards all energy companies increasing the cost of capital for them. Raising funds is also becoming an issue for solar companies, given this risk averse environment. Sky Solar might also suffer from a Chinese hard landing.
Stock Performance & Valuation
The stock is currently trading at near its 52 week low price of $3.7. SKYS is thus offering a good entry point at the current price. The market capitalization value stands at $180 million, with P/E of ~4x and P/S of 3.7x. The valuations look much more reasonable now when compared to the last year's multiples. The P/S level is generally higher than the other Chinese solar companies, but that is mainly because the cash flows accrue over the 25-30 years lifecycle of the solar assets while investments happen upfront.
The stock lost more than 65% in the last one year, mostly because of the weakness in the Chinese stock market and the oil price declines.

Source: Google Finance
Conclusion
The company is a focused solar developer engaged in developing solar parks, both for commercial sale and owning them for generating revenue through electricity sales. Sky Solar is thus now in a sweet spot, as it is witnessing cost reduction due to falling equipment prices. The company has a diversified geographical footprint and is gradually shifting focus on developing its own IPP asset base which will provide high recurring returns. I think Sky Solar is a unique Chinese solar stock with focus on solar development only. Given the company's good performance, geographically diversified project pipeline and low valuation, it would be a good time to buy the stock. The main risks are macro in nature and related to increasing risk aversion towards energy and Chinese related stocks.
Disclosure: I/we have no positions in any stocks mentioned, and no plans to initiate any positions within the next 72 hours.
I wrote this article myself, and it expresses my own opinions. I am not receiving compensation for it (other than from Seeking Alpha). I have no business relationship with any company whose stock is mentioned in this article.