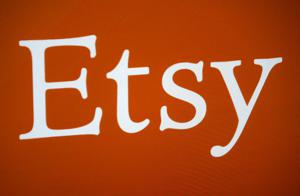 Etsy (NASDAQ:NASDAQ:ETSY) is an online marketplace that specializes in handmade or otherwise unique goods. As a relatively pure marketplace business, it relies entirely on third-party sellers to list and ship the products that make up its stock. The size of Etsy's seller community has been a steady point of growth for the business: in the third quarter of 2015, Etsy reported over 1.5M active sellers, representing a roughly 20% increase over the same timeframe in 2014.
Impending Acquisition?
Amazon's (NASDAQ:AMZN) clear interest in the handmade market and the notable devaluation of Etsy since its IPO has lead analysts and artisans alike to speculate about a potential company buyout. Etsy's market cap is now within striking distance of Amazon's past acquisition pricing.
This could be Amazon's chance to buy credibility with the handmade community they have thus far failed to reach. If Amazon pulls this off, their short-term pricing will likely soften, as is common prior to major acquisitions. The following months and years are more important, and they will be determined by the manner in which Etsy is integrated.
Culture Shock
Some might argue that there is a fundamental disconnect between Etsy's homegrown vibe and Amazon's imposing presence as a dominating retailer. Would an acquisition by a notoriously cutthroat company like Amazon drive the handmade community away? Sellers are now weighing the pros and cons.
Artisans Share Their Thoughts
Susie Ghahremani, a venerable artist and owner of the popular shop Boygirlparty, has serious concerns about Amazon's policies.
For all the problems Etsy sellers encounter, protection of intellectual property and stable fee schedules are two major assets of Etsy that make Handmade at Amazon less competitive as a marketplace. If Amazon acquires Etsy, these important points are both threatened.
She has further worries about the underlying principles of the marketplace:
I think the original ethos of Etsy changed a long time ago - not as much with their bewildering 'acceptable manufacturing' policy, but when the site allowed drop shipping which fully removes the seller and quality control from the buyer's experience... I worry that a sale to Amazon would push Etsy further in the direction of becoming a marketplace without a quality standard and without unique, artistic vision.
Changing The Calculus
Other sellers worry about the possibility of Etsy's fees being increased under Amazon ownership. Mollie Chen, jewelry-maker and owner of the acclaimed Mu-Yin Jewelry, shared her experience as a seller on both platforms.
(Handmade at Amazon's) fees are higher than Etsy but still acceptable... I'm not so sure if it'll be worth my while if they raise their fees in August.
She has some apprehensions about the possibility of an Amazon takeover.
I have mixed feelings. There are definitely some concerns - Will the fees go up? Will the layout of Etsy's site change? Will Etsy lose that intimacy between artists and customers?
A Bigger Opportunity
Accompanying these concerns is a glimmer of excitement for the possibilities that Amazon management could provide Etsy users. Chen clarifies:
I have hope that if Amazon was to buy Etsy, it would help improve Etsy's search algorithm and customer service. It's frustrating how Etsy has been ignoring us high volume sellers' voices. Being a big website like Etsy, it's hard to imagine why they still haven't been able to get a few basic things - such as customization options for listings - correct.
Annie Howes, a renowned jewelry supply merchant, shares similar hopes.
Amazon is a strong company that's shown huge growth in the past eight years, and it understands what serious-minded companies desire to run their businesses.
Doing It The Right Way
A point of agreement between handmade merchants is that regardless of any merger, Etsy and Amazon's marketplaces should remain separate. Howes explains:
I would be excited if Amazon bought out Etsy, as long as the two remained mutually exclusive, as Audible, Zappos and Diapers.com have all remained exclusive of the larger Amazon marketplace.
This mindset comes across as a reaction to the launch of Handmade at Amazon, which Ghahremani views as a misfire.
I really don't understand why Handmade at Amazon was launched in the way it was - it seemed rushed to threaten Etsy's IPO and not developed with sellers in mind. In fact, the idea of quality, thoughtfully handmade goods seems to directly counter Amazon's market perception as a place to get things quickly and cheaply. It's just confusing.
Howes echoes this sentiment.
My impressions about Handmade on Amazon from those who sell on it is that it's institutional, less personal and cumbersome to set up. There are still areas that need improvement, and there are still glitches. Customer service is, however, readily available by phone, something which Etsy has completely overlooked. The platform is, overall cumbersome and a steep learning curve.
Will Sellers Stick Around?
Regardless of the ever-evolving platforms they utilize, handmade sellers are in it for the long haul. Chen states:
So many things have changed since I started selling online full time in 2007. As an online seller I have learned to adapt to changes very quickly for my business to thrive.
If Amazon plays its cards right and allows Etsy to exist as an independent marketplace, it might have a shot at fostering the unique community that characterizes the handmade segment. If they go with a more heavy-handed approach, they'll be left with a seller-hemorrhaging, costly mistake. When considering a position in Amazon, be sure to watch their approach here very carefully.
Etsy's pricing is almost certain to increase substantially on acquisition news: Amazon would need to offer a premium on its market cap to close the deal. A final deal could be expected to close in the $1B - $1.1B range, which unfortunately for early public investors is still far below Etsy's original IPO pricing.