Goldman Sachs upgraded Cedar Fair, LP (NYSE:FUN) by adding the company to its Conviction Buy list earlier this week, setting a 12-month price target of $69. The reasons cited include:
High domestic sales
Expanding margins
Strong balance sheet, below average leverage and above average free cash flow yield
Exposed to US leisure traveler, with leisure travel outperforming business travel according to Goldman's internal data
Positive seasonal trends - amusement parks tend to outperform the market heading into the season
Goldman has issued aggressive price targets for Cedar Fair in the past that seem unlikely to be met and I believe that their new price target will not be achieved. In April of last year the price target was raised from $59 to $65 and the Buy rating was maintained. In late May and early June of last year Cedar Fair briefly hit an all-time high of sixty dollars and change, and hasn't touched sixty since then. There simply don't seem to be any catalysts to get to $60, let alone $65, in the next three months.
Before going further Cedar Fair, is one of the largest regional amusement park operators in the world, with eleven amusement parks, three separately-gated outdoor water parks, one indoor water park and five hotels. The parks are located in Ohio, California, North Carolina, Virginia, Pennsylvania, Minnesota, Missouri, Michigan, and Toronto, Ontario. Although most of its parks face relatively little direct competition, there are exceptions.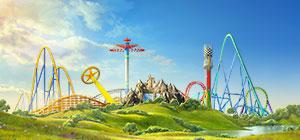 It is also important to note that it is a Limited Partnership that trades units instead of shares, pays a distribution instead of a dividend, and issues a K-1 rather than a 1099-DIV at the end of the year. Popular tax software packages easily address most of these issues, although there could be some unique implications when holding units in an IRA account.
As to the Goldman reasons to buy the shares, it's true that the company has high domestic sales. It has only one park - Canada's Wonderland - located outside the United States. However, the currency translations from that one park had a noticeable negative effect on year over year comparisons in 2015. And, that negative trend has accelerated the past three years as can be seen in this chart, with the Canadian dollar moving down from parity at the start of 2013 to $0.73 cents at the close of 2015. Further deterioration seems likely as the price of oil and other natural resources continue to show weakness.
When CFO Brian Witherow reported results through Q3, he noted:
As for results for the first nine months of the year, revenues in the period increased $70 million or 7% to a record $1.1 billion. ... Adjusted EBITDA for the first nine months of the year increased 9% to a record $429 million up $35 million from the same period a year ago.

It's important to know that year-over-year operating comparisons have been impacted by foreign currency translation related to our park in Canada. Adjusting for the impact of foreign exchange our revenues through the first nine months of the year were around 9% or $89 million and operating expenses would have been up 7% or $43 million. Adjusting for the impact of foreign exchange adjusted EBITDA for the first nine months of the year would have increased 11% or $44 million year-over-year.
With respect to Cedar Fair having expanding margins, this has certainly been true since Matt Ouimet became CEO. He introduced Fast Lane and Fast Lane Plus, premium add-ons for those that don't want to wait in long lines. These limited sale extras run as high as $60-$80 per visitor, and that's in addition to the $62 admission ticket for the company's flagship park, Cedar Point. Ouimet added laser light shows in the evenings that encouraged visitors to extend their stays at the parks, thereby increasing the food and beverage sales. And, while on the subject of food and beverage sales, he has also upgraded the menu at some of the parks.
There were also installment sale plans introduced along with pre-paid parking, both designed to obtain cash up-front before the family ever arrived at the parks. The objective was to get visitors to spend more cash on the day they actually visited the park. And, he introduced CRM software to better profile return visitors and increase sales. He has also introduced in-season events to boost attendance and has introduced events outside the normal season when the parks would have been closed.
Will there be other new ideas or expansion of these programs? Perhaps, but it is hard to see them having the same impact as those already introduced. Not only will it be difficult to come up with significant new ideas, but it will also be difficult to repeat last year's improvements. 2015 had an easy comparison to 2014 which suffered from an extremely harsh winter in the mid-west that extended the school calendar and delayed family vacation plans. 2014 also had a water main break outside the company's largest park, forcing the closure during an important June weekend. Looking forward to 2016, Labor Day, the end of the Summer season, comes two days earlier this year, which will result in a reduction of operating days.
As to above average cash flow yield, the company has benefited from favorable cash tax rates. This won't be continuing much longer, and it is not clear when the market will price it into the share price. Witherow extensively discussed taxes on the latest earnings call, noting:
As we have been predicting for some time we expect to use out the remainder of our corporate net operating loss carry forwards in 2016, which will increase our annual cash obligation going forward. In anticipation of this increase we have been performing an extensive review of our options regarding tax planning alternatives. Based on these efforts I can now tell you that we intend to reorganize our operating structure beginning early 2016. This reorganization will allow us to allocate income and expenses among all of our subsidiaries in a more tax efficient manner and have a slightly lower entity level effective tax rate since more of our [revenue] will be floating through on a Master Limited Partnership. It's important to remind you that we do pay 3.5% entity level tax on revenues floating through the partnership.

Beginning in 2016, we would now expect our cash, cash liabilities to range in $55 million to $65 million annually and we would expect our effective tax rate at a range of between 20% to 25%. I need to reinforce that these are estimates based on our FUNforward 2.0 long term goals and these estimates could change if business conditions change. I should also note that our tax planning efforts may impact the information reported to investors on their K-1 tax forms beginning from 2016 tax year, including incremental income or loss allocations from four additional states. As each of our unit holders have very different tax attributes its impractical for us to state exactly the impact of our planning on every unit holder. ...
Not only will the cash taxes change, but investors won't know the impact until the company decides what it will do. Uncertainty is never a positive for equity prices.
Don't misunderstand. I have been long Cedar Fair since 2008, although there have been times when I was much more bullish on the company, mostly for the distribution. In June of 2011 I suggested buying it, noting:
Following distributions totaling $0.33 during the first 2 quarters, management stated the following, "Looking ahead with that same assumption, our goal is to double the $1 per unit distribution in 2011 to $2 or more per unit in 2013." Q Investments owns a significant stake and has been an activist shareholder and will likely keep pressure on management to meet that goal. Based on a current unit price under $20, yield for 2011 would exceed 5% and 10% by 2013. And for those with a less serious bent, what's not to like about a company with the ticker symbol of FUN?
That distribution exceeded my expectations, growing to $1.60 in 2012, $2.575 in 2013, $2.85 in 2014, $3.075 in 2015 and at the current quarterly rate would pay $3.30 in 2016. After growing the distribution to $2.575, management stated that they expected to grow it in line with the growth in Adjusted EBITDA, and it hasn't projected particularly aggressive growth targets. Rather than issuing annual guidance, the company puts out a multi-year target. In a presentation last August they projected $500 million, or more, of Adjusted EBITDA by 2018.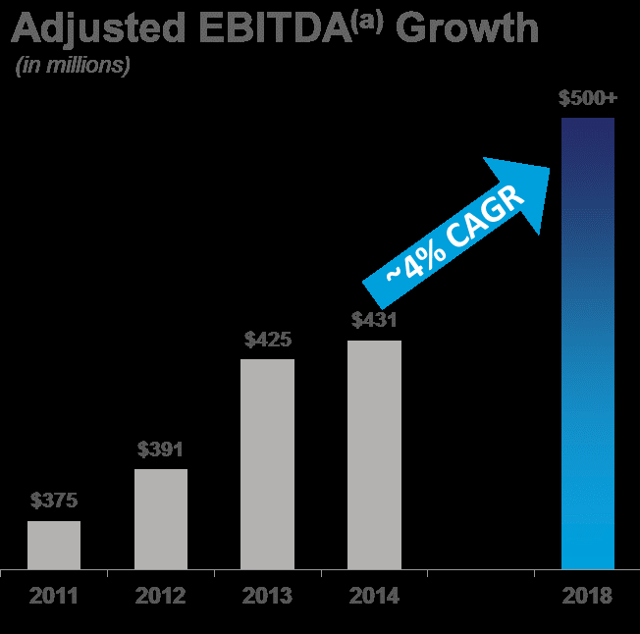 That was the second time they had projected less than 4% growth per year. And it was the slow growth in 2014, and the expected slow growth in the future distribution, that caused me to reduce my buy to a hold in early March of last year. To be clear, this investment had been always been about the growth in that distribution. At the time I changed to a hold, the units were trading at $52.84 and the belief was that it was fully valued based on an expectation of slower growth in the distribution. I confess to being very surprised that the distribution was increased by 10% from $0.75 to $0.825 in Q4.
That 10% growth in the distribution led me to upgrade my hold rating to accumulate on November 17th. With the units then trading at $55.52, the yield of 5.94% had become somewhat more attractive. However, even more important than the increase in the yield, was the size of the increase. If management and the board expected to adhere to the philosophy of growing the distribution in line with the growth in adjusted EBITDA, they had to believe that the future growth was going to be significantly greater than 4%/year.
With the further erosion of the unit price down to $52.56, the yield has now climbed to 6.3%, but I am still reluctant to issue a more aggressive rating. There are too many headwinds facing the company in 2016, including the weak Canadian dollar, a difficult comparison to an outstanding 2015 and fewer operating days. The company also was able to spend above average amounts on capital improvements in its properties over the past few years by utilizing funds from the sale of some of its separately gated water-parks. While those investments are paying off, that extra spending won't be repeated without increasing debt.
Discretionary Spending
Most of Cedar Fair's visitors are "local" with its parks drawing a majority of visitors from within a 150 mile radius, and nine out of ten visitors are repeat customers. Still, taking a trip requires planning and could include a commitment to spend several hours in the family car. It is a relatively high cost discretionary item, and one might think that low gas prices would be beneficial to Cedar Fair. Despite this potential positive, CEO Matt Ouimet said this about fuel prices on a conference call last year:
Traditionally we haven't seen an impact from gas prices, either pro or con. Obviously, if that contributes to the investors - the consumers feeling like they have a little more disposable income, that should be a positive. But we have to yet to see that play out.
It's not just the low gas prices that aren't expected to help Cedar Fair. Many studies show wages are stagnant and while employment is still rising, many are working less than full time. However, Ouimet has discussed the decline in the traditional one-week or two-week summer vacation. He claims that it has been replaced by the "stay-cation" as a result of more kids participating in summer sports leagues and joining travel teams. There simply isn't time in busy schedules to take that trip. As a result, he believes that companies like Cedar Fair benefit from the replacement day-trips to one its parks.
Summary
I am comfortable with recommending that an investor take a position in Cedar Fair because of the distribution and the current yield, but there are just too many headwinds and uncertainties to rate it a "Conviction Buy". While I wouldn't be surprised to see the shares exceed the all time high of $60.64 set last year, the expectation of a 30% increase to a $69 price appears to be well out of reach.
Disclosure: I am/we are long FUN.
I wrote this article myself, and it expresses my own opinions. I am not receiving compensation for it (other than from Seeking Alpha). I have no business relationship with any company whose stock is mentioned in this article.
Additional disclosure: I have no position in GS and no plans to initiate a position in the company.