With the Fed following through with its decision to hike interest rates back in December and a high probability that a further increase is still in play this year, companies that are in the lending business are extremely well positioned to reap the benefits. This is because an interest rate increase will translate to a top line uptick for these credit service providers, ultimately leading to a rally in their share price if they are publicly traded companies.
Since the interest rates increase will be gradual it means that the impact on the top line may not be felt immediately among much larger companies initially. However, the effect on smaller players in this segment may prove to be just enough to warrant a closer look by investors in order to clearly discern the opportunity provided.
In order to fully visualize the effect of the interest rate hike on financial stocks, Bank of America recently explained that 100 basis points rise in rates could translate to an extra $4.5 billion in net interest income for the company. A number of Wall Street's strategists interviewed by Barron's have reiterated that they remain bullish on the general outlook of not only the broader market but also financials as we embark into the new year.
However, it is important to note that not all financials are equal and that some are potential traps for investors according to Hennessy fund manager David Ellison. For instance, he will be avoiding financials in energy producing states such as Texas and Louisiana where earnings may come in below expectations. For credit service providers in these regions, their high exposure to oil at current depressed prices may be their undoing and investors would do well to avoid them.
Aside from the risks present in such companies, I believe that there is plenty of opportunity in financials this year considering that the weakness in the previous year has led to plenty of stocks in the sector to trade at bargain prices.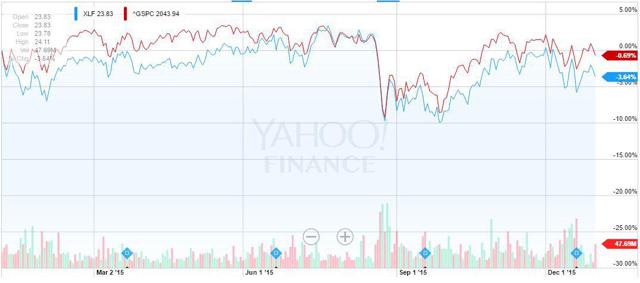 (Source: Yahoo! Finance)
For those looking for a starting point, here are a couple of options that I believe have the potential to be winners by the end of the year.
1. Federal Agricultural Mortgage
While most investors look for value in stocks, reaching a consensus on just what that might be proves to be difficult depending on who you ask. The choice of metrics used to determine the said value creates an unending debate as you move from one investor to another which is why we are encouraged to carry out our own research. Federal Agricultural Mortgage (NYSE: AGM) is one of the stocks I consider to be value plays.
The company not only has a solid business but key valuation metrics give plenty of reasons to consider holding this stock in your portfolio. According to the third quarter of 2015, core earnings came in at $13.2 million representing a 42 percent uptick compared to the year ago quarter while EPS rose from $0.82 to $1.70. CFO Dale Lynch attributed this to a capital restructuring initiative that the company undertook as well as good overall business volume growth experienced in the period.

(Source: Vuru.co)
Currently, Farmer Mac's forward PE is about 7.82 relative to the industry average of 9.57 making it a bargain buy at current levels. Looking at the company's price to cash flow ratio which stands at about 3.85 compares quite well to the industry average 4.02 meaning that it beats its peers once again. Also, the fact that earnings estimates among analysts who cover the stock have been on the positive side means that the company is on the right path.
Of course the nice dividend yield of about 2 percent doesn't hurt coupled with the share price's rally of 9 percent on a year to date basis.
2. Cash America International
Cash America International (NYSE: CSH) offers secured non-recourse loans, commonly referred to as pawn loans. The Company also offers unsecured consumer loans and operates two segments namely retail services and e-commerce. The stock has had a stellar performance over the past year surging almost 36 percent and there is no sign of this momentum slowing down in 2016. Of the six Wall Street brokerages covering the stock the highest price target put forward is $39 indicating an upside potential of almost 30 percent from current levels at the time of writing this article.
From the company's latest earnings report, Q3 EPS came in at $0.19 representing a 19 percent increase compared to the year ago quarter in spite of headwinds related to lower year over year pawn loan balances as well as lower net consumer loan fees. The decline in pawn service charges combined with the expected decrease year-over-year in net consumer loan fees produced a 5 percent decrease in domestic operations net revenue, which was approximately $135 million for the third quarter of 2015.
Although gross margins are shrinking on the backdrop of transitioning from routine monthly scrapping activity, CFO Thomas Bessant believes that the retail jewelry disposition business will more than make up for any weakness in the coming quarters. Also, on a year over year basis Cash America has managed to reduce operating expenses particularly in the domestic business by about 10 percent or $14 million pointing to increasing efficiency in the business.
While the PE of 23 may make investors a bit cautious with regards to its price, I believe this is a growth stock which should be further looked into before it surges even higher.
3. Wins Finance Holdings
For those not familiar with Wins finance holdings (NASDAQ: WINS), the company has three operating segments that include: financial advisory that deals with the provision of financing solutions to SME clients based on their needs in order to lower their tax and financing costs, financing guaranteeing where the company acts as a guarantor - evaluating and sharing credit risks as well as facilitating financing agreements between banks and SMEs and lastly financing leasing where it directly leases equipment or purchase lease back services to meet the cash flow needs of SMEs.
The company mainly operates in China where it has had a long history of acting as the link between the banks and SME customers. Taking into consideration the fact that more than 80 percent of Chinese SMEs are not able to access loans directly from banks unlike in the United States where all sorts of businesses are able to directly engage bank services, Wins couldn't be better positioned to take advantage of this massive opportunity.
Wins basically conducts due diligence on the ground in order to vet the customers looking for loans before finally connecting them to the banks. With the expected slowdown in China's economy, more SME's are likely to seek out credit to fund their growth. So far Win's share price has been up more than 20 percent over the past three months signaling investor confidence on the general outlook on credit service providers.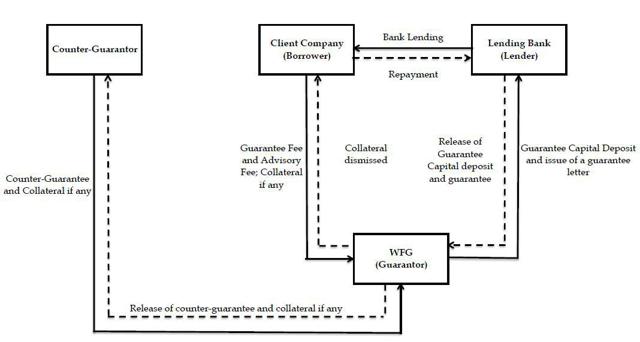 (Source: WINS Finance Holdings)
Win's leasing business is set to get a major boost starting from the last half of 2016 after it executed an aggregate of $7.7 million in direct leasing contracts for tele-medical equipment with seven hospitals in Xinjiang, Shanxi and Shandong. According to the Co-Chief Executive Officer of Wins, the serious geographical imbalance in the distribution of medical resources in China, people in the middle and west of China can't access high quality medical care which has brought about a massive increase in demand for medical equipment in the areas.
Furthermore, the company is currently engaged in negotiations with other hospitals in Sichuan and Hebi provinces in a bid to ink ten additional leasing contracts valued at least $18 million which further reaffirms the solid potential of this segment.
4. Regional Management
Regional Management Corp (NYSE: RM) may not be a familiar name to most but I believe it should be on you radar if you are looking for value in specialty finance services. The company provides various loan products primarily to customers with limited access to consumer credit from banks, thrifts, credit card companies, and other traditional lenders.
Over the past year, Regional Management has generated revenues in excess of $200 million with net income of about $20 million. According to the most recent quarterly filling, net income for the third quarter of 2015 came in at $6.5 million representing the fourth consecutive sequential increase in quarter over quarter basis. This growth has been driven by the company's efforts to grow its loan portfolio which totaled about $601 million by the end of the quarter, a 10 percent uptick compared to the year ago quarter.
Currently, Regional Management's PE is about 10.3 relative to the industry average of 13 while its P/S ratio stands at 0.98 relative to the industry average of 3.6 indicating that its shares are significantly undervalued when compared to peers. During the quarter, the company opened six branches and it expects to open at least eight more in the fourth quarter which further shows that there is plenty of opportunity to be exploited here.
5. Triangle Capital
Triangle Capital Corp (NYSE: TCAP) may have had a bumpy year in 2015 having seen its shares dip by 6 percent, but that should not be a reason to dismiss it entirely. The company is a specialty finance company. The Company provides customized financing solutions to lower middle market companies located in United States. It lends to and invests in customers in various industries. One of the main reasons why I recommend investors should consider this particular stock is due to its high dividend yield of approximately 11 percent.
In the most recent quarter Triangle Capital's revenue growth came in higher than the industry average of 5.7 percent. Since the same quarter one year prior, revenues rose by 24 percent which helped to boost earnings per share considerably. Also, net income growth from the same quarter one year ago has significantly exceeded that of the S&P 500 and financial services sector as it posted an increase of 302.8% when compared to the same quarter one year prior, rising from -$8.81 million to $17.87 million.

(Source: Vuru.co)
Summary
All in all, ever since the economic crisis financials have not been fairing too well and last year was not an exception. However, the Fed's decision to begin hiking rates gradually is highly welcomed as it signifies a turnaround story for stocks in the sector. While there are plenty of options to choose from, finding the right mix of value for money and reasonable growth will usually present a daunting task for most investors especially those new to the sector. With the options listed above, I believe that such investors will be well placed to start seeking out their alpha plays in the sector.
Disclosure: I/we have no positions in any stocks mentioned, and no plans to initiate any positions within the next 72 hours.
I wrote this article myself, and it expresses my own opinions. I am not receiving compensation for it (other than from Seeking Alpha). I have no business relationship with any company whose stock is mentioned in this article.