AT&T (NYSE:T) often gets lumped into the no-growth "bond proxy" category by investors. Though, this is a flawed point of view - AT&T is growing both earnings and free cash flow. This was put on display with its Q4 2015 results. The company posted impressive growth on both metrics seeing free cash flow per share up 35% and EPS grow 13%.
What drove AT&T's earnings growth?
Besides the addition of the DTV assets, most of AT&T's improved performance can be attributed to growing US wireless segment margins.
After the company shifted away from two-year contracts, margins have exploded for this unit given that AT&T no longer has to pay for the costly device subsidies.
While this division saw revenues fall by 5%, or $1 billion, to $18.9 billion, operating expenses fell an even greater 13%, or $1.8 billion, to $12.5 billion. This resulted in a massive 600 basis-point increase in EBITDA margins to 33.9%, including 43.2% for purely wireless service margins. In other words, AT&T's core business has never been more profitable.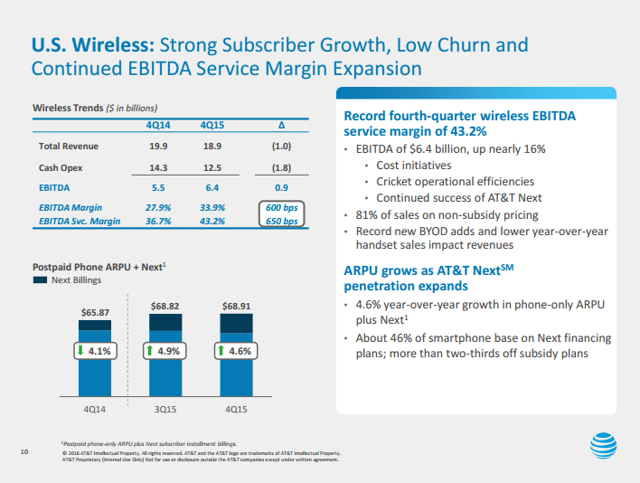 Free cash flow growth gone bonkers
As I noted in an article last year, AT&T's biggest story is it growing free cash flow, largely coming from DTV. This turned out to be even better than what I was expecting.
For Q4, the company posted $9.2 billion in operating cash flow and $3.1 billion in free cash. This is 61% and 138% higher versus last year's $5.7 billion in operating cash flow and $1.3 billion in free cash flow. This is impressive given that capex spending was also up 39% from $4.4 billion to $6.1 billion.
For the year, AT&T saw $15.9 in free cash flow, up 61% from last year's $9.9 billion. This was also above guidance of ~$15 billion. This resulted in a very strong dividend payout ratio of 64% of free cash flow, a major improvement from 96% in 2014.
Here is where it gets interesting, on a per share level, AT&T's free cash flow was ~$2.59 for 2015, which includes the impact of the added shares from the DTV merger, up a massive 35% from last year's $1.92 per share.
Keep in mind that this only includes two full quarters of DTV being on the books. It is looking like DTV will turn out to be a very accretive transaction for AT&T.
This free cash flow growth should continue for 2016, though at a slower pace. AT&T's 2016 guidance implies free cash flow of ~$16-17 billion or $2.56-2.75 per share. This would be just ~3% growth in 2016 over 2015. Coming off a year with 35% growth, this is softer than expected.
Though, AT&T may be sandbagging a bit here. For example, the company previously guided for just $15 billion in free cash flow for full-year 2015 at the end of Q3. This turned out to be off by at least 5%. At the start of 2015, analysts were calling for AT&T's free cash flow to be even lower, at ~$12-$13 billion, off by ~20%. In other words, the actual free cash flow numbers could be much higher.
Furthermore, the same guidance noted that AT&T expects capex spending to be ~$22 billion in 2016, up $2 billion, or 10%, from 2015. If capex were held flat, free cash flow would be much higher, up to 15% year over year.
Higher free cash flow could lead to larger dividend increases going forward
With AT&T's free cash flow growing so strongly, I believe the company could enhance the level of dividend growth in 2016 and beyond without impacting its core operations.
Over the past few years, AT&T's dividend has been increased at a rate of just $0.01 per quarter, or 2-3% per year. Though, this rate is well below the level of growth in free cash flow. This has resulted in the payout ratio dropping to below 70% in 2015, from over 90% in 2014 and a long-term average of ~75%.
In other words, AT&T has the potential to boost the dividend beyond the typical penny increases. If AT&T were to increase the dividend payout to ~80% of 2016 free cash flow, this could result in a dividend of over $2.05-$2.20 per share, up 7-15% from current levels.
Keep in mind that the above free cash flow numbers include the 10% projected increase in capex spending for 2016. Backing these out would improve coverage but is unlikely given AT&T's growth plans in Latin America.
Conclusion
Simply put, AT&T numbers were strong. The company grew earnings per share at a double-digit clip during Q4 2015 and free cash flow per share by 35% for the year. You can't ask for better performance for a stock that is sporting a near 6% yield and trades at a discount to the market. Hold AT&T for the long term.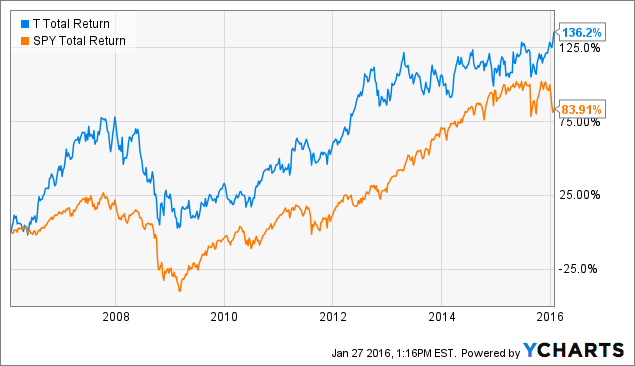 Disclaimer: The opinions in this article are for informational purposes only and should not be construed as a recommendation to buy or sell the stocks mentioned. Please do your own due diligence before making any investment decision.
Disclosure: I am/we are long T.
I wrote this article myself, and it expresses my own opinions. I am not receiving compensation for it (other than from Seeking Alpha). I have no business relationship with any company whose stock is mentioned in this article.