Background
For those unfamiliar with the company, Ryanair (NASDAQ:RYAAY) is an Ireland-based, low-cost airline that boasts the title of "Largest European airline by scheduled passengers carried," as well as the "Busiest international airline by passenger numbers." The airline operates over 300 Boeing 737-800 aircrafts flying more than 1,600 daily flights form 75 bases. The company also recently announced orders from BA for 283 new Boeing 737 aircraft with options for 100 more 737 MAX 200s. Now that we have the background out of the way, what makes Ryanair a definitive long term value play (despite the fact that the stock is just off all time highs)?
Strong Financials
First and foremost, when it comes to airlines, usually the first words one thinks of is 'leveraged' and 'thin profits.' In fact, the average Debt/Equity ratio in the airline industry is 7.50 while their average profit margins are right around 2.64% Ryanair? As of 1/15/16, the company held a debt/equity ratio of just 0.98. On top of that, net profit margins for the TTM were 24.00%. The company knocked it out of the park in Q1 of 2016, posting a 25% rise in net income, 16% rise customers, and increasing their top line 10% compared to the year before. Quick/Current ratios are both over double the industry average, and despite £324m of CapEx and £195m in share buybacks, net cash still increased to over 550m pounds for the quarter. I urge you to take a look yourself at this airline's balance sheet and try to find something to dislike. The company is also brilliant at hedging, and are 90% hedged at £91/barrel for FY16. They also increased their FY17 fuel hedging to 70% at £66/barrel. Unrelated, but who can argue with a 4.05% dividend yield? For 2016, the company is aiming for £970m in net income (12% gain from prior year), and will continue to pass along cost savings to customers (average fares continue to fall, with £45 being the average fare for Q1 2016.
Expansion (including long-haul possibility and codesharing with long-haul airlines)
One would think that expansion would not be at the top of the list for a company that currently boasts (by far) the most scheduled passengers carried in the world. However, currently Ryanair only operates in Europe (not including a few major airports, including Paris). So far this year, CEO Michael O'Leary has claimed that the company is exploring the possibility of partnering with large carriers such as Air France, Aer Lingus, and Virgin Atlantic to connect with longer flights, and has applied for landing slots at Charles de Gaulle Airport in Paris. These long-haul connections could come to fruition as soon as 2016, and would mark the first time that such an arrangement has been struck by a low-cost and long-haul carrier.
Also included in Ryanair's expansion agenda has been the purchase of over 200 brand new, state of the art Boeing 737-800s all for arrival by 2024. This will boost the plane's fleet to 520 aircraft, helping them to lower fares and grow traffic. O'Leary is looking to carry over 180 million passengers a year by 2024 (this guidance was also bumped up in their latest earnings call) with a target of £2 billion in annual profits.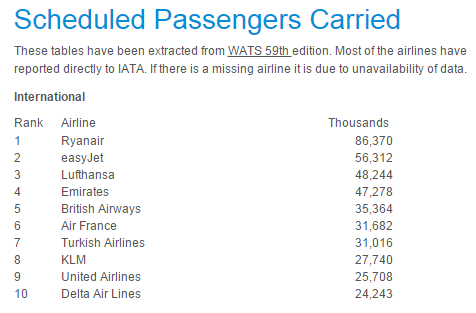 The cleanest fleet of planes
A common misconception of many of Europe's low-cost airlines is that the planes are rickety old salvaged planes from the likes of the Deltas and Uniteds of the world. Ryanair, on the other hand, boasts the 5th youngest fleet of airlines in the world. And with the purchase of over 283 new aircraft through 2024, these numbers only have room to improve.
Michael O'Leary
When he's not dressing up as Batman for press conferences and telling the Greek people to "Stop drinking coffee and get back to work", he is at the helm of Ryanair. Michael O'Leary took over as CEO of Ryanair in January 1994, and took Southwest Airline's "low-cost" model and multiplied it by 100. Up this point, O'Leary's goal has been simply "to win the price war." It's quite clear he has done that. He is now turning his efforts towards the quality of services of Ryanair flights. This starts with new planes, but it also includes an overall improvement in the customer experience. One of O'Leary's goals is to become the "Amazon of Travel for Europe" According to O'Leary, this involves "disintermediating all the disintermedators." It sounds absurd, but it's not that different from when Ryanair became one of the first companies to realize that customers would rather go directly to their website to book travel than using an agent to book flights. O'Leary's idea above takes the same concept and applies it to car rentals, hotel flights, and concert tickets, etc. All else aside, this is a man with a vision that is easy to get behind.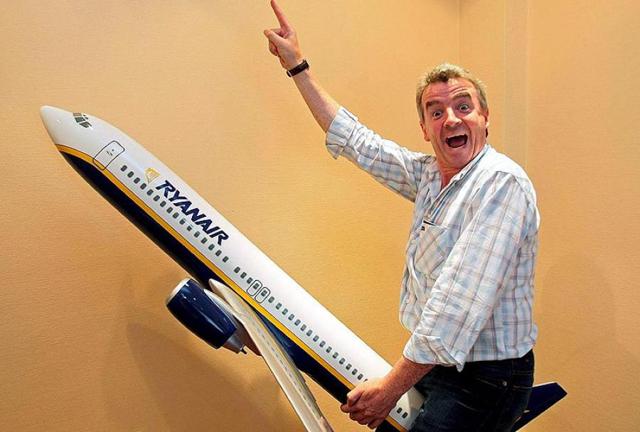 Possible downsides
In order to make any pitch credible, an analyst must provide the negative scenarios associated with a particular stock. Although few, Ryanair could face negative headwinds in a few areas. First off, customer service has traditionally been one of the worst in the industry. Michael O'Leary has brought Ryanair through an image makeover in the past couple of years, but there is always a bit of a stigma surrounding Ryanair and it's "cheap, careless" customer service. There are also many, many competitors in the low-cost airline industry in Europe, including up and coming airline Wizz Air. One look at the debt ratios of these other airlines and it's hard to see how they will be able to hold up against Ryanair. The company's extremely satisfactory balance sheet means financing will remain cheap into the future.
Conclusion
I urge you to dig into their statements and try to find something unsettling. Revenues have shown healthy increases every year for the past 5 years, as has the company's bottom line. Debt remains well below the industry average, hell the company has enough current assets to cover all outstanding debt. Operating cash flows are strong as well. There are simply too many things to like about Ryanair to not consider it for your portfolio.
Disclosure: I am/we are long RYAAY.
I wrote this article myself, and it expresses my own opinions. I am not receiving compensation for it (other than from Seeking Alpha). I have no business relationship with any company whose stock is mentioned in this article.