By The Valuentum Team
Moody's is in a strong position to keep raising its dividend.
Moody's (NYSE:MCO) business quality (an evaluation of our ValueCreation™ and ValueRisk™ ratings) ranks among the best of the firms in our coverage universe. These measures assess business quality, or the ability of the firm to generate return on invested capital above its cost of capital, sustainably. In Moody's case, the company has been generating economic value for shareholders with relatively stable operating results for the past few years, a combination we view very positively.
For those that may not know about this fantastic business model, Moody's provides credit ratings, research, tools and analysis to the financial markets. The firm's ratings and analysis track debt covering more than 115 countries, 10,000 corporate issuers, 22,000 public finance issuers, and 82,000 structured finance obligations. Though it has taken some flak in recent years as a result of the meltdown in the financial markets, there's one thing that companies always seem to need, debt, and Moody's effectively has an oligopoly in rating the credit quality of issuer liabilities.
From where we stand, Moody's has robust opportunities for growth: 1) economic activity will drive debt market issuance, 2) disintermediation of credit markets will increase new product demand, and 3) the firm retains pricing power. Management believes low-double-digit average annual growth is sustainable. Historically, rising interest rates have not significantly impacted revenue, but we'll be monitoring the impact in this particular monetary cycle.
Moody's has a good combination of strong free cash flow generation and manageable financial leverage. We expect the firm's free cash flow margin to average about 29.8% in coming years. The operating margins on Moody's business are simply fantastic. Very few companies can put up this type of profitability. Perhaps there is an argument to let other credit issuers into the game? Moody's, S&P, and Fitch may have a lot to gain in public perception by letting others "in"... for example, why not have the government sponsor three independent (non-issuer paid) rating companies -- maybe even Valuentum. What's a few million dollars collectively thrown in the pot to help credit investors? We hope Moody's may even take the lead on this, and if so, we hope they keep Valuentum in mind. We'd love to work more in this capacity to help bondholders.
One of the business models we like the most is sustainable and high-margin revenue streams, and Moody's has one of the best. In fact, the company has a nice recurring revenue base across much of its portfolio, with Moody's Analytics accounting for the majority of this revenue stream. Recurring revenue has consistently grown at a high single-digit pace, and we have little reason to believe that it won't continue to do so.
Note: Moody's annual dividend yield is below average, offering a ~1.7% yield at recent price levels. We prefer yields above 3% and generally don't include firms with yields below 2% in the Dividend Growth Newsletter portfolio. We like Moody's fundamentals and dividend potential, but will it be able to capture this potential? Let's take a look.
Dividend Strengths
Moody's plays an indispensable role in the global financial system, providing credit ratings, research and tools to users. Very few business models have as high an operating margin as Moody's, nor are many as capital-light and free-cash-flow rich. An adjusted operating margin north of 45% and free cash flow of ~$1 billion per annum aren't out of the question, and while the company is engaged in share buybacks, dividend growth prospects perhaps have never been stronger. High corporate profits in the U.S. and generally accommodative ECB monetary policy should continue to provide a tailwind to operating performance. Moody's Analytics could surprise to the upside.
Dividend Weaknesses
It's simply hard to find much fault with a company that is as profitable and as free-cash-flow rich as Moody's. Though such an event would hardly derail the company's dividend growth prospects, a disorderly response to the Federal Reserve's start to the contractionary monetary cycle could hurt performance. Weaker economic growth in the Eurozone and a large correction in asset prices in China could derail the pace of issuance and increase default rates in those regions, but non-financial corporates continue to have large refunding needs, offering considerable visibility to Moody's. There's not much that's going to stop the pace of dividend expansion, in our view.
From the Comments Section: How to Interpret the Dividend Cushion Ratio -- A Ranking of Risk
As for how to interpret the Dividend Cushion ratio, itself, it is a measure of financial risk to the dividend, much like a credit rating is a measure of the default risk of the entity. Said differently, a poor Dividend Cushion ratio of below 1 or negative doesn't imply the company will cut the dividend tomorrow, no more than a junk credit rating implies a company will default tomorrow. That said, the Dividend Cushion ratio does punish companies for outsize debt loads because in times of adverse conditions, entities often need to shore up cash, and that means the dividend becomes increasingly more risky.
We think investors should look at a variety of different metrics in assessing the sustainability of the dividend. Because the Dividend Cushion ratio is systematically applied across our coverage, it can be used to compare entities on an apples-to-apples basis. Dividend payers with significant free cash flow generation and substantial net cash on the balance sheet often register the highest Dividend Cushion ratios, as they should. These companies have substantial financial flexibility to keep raising the dividend.
Dividend Safety
We think the safety of Moody's dividend is excellent. Please let us explain.
First, we measure the safety of the dividend in a unique but very straightforward fashion. As many know, earnings can fluctuate, so using the payout ratio in any given year has some limitations. Plus, companies can often encounter unforeseen charges, which makes earnings an even less-than-predictable measure of the safety of the dividend. We know that companies won't cut the dividend just because earnings have declined or they had a restructuring charge that put them in the red for the quarter (year). As such, we think that assessing the cash flows of a business allows us to determine whether it has the capacity to continue paying dividends well into the future.
That has led us to develop the forward-looking Dividend Cushion™ ratio, which we make available on our website. The measure is a ratio that sums the existing net cash a company has on hand (on its balance sheet) plus its expected future free cash flows (cash flow from operations less capital expenditures) over the next five years and divides that sum by future expected cash dividends over the same time period. Basically, if the score is above 1, the company has the capacity to pay out its expected future dividends and the expected growth in them.
As income investors, however, we'd like to see a ratio much larger than 1 for a couple of reasons: 1) the higher the ratio, the more "cushion" the company has against unexpected earnings shortfalls, and 2) the higher the ratio, the greater capacity a dividend-payer has in boosting the dividend in the future. For Moody's, this ratio is 2.8, revealing that on its current path the firm should be able to cover its future dividends and growth in them with net cash on hand and future free cash flow.
Dividend Cushion Ratio Cash Flow Bridge
The Dividend Cushion Cash Flow Bridge, shown in the graph below, illustrates the components of the Dividend Cushion ratio and highlights in detail the many drivers behind it. Moody's Dividend Cushion Cash Flow Bridge reveals that the sum of the company's 5-year cumulative free cash flow generation, as measured by cash flow from operations less all capital spending, plus its net cash/debt position on the balance sheet, as of the last fiscal year, is greater than the sum of the next 5 years of expected cash dividends paid.
Because the Dividend Cushion ratio is forward-looking and captures the trajectory of the company's free cash flow generation and dividend growth, it reveals whether there will be a cash surplus or a cash shortfall at the end of the 5-year period, taking into consideration the leverage on the balance sheet, a key source of risk. On a fundamental basis, we believe companies that have a strong net cash position on the balance sheet and are generating a significant amount of free cash flow are better able to pay and grow their dividend over time.
Firms that are buried under a mountain of debt and do not sufficiently cover their dividend with free cash flow are more at risk of a dividend cut or a suspension of growth, all else equal, in our opinion. Generally speaking, the greater the 'blue bar' to the right is in the positive, the more durable a company's dividend, and the greater the 'blue bar' to the right is in the negative, the less durable a company's dividend.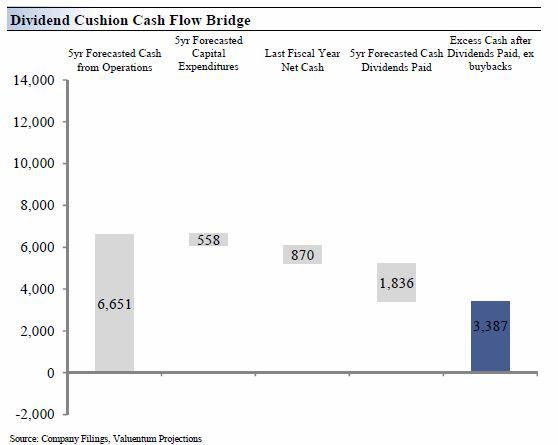 Dividend Cushion Ratio Deconstruction
The Dividend Cushion Ratio Deconstruction, shown in the graph below, reveals the numerator and denominator of the Dividend Cushion ratio. At the core, the larger the numerator, or the healthier a company's balance sheet and future free cash flow generation, relative to the denominator, or a company's cash dividend obligations, the more durable the dividend. In the context of the Dividend Cushion ratio, Moody's numerator is larger than its denominator suggesting strong dividend coverage in the future. The Dividend Cushion Ratio Deconstruction image puts sources of free cash in the context of financial obligations next to expected cash dividend payments over the next 5 years on a side-by-side comparison. Because the Dividend Cushion ratio and many of its components are forward-looking, our dividend evaluation may change upon subsequent updates as future forecasts are altered to reflect new information.
Please note that to arrive at the Dividend Cushion ratio, divide the numerator by the denominator in the graph below. The difference between the numerator and denominator is the firm's "total cumulative 5-year forecasted distributable excess cash after dividends paid, ex buybacks."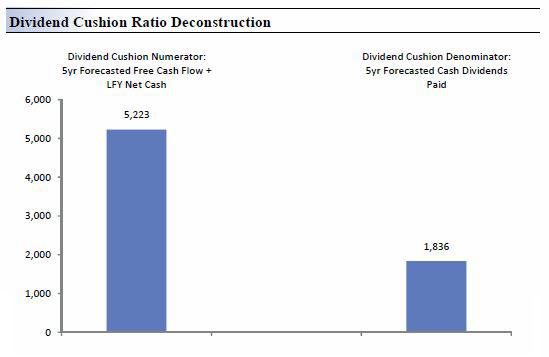 Dividend Growth
Now on to the potential growth of Moody's dividend. As we mentioned above, we think the larger the "cushion" the larger capacity the company has to raise the dividend. However, such dividend growth analysis is not complete until after considering management's willingness to increase the dividend. To do so, we evaluate the company's historical dividend track record. If there have been no dividend cuts in the past 10 years, the company has a nice dividend growth rate, and a solid Dividend Cushion ratio, we characterize its future potential dividend growth as excellent, which is the case for Moody's.
Because capital preservation is also an important consideration to any income strategy, we use our estimate of the company's fair value range to assess the risk associated with the potential for capital loss. In Moody's case, we currently think shares are fairly valued, meaning the share price falls within our estimate of the fair value range, so the risk of capital loss is medium (our valuation analysis can be found by downloading the 16-page report on our website). If we thought the shares were undervalued, the risk of capital loss would be low. Please view our website for our modeling assumptions that derive our estimate of Moody's intrinsic value.
Wrapping Things Up
There is plenty to like about Moody's. The firm has robust long-term opportunities for growth, and the recurring revenue base it boasts across much of its portfolio is quite attractive. We also believe the company has strong dividend growth potential. It has grown its quarterly payout at a solid rate in recent years, and it is our opinion that the firm has additional capacity to continue doing so in the years to come. However, from a methodology standpoint (and strictly as it relates to income in the context of the Dividend Growth Newsletter portfolio), we prefer our dividend growth ideas to also be undervalued on a both discounted cash flow and relative valuation basis. Should a material valuation opportunity present itself as the company's dividend yield continues to grow, we would strongly consider a position in Moody's. Thanks for reading!
Breakpoints: Dividend Safety. We measure the safety of a firm's dividend by adding its net cash to our forecast of its future cash flows and divide that sum by our forecast of its future dividend payments. This process results in a ratio called the Dividend Cushion. Scale: Above 2.75 = EXCELLENT; Between 1.25 and 2.75 = GOOD; Between 0.5 and 1.25 = POOR; Below 0.5 = VERY POOR.
This article or report and any links within are for information purposes only and should not be considered a solicitation to buy or sell any security. Valuentum is not responsible for any errors or omissions or for results obtained from the use of this article and accepts no liability for how readers may choose to utilize the content. Assumptions, opinions, and estimates are based on our judgment as of the date of the article and are subject to change without notice.
Disclosure: I/we have no positions in any stocks mentioned, and no plans to initiate any positions within the next 72 hours.
I wrote this article myself, and it expresses my own opinions. I am not receiving compensation for it (other than from Seeking Alpha). I have no business relationship with any company whose stock is mentioned in this article.