Randgold Resources (NASDAQ:GOLD) has gained more than 6% over the last five days with a majority of that gain coming this week due to the rise in gold price, which hit a new 3-month high on Tuesday.
Most gold stocks posted massive gains during the day with the likes of Newmont Mining (NYSE:NEM) adding more than 5% to their market value while Randgold was up nearly 5%.
However, the price of gold eased on Wednesday to give up some of the gains garnered in the previous trading session to trade at just below the $1,120 level.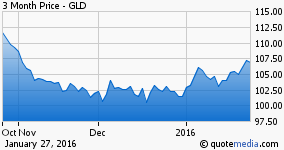 On the other hand, the SPDR Gold Shares ETF (NYSEARCA:GLD) has gained nearly 2% since the start of the week. On Tuesday, the ETF also reached a new 3-month high of $107, a level it touched last, at the start of November last year.
Gold bears believe that the maiden rise in trading gold price over the last two days was nothing more than a sucker rally, but the bulls believe that with equities falling and the USD finally running out of steam, the price of gold could be turning a crucial corner following an extended period of decline.
Right now, investors are caught in the dilemma of choosing amongst investing in gold via trading platforms, buying gold bullion like governments are doing, or opting for gold stocks. With gold stocks, you can capitalize on more than just the increase/decrease in stock prices in the form of dividends, or share buybacks if the company has such a program.
On the other hand, gold bullion is considered a safe haven as a store of value. Historically, the yellow metal has proved to be one of the best stores of value.
The other alternative of trading the yellow metal via various trading platforms provides investors with an opportunity to capitalize on the short-term price movements of the yellow metal without having to top up maintenance margins at expensive rates when taking short positions on gold price.
Now, with stocks, you have multiple options from which to invest in. It's not as straight forward as buying gold bullion or trading the yellow metal. It requires investors to assess the companies in question in more than just gold price. For instance, say profitability, production, growth prospects, and management among others.
Fundamentally looking at gold stocks
At the moment, there are very few profitable gold companies out there. The declining gold price has played a crucial role to that effect with only the best crisis-proof stocks managing to report a positive bottom line. Among them, is Randgold Resources, which currently has a trailing 12-month profit margin of 20%.
Another gold company that is currently in the green zone in terms of bottom line is Newmont, which has a profit margin of 6.17% while Franco-Nevada (NYSE:FNV) margin stands at 12.85%. On the other hand, Agnico Eagle Mines (NYSE:AEM) just manages to edge to the green zone with about 1% profit margin while South Africa-based Sibanye Gold (NYSE:SBGL) boasts 5.40% margin.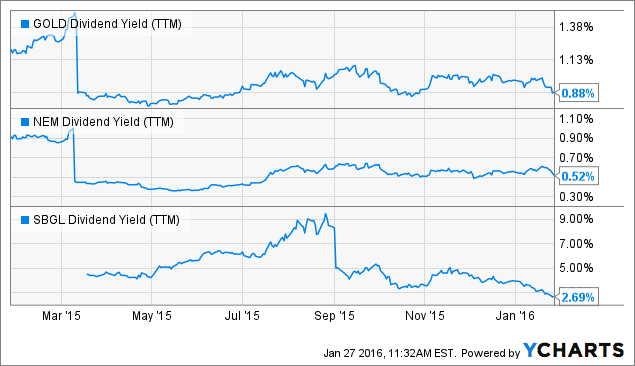 All these companies are paying dividends to shareholders, which is a good thing given the fact that stock prices for gold stocks have been underwhelming over the last few years. Sibanye Gold is currently the best dividend payer amongst profitable gold stocks with a dividend yield of 2.69%, but its payout is pegged at 79%.
On the other hand, both Randgold and Newmont have modest dividend yields at 0.9% and 0.5% respectively, but their payout rates of about 28% for Randgold and 10.6% for Newmont indicate that they can pay better than they currently are. They have room to increase their dividends without hurting cash flows.
On the contrary, Franco-Nevada and Agnico Eagle Mines, boasting dividend yields of 1.9% and 1.12% respectively, are paying in excess of their earnings capability. Agnico currently has a payout of 366% while its counterpart Franco-Nevada is paying at rate of 226%.
These dividend yields and payouts already rule out Franco-Nevada and Agnico Eagle Mines from being among the very best gold stocks. In addition, it is also good to note that Agnico's profit margin just edges past 0%. The return on equity for both stocks is also on the low single-digit levels, as compared to the other three which have ROE levels of mid-single-digit.
Now, among the three that remain on the list, Randgold stand tall in terms of profit margin, but it is easily dwarfed by Sibanye in terms of return on equity and dividend yield with 6% compared to SBGL's 7% while Newmont comes in third with about 5%.
Valuation
From a valuation perspective, both Newmont and Sibanye stand out with P/E ratios of about 19x while Randgold is currently trading at 33x its earnings per share. On the other hand, Franco-Nevada and Agnico Eagles Mines trade at extensively high valuation multiples of 120x and 410x in P/E ratios, respectively.
Based on these metrics, both Newmont and Sibanye appear ripe for buying with Randgold looking more like a hold, or buy and rely on dividends stock. Nonetheless, these stocks provide gold investors with an opportunity to take long positions even though gold prices continue to appear reasonably unpredictable.
Conclusion
The bottom line is that investors that like gold stocks will now be looking for defensive stocks that tend to weather the storm even when the price of the yellow metal is on a vicious downtrend. Here I have highlighted five stocks that still have positive bottom lines for the trailing twelve months, but only a few stood out as ideal investment opportunities.
Newmont and Randgold, in particular, look impressive while Sibanye given its $2 billion market capitalization also offers an alternative for those looking for small cap stocks.
Disclosure: I/we have no positions in any stocks mentioned, and no plans to initiate any positions within the next 72 hours.
I wrote this article myself, and it expresses my own opinions. I am not receiving compensation for it (other than from Seeking Alpha). I have no business relationship with any company whose stock is mentioned in this article.