2016 has had an interesting start. Global markets plummeted initially, Oil was under $30 and then the announcement of a 'monetary policy review' by the ECB to pacify the markets...
Whilst global investors, both retail and institutional, are actively de-risking, this is a time where investors should be thinking hard about what they want in their portfolio in 2016.
I spend a lot of time reading memoirs of great investors, academic papers and mathematical arguments on investing / trading. The one think they all have in common, they are all in some form of disagreement!
As 'retail' investors, we find ourselves at the focal point of the rapacious financial services industry, where the effective goal is to transfer our wealth into someone else's pocket. Don't be mistaken, this will be indirectly through essential 'management fees', 'transaction costs', 'slippage', 'spread', 'overnight funding', or even just a consulting fee.
Advice is not normally for our true benefit; we are told to duck, cover and sell in fear when markets drop, or sit nervously hedged up to the eyeballs with VIX ETF and options contracts. A week later, encouraged to stake our homes as collateral to finance 100x leverage as the never ending bull market resumes.
Ignore the noise. Stick to what you know, keep it simple, never stake more than you can afford to lose - know your risks!
I'm going to talk about what I'm looking at this year for my portfolio; I am not a finance professional, or advisor, anything I say cannot be misconstrued as professional advice.
My 2016 Portfolio Shortlist
1. Bitcoin / Cryptocurrency / Blockchain technology
This is arguably becoming the biggest technological trend, which is set to continue booming as its technology becomes more widely accepted. Please read more about the technology here. As we take steps towards tighter regulation, this will arguably be a natural progression for the industry. Think of it as the new 'health and safety standard' for finance, it will become essential. In a few years time you will look back and wonder how ledgers were ever settled without blockchains!
Here we are looking for companies who are fast to embrace such technology, a couple to keep an eye on are:
Although no where near listing currently, here is a list of 10 of the most promising Blockchain companies.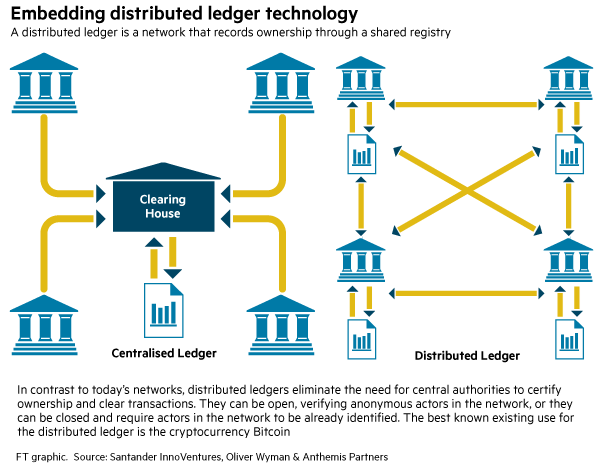 Things to be considered: Bitcoin as an asset is notoriously volatile, and is currently going through some difficulties regarding its transaction infrastructure. Investing in a technology is more difficult than it sounds, especially when it comes to the investment vehicle (most are unlisted or penny startups).
2. Gold
First I want to show you a chart, bare with me, I will explain it below!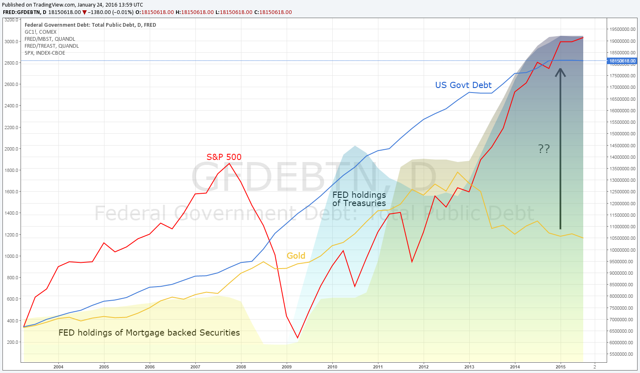 We have the S&P 500 in red, Total U.S. Govt Debt in blue, Gold in gold, and then two shaded regions, yellow representing FED holdings of MBS and Treasury holdings in blue.
We can see the steady growth in the balance sheet of the FED alongside increasingly large purchases of MBS and Treasuries, which occurred over the different QE rounds. Alongside this we see the performance of the S&P 500, its decline in the subprime crisis of 08' and the bull run right up to 2016. Gold is my focus of this chart, it initially keeps pace with debt (and has done historically to an extent).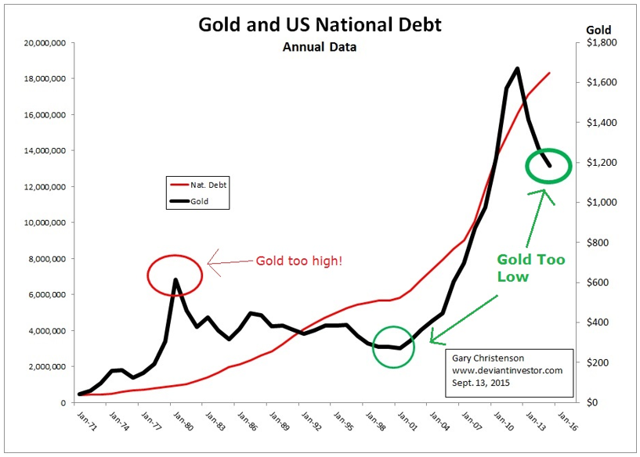 What I am proposing is that as the U.S. continues on its steady rate hike with no further QE programs it shall allow markets to normalize. As part of this normalization I'm expecting a revaluation (lower) of the major indices as equity correlations fall, and a revaluation of Gold.
I believe the revaluation of Gold with arise from three aspects:
Lack of any major QE based intervention from the U.S.
As equity bull market ends, the ensuing volatility drives the average portfolio allocations of Gold and other assets up.
A supply based vacuum in the market due to Gold mining underinvestment over the past few years.
Factors which could keep prices as they are or drive them lower:
A pickup in inflation (and other factors here)
More QE!
Negative press / laws against its transport and storage
Im not claiming that gold is going to be $x higher or lower, but I want the reader to consider what Gold means to the holder, what it represents in a fiat currency system. Gold is a lasting store of value, it is not just bullion in a vault but can be fine jewelry and within various other goods such as electricals. It is fundamentally limited in supply. As balance sheets inflate like a kite in the wind, climbing ever higher, I believe assets like Gold are what (I hope) keeps things from getting too out of control.
3. Long - Short Equity Themes (Choose your risk!)
The two main flavors of equity trades I will be considering are 'intra-sector (constituent) long - short', and 'inter-sector long - short'.
As QE (for the U.S. at least) appears to be off the table, this has one key result for a stock picker - Decreased stock correlation
As the markets less frequently knee jerks when Yellen sneezes, stocks are able to breath a little easier, their true colors shining through.
With less correlation comes more opportunity (in some regards).
Introducing the 'three risks' I shall consider: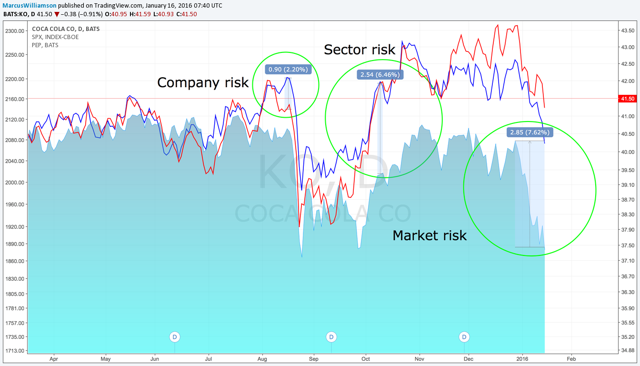 In the above chart we have Coca Cola (NYSE:KO) in red, Pepsi (NYSE:PEP) in blue and the shaded region as the S&P 500 (NYSEARCA:VOO). I have highlighted in the three green circles the three main risks which I consider myself exposed to when I purchase the shares of a company.
Firstly I shall consider the Intra-sector trade, in which an investor is purchasing a pair (such as Coca Cola and Pepsi) with risk arising from company based factors.
Intra-sector trades consisting of going long with a company with the ideal base characteristics of:
Good management
Low net debt
Solid & growing cash flow
Increasing dividends
A good economic franchise
I would also go short a company within the same sector following almost the opposite criteria:
Poor management
High net debt
Rising costs without an increase in revenues and/or profit
Profit warnings and/or dividend cuts
I would also add the condition that the sector is ideally boring, without explosive growth or media focus. Another bonus factor would be low analyst coverage of your stocks. Any upside is potentially enhanced when the strengths of your company shine through in its share price performance.
A good example of this was recently brought to my attention by my friends over at Bear and Bull. (Please note: these are U.K. microcap stocks):
Here we have a long position on a strengthening company with a solid foot in the market and a short on a debt laden shrinking business.
Moving onto the inter-sector trades, the key difference here between the intra-sector trade is that we are additionally gaining exposure to the relative performance of each sector. We now have company and sector risk.
Inter-sector trades consisting of going long a company in a specifically chosen sector, and additionally going short another company in a different sector.
Again we are looking for a company with all the previously mentioned characteristics as a base. We are additionally looking for the long to be within a sector which is set to outperform, and the short to be within a sector which is set to underperform.
A good current example of this is:
Long (Energy intensive sector which will benefit from low energy costs)
Short (Integrated energy producers suffering from underinvestment and cancelled projects)
A more generalized macro perspective on this idea: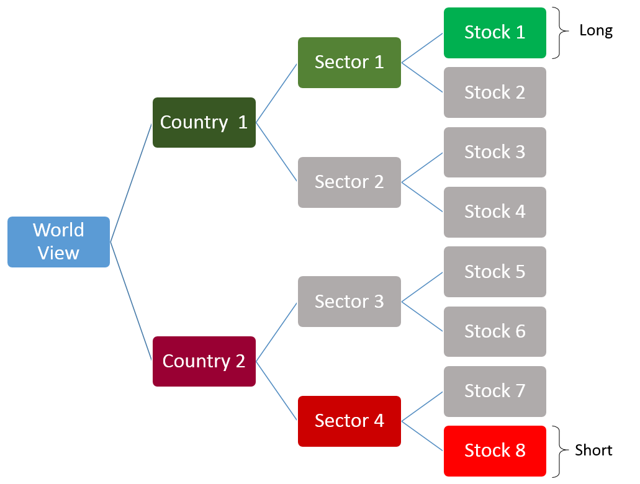 I am looking for relative performance here. I am not interested in forecasting the GDP of China next year, or predicting U.S. unemployment figures, I am aware of my limitations.
What I can have a view on however is the likelihood of long term under/overperformance of one country, sector, company vs another. All I do is examine factors in favor and against, then I look to trade the very best against the very worst (as indicated by the long position in green and short position in red).
I simply do not want to be exposed to raw market direction, unless I am tracking it on a daily basis, spending time at my computer watching the price movements alongside news releases. For the large part sufficient volatility is not present to cover the costs associated with a round trip trade once spreads and commissions have been deducted. Historically speaking its actually very unlikely to make money doing so on a daily basis after costs!
So this is me taking control of my risk exposures, choosing to not have absolute exposure to wherever the wind blows the market next. I'm sorry to tell you that no matter how many MACD crossovers or candle formations have been spotted it has no true bearing on the next price move - for that is random noise.
Please don't fill your portfolios with random noise.
4. Oil - Seize the moment trade
I am not one to typically speculate on commodities as volatile as Crude Oil but there is a time for everything.
As in my most recent article on the black stuff, when opportunities arise one must not be afraid to get involved. However you wish to expose yourself to Oil, you must be very sure of your maximal losses.
I will not repeat the content of that article here, but this trade is something I will be looking into.
In summary my 2016 roundup:
Bitcoin & Blockchain Technology - looking for this to be come the new 'health & safety' standard for electronic banking and data management
Gold - A recovery following the normalization of monetary policy after monstrous QE programs
Long - Short Equity - Exposing myself to relative performance of companies as the macro climate yields lower stock correlations
Oil - Monopolizing on historical lows with fixed downside risk
I wish you all the best of luck in your investing / trading in 2016!
Disclosure: I/we have no positions in any stocks mentioned, but may initiate a long position in OIL over the next 72 hours.
I wrote this article myself, and it expresses my own opinions. I am not receiving compensation for it (other than from Seeking Alpha). I have no business relationship with any company whose stock is mentioned in this article.
Editor's Note: This article covers one or more stocks trading at less than $1 per share and/or with less than a $100 million market cap. Please be aware of the risks associated with these stocks.