Stocks have clearly detached from oil this week, with oil prices rising recently while stocks continue to express weakness. The focus of worry for equity investors is the economy and the Fed's interest rate plans, thanks to recent comments from the Federal Reserve and others. GDP data due Friday might provide equity investors with desperately needed confidence or send stocks over the edge, depending on the result versus an already low expectation.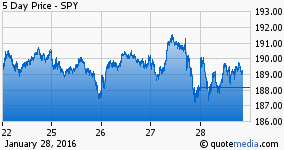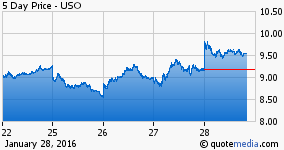 Charts of SPY & USO at Seeking Alpha
The charts of the SPDR S&P 500 (NYSE: SPY) and the United States Oil (NYSE: USO) do not match up well over the last two days. Stocks seem to have detached from oil prices, with oil surging against volatility in equities. Oil prices have benefited from what I'm calling the OPEC put. I believe a recent flurry of activity and comments among OPEC oil ministers about oil prices and production have exposed the downside breaking point for the cartel. As a result, I believe a floor has been set for oil prices at $30.
| | |
| --- | --- |
| Equities vs. Energy | 01-28-16 at 3:40 PM |
| SPDR S&P 500 | +0.8% |
| SPDR Dow Jones (NYSE: DIA) | +0.9% |
| PowerShares QQQ (NASDAQ: QQQ) | +1.5% |
| iShares Russell 2000 (NYSE: IWM) | +0.1% |
| Vanguard Total Stock Market (NYSE: VTI) | +0.6% |
| iPath S&P GSCI Crude Oil (NYSE: OIL) | +6.8% |
| United States Oil | +5.1% |
| Energy Select Sector SPDR (NYSE: XLE) | +2.8% |
Equities lost some of their upside punch over the last two days on several important bits of information. When Apple's (NASDAQ: AAPL) CEO told investors during the company's EPS conference call that Apple had experienced some softness in China recently, I believe it rang an alarm to investors more broadly. The poor outlooks of Apple and Boeing (NYSE: BA) both raised alarm for that matter. Investors are looking to China for stabilization and revived growth to support lift in the U.S. When such a widely held stock like Apple tells of China softness, the news is not missed.
The Federal Reserve's Monetary Policy Statement was described by the media as indicative of a Fed that could pause its rate hike program. However, my reading of the FOMC statement is of a Fed acknowledging risks but still planning its "gradual adjustments in the stance of monetary policy". The Fed's last economic projections showed it was marching toward four rate hikes for 2016. I saw little in the FOMC statement to indicate otherwise. Before reading the statement for myself, I thought stocks had fallen yesterday due to an alarm raised by the Fed about the economy. However, after reading the statement for myself, I believe stocks sold off because of ongoing uncertainty about whether the Fed will raise rates in March or not. Economic data seems to indicate the Fed should pause, and unfortunately, it has not clearly told us it will.
A third bit of trouble for stocks comes in the form of economic data. Fourth quarter GDP will be reported on Friday morning. The consensus of economists surveyed by Bloomberg shows an expectation for just 0.9% growth. That's a substantial markdown from the 2.0% pace posted in the third quarter. Based on this expectation, I believe investors are bewildered by the Fed's lack of clarity. The economic situation appears to be worsening, and the Fed is hung up on employment strength, despite the fact that employment declines tend to lag other economic indicators in showing recession.
Durable Goods Orders were reported this morning for the month of December, and the data showed a decrease in New Orders of 5.1%, versus expectations for a 0.2% increase. Excluding volatile, high-ticket priced transportation goods, new orders fell 1.2%, versus expectations for no change. Revisions of prior month data were either insignificant or favorable to this month's change, so that was not at issue.
At about 10:00 AM ET today, stocks reversed an upward start and headed sharply lower, with the S&P 500 marking a 29 point intraday swing from top to bottom. The action may have been technical in nature, but there was one notable 10 AM economic data release that was disappointing. Pending Home Sales were reported up just 0.1% in December, versus expectations for a 0.8% increase. My outlook for real estate remains positive, but the data and price swing for stocks may illustrate the connection I propose in this report.
Stocks have been trading within a range over the last 10 days or so. I believe they need some sort of economic verification to break out either on the upside or downside. Unfortunately, what is expected from the critical GDP report tomorrow is not good. However, at 0.9%, expectations are situated to allow for some indication. A beat of the number, closer to Q3's growth, will revive some confidence and serve stocks. However, a miss of this already low estimate could give stocks the extra push they need to fall off the edge toward new lows for the last 12 months. Pay close attention to the GDP data tomorrow, as it will be your guide for the foreseeable future.
Disclosure: I/we have no positions in any stocks mentioned, and no plans to initiate any positions within the next 72 hours.
I wrote this article myself, and it expresses my own opinions. I am not receiving compensation for it (other than from Seeking Alpha). I have no business relationship with any company whose stock is mentioned in this article.