By Lyle Fitterer, CFA, CPA. With contributions from Terry J. Goode, senior portfolio manager, Tax-Exempt Fixed Income, and Brandon Pae, senior research analyst, Tax-Exempt Fixed Income.
After four years of drought, municipal water utilities in California are facing scarcer water supplies and, in turn, potentially lower revenue streams due to selling less water and spending more on capital projects for more sustainable water sources. While investors have traditionally viewed the more-than-$18-billion California water and sewer sector as high quality - the median rating is AA- from Standard & Poor's and Aa3 from Moody's - it will be increasingly important to differentiate between issuers to find the best investment opportunities. Successful responses to the drought crisis have allowed many utilities to keep their financial positions strong while other less-nimble issuers have seen their balance sheets weaken. Below, we explain why the challenge of scarce water supplies is here to stay, how it is affecting California water and sewer bonds, and what our investment themes are within this sector.
The challenge of water scarcity is here to stay
Virtually, the entire state is in drought conditions, with more than 92% of the state in severe drought or worse. The National Oceanic Atmospheric Administration (NOAA) estimates that four-year rainfall amounts were between 54% and 75% of normal 2011-2014, resulting in significant precipitation deficits throughout the state. Over the past four years, NOAA reports that every region in the state is missing at least a year's worth of precipitation and the south coast of California is missing almost two years' worth. As a result of this deficit, more than 15 million acre-feet of groundwater and reservoirs have been depleted. Given the dire situation, Governor Jerry Brown declared a state of emergency on April 1, 2015, and issued an executive order to cut urban water use by 25%. Anecdotally, several small communities in the California Central Valley have run out of water, and prices for secondary-market sales of surplus water supplies between water customers have reached record highs.
Statewide drought conditions have consistently worsened since 2011, leaving 92% of California in severe drought


Source: U.S. Drought Monitor-California, United States Drought Monitor
Despite NOAA's forecast that this winter will bring one of the strongest El Nino years on record, which historically results in above-average precipitation levels in Central and Southern California, water resources that have been depleted during the current four-year drought are unlikely to be fully replenished. Reasons for this include:
Not enough precipitation will fall
NOAA estimates precipitation totals for water year 2015-2016 must exceed 135% of normal in Northern California, 160% of normal in the dry southeast, and 198% of normal in the San Joaquin Valley in order to escape five-year drought conditions. At 198% of normal for the San Joaquin Valley, the current water year would have to be the wettest on record. We note that this unprecedented amount of precipitation merely drags the state out of drought conditions but not anywhere close to normal water supply conditions, which would require every region to receive record-breaking amounts of rain (ranging from 184% to 301% of historic averages).
Since 1950, NOAA has found very strong El Nino conditions in two water years (1982-1983 and 1997-1998) and strong El Nino conditions in three years (1957-1958, 1965-1966, and 1972-1973). During these five years, precipitation levels were 133% of the average historic levels in California. The 1982-1983 El Nino season brought the greatest amount of rain to the state, delivering 183% of the historical averages. While strong El Ninos have generally delivered above-average precipitation levels, the presence of a strong El Nino does not guarantee rainfall. Based on our analysis of data from the California Data Exchange Center, the 1965-1966 strong El Nino season delivered precipitation of just 71% of statewide historic averages and 83% of normal snow accumulation in the Sierras. Even assuming an especially rainy winter under the strongest El Nino conditions, precipitation levels are unlikely to cure the California drought while a water year similar to 1965-1966 could even exacerbate drought conditions.
Warmer temperatures could hinder snowpack accumulation
The snowpack in the California Sierras provides a natural store of water for the state and supplies about 30% of the state's water needs as it melts in the spring and summer. The greater the snowpack water content, the greater the likelihood California's reservoirs will receive ample runoff as the snowpack melts to meet the state's water demand in the summer and fall. While El Nino tends to bring additional precipitation to the state, it also brings warmer-than-normal winters due to the tropical origins of the storm. Indeed, NOAA forecasts above-average temperatures across much of the West for the upcoming winter, which may raise the snow level to higher elevations and limit the buildup of the snowpack in lower portions of the Sierra Nevada mountains. Should this strong El Nino weather pattern make it too warm for the Sierra precipitation to turn to snow, the increased rainfall could merely flow out to the ocean and not be captured in the state's water infrastructure.
Reservoir levels are so low that unprecedented precipitation will be necessary to replenish them
Even if a very strong El Nino season were to generate precipitation levels on par with the wettest years in the modern record, California would likely remain in drought conditions. Water storage in the state's most important reservoirs is at historic lows and likely would not reach average historic levels even under an extraordinary water year. If each of the reservoirs shown in the table below were to store the same amount of water as it received during its most extreme El Nino year, just one reservoir would be above its historic average on June 1, 2016.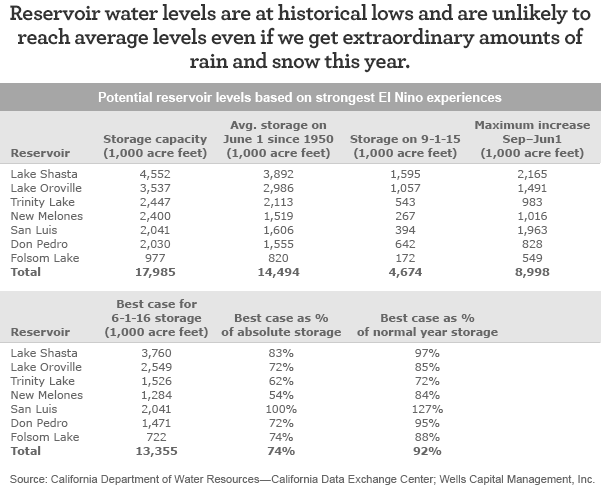 Degraded soil conditions are unlikely to absorb enough rainfall to recharge aquifers
Groundwater typically accounts for 35% of California's freshwater needs, with half of all Californians relying on groundwater for at least a portion of the water flowing from their taps. During droughts, the state turns to aquifers as if they were savings accounts, relying on groundwater for as much as 40% of a year's supply statewide and up to 60% or more in some regions. During the current drought, NASA estimated (as of December 2014) that the drought left the state's Sacramento and San Joaquin river basins 11 trillion gallons below normal seasonal levels, with two-thirds of that loss due to depletion of groundwater beneath the Central Valley. Four years of drought has decimated plant life, and without these plants, the ground has dried out and hardened, which renders it less able to absorb water. Therefore, even if there was enough precipitation to sufficiently recharge the depleted aquifers, the hardened ground would not be able to capture the rain and it would instead be lost as runoff or river flow, increasing the risk of flooding and landslides.
The investment effect on water and sewer bonds
Partially due to these factors, the water/wastewater sector has consistently underperformed the broader California market in each of the past four years. The main reason for the underperformance, however, was that lower-rated credit categories outperformed higher-rated ones during this period as investors reached for yield in a low-interest-rate environment. Despite being a high-quality sector, the total return performance of water utility bonds is poised to vary as utilities' financial positions are affected differently by water scarcity. Further, the full extent of water cutbacks on credit ratios will not be known until fiscal-year 2016 financial statements are released beginning in the second half of 2016.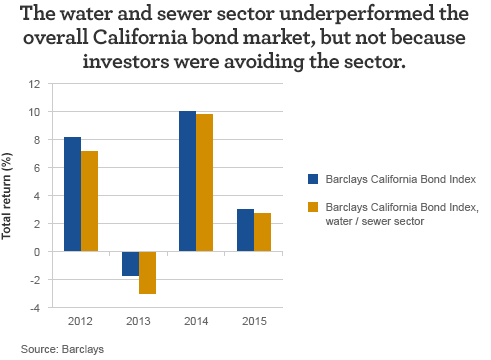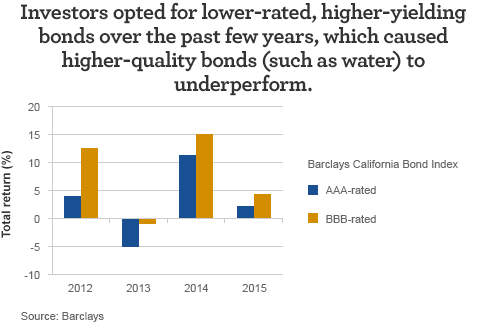 Under drought conditions, water utilities will face many headwinds, including decreased revenues due to lower water sales and increased costs to conserve, capture, or buy water from elsewhere to ensure an adequate supply. A utility's nimbleness in adjusting rates to mitigate these headwinds will be key. Legal battles over water rights and potential efforts to change the way water is priced, from a cost-based method to one where water is priced based on its most valuable use, may affect the creditworthiness of water utilities in the future.
Example. The San Diego County Water Authority (SDCWA) is a prime example of the extensive and innovative efforts taken by California water utilities to ensure their water supplies. SDCWA is a water purveyor that supplies wholesale water to 3.2 million residents residing in and around the City of San Diego. Historically, SDCWA relied on imported water purchased from the Metropolitan Water District of Southern California (Met Water), buying 95% of its water from Met Water in 1991. However, when Met Water imposed water restrictions in the early 1990s, SDCWA began to diversify its water supply away from a single source. Over the past 25 years, the SDCWA's diversification efforts have included: purchasing water from other water suppliers (Imperial Irrigation District), investing in innovative canal lining projects and capturing the conserved water (All-American Canal and Coachella Canal), investing in recycled water and conservation projects, and the construction of the largest seawater desalination plant in the Western Hemisphere, which became operational in December 2015. While these projects have added significant leverage to the system and have pressured water rates, we view management's actions positively because this diversification effort will serve as a significant hedge against future drought effects. We believe that these efforts have contributed to SDCWA's strong credit ratings of Aa2, AA+, and AA+ from Moody's, S&P, and Fitch, respectively.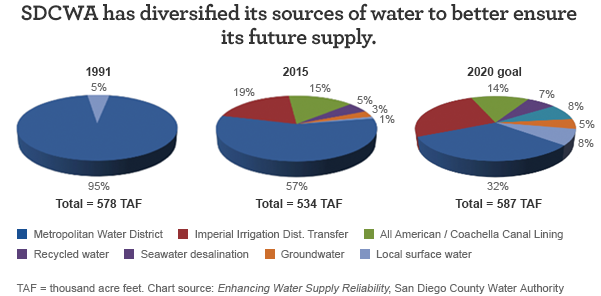 Our investment themes
We believe the water and sewer sector within California will remain a high-quality sector due to the essential service it provides and the lessons water-utility management teams learned in dealing with water scarcity issues in the past. As investors seeking to identify relative-value opportunities - which means being compensated for the credit risk of each security we buy - we are watching two types of risk. First, headline risk can cause liquidity in the sector to decline and credit spreads to widen when negative news breaks, resulting in a dislocation between bond prices in the market and their intrinsic value. The second risk is that rating volatility generally peaks in this sector when there are water scarcity issues. With both these risks, the key is to understand the underlying strength of a utility and be ready to buy bonds when they become attractively priced in relation to their credit fundamentals.
Based on our understanding of the dynamics of the sector, the specific criterion employed by the rating agencies, and individual water-utility creditworthiness, we believe we can optimize our portfolio in advance of expected rating actions and prepare for potential spread widening or tightening. Our credit focus begins with understanding the financial health of a utility. As the SDCWA example showed, credit factors are not static but rather very fluid, and a proper analysis requires both historical perspective as well as prospective insight. While any credit analysis should consider common financial credit metrics such as debt-service coverage ratios, cash balances, and liquidity measures, we examine the utility's access to and strength of its water rights, composition of its water supply, and its ability to sustain decline in water revenues, such as those generated by the governor's mandated water restrictions. Finally, we examine the scope and content of the utility's capital plans, service base, and management quality (especially regarding its willingness and ability to implement rate increases). While many water utilities will not have the financial wherewithal or credit strength of a SDCWA or Met Water, we remain active in the sector as we continue to find attractive relative-value positions across the credit-rating spectrum.
Credit research essential as extreme weather events become the norm
We view events like this unprecedented four-year drought in California and the extraordinarily wet El Nino weather pattern not as anomalous events but as increasingly common occurrences going forward. While we believe that neither the current drought nor the predicted El Nino winter will have a material effect on the credit quality of the California water sector as a whole, each of the hundreds of water utilities in the state have their own distinctive characteristics (including unique water supply portfolios, priorities of water rights, regulatory challenges, and rate bases) that will be uniquely affected by these phenomena. As a result, generalities for a sector will not be sufficient when examining individual credit names. It will be essential to understand the water landscape, its regulations, and the choices - and costs associated with those choices - to determine the trajectory of a given bond. In-depth credit research and active security selection will be essential to ensure investment portfolios stay above water and not plummet into any credit pitfalls.
The views expressed are as of 1-12-16 and are those of Lyle Fitterer, CFA, CPA, and Wells Fargo Funds Management, LLC. The information and statistics in this report have been obtained from sources we believe to be reliable but are not guaranteed by us to be accurate or complete. Any and all earnings, projections, and estimates assume certain conditions and industry developments, which are subject to change. The opinions stated are those of the authors and are not intended to be used as investment advice. The views and any forward-looking statements are subject to change at any time in response to changing circumstances in the market and are not intended to predict or guarantee the future performance of any individual security, market sector or the markets generally, or any mutual fund. Wells Fargo Funds Management, LLC, disclaims any obligation to publicly update or revise any views expressed or forward-looking statements.
Wells Fargo Asset Management (WFAM) is a trade name used by the asset management businesses of Wells Fargo & Company. Wells Fargo Funds Management, LLC, a wholly owned subsidiary of Wells Fargo & Company, provides investment advisory and administrative services for Wells Fargo Funds. Other affiliates of Wells Fargo & Company provide subadvisory and other services for the funds. The funds are distributed by Wells Fargo Funds Distributor, LLC, Member FINRA, an affiliate of Wells Fargo & Company.
Not FDIC Insured • No Bank Guarantee • May Lose Value
Disclosure: I/we have no positions in any stocks mentioned, and no plans to initiate any positions within the next 72 hours.
I wrote this article myself, and it expresses my own opinions. I am not receiving compensation for it. I have no business relationship with any company whose stock is mentioned in this article.
Additional disclosure: The author had a municipal bond position in California's water and sewer sector, at the time of writing.