Fiserv (NASDAQ:FISV) was founded back in 1984 as a result of a merger of Sunshine State Systems and First Data Processing. At the time, it was a data processing company which focused on providing data services for large financial institutions. To increase its presence in the field and crush its competition, Fiserv decided to develop a corporate acquisition strategy that will help it to strengthen its position in the data and banking industry.
Over the last three decades, Fiserv acquired businesses and enterprises that were focused on developing services for processing data, electronic commerce, online banking, online bill payment, electronic bill payment, mobile banking, check clearance etc. These purchases helped the company to become one of the largest providers of financial services for large institutional accounts.
But as the online technology evolves and FinTech sector is gaining traction, Fiserv plans to continue to increase its presence in this field and dominate the industry for the years to come.
Fintech Overview
FinTech is a shortcut for financial technology. It's a business that is based on using software to provide financial services to different institutional and/or retail clients. The main advantage of the business is that it's easy to use, it offers a wide variety of products that you can purchase using the service and you don't need to carry cash every time you want to buy something. Here are the reasons why consumers are using FinTech: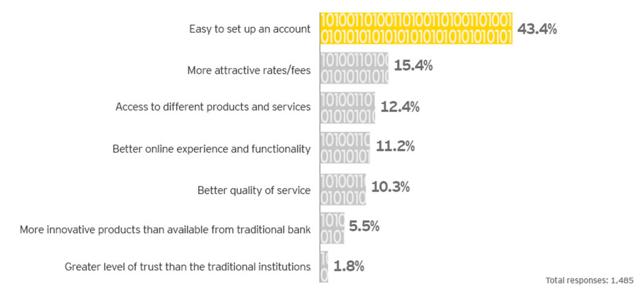 (Source: EY FinTech Adoption Index)
According to Accenture (NYSE:ACN), global investment in financial technology tripled in 2014, with a 201% increase between 2013 and 2014, with approximately $12B invested through more than 730 deals. And besides the traditional financial giants like Goldman Sachs (NYSE:GS) and JPMorgan (NYSE:JPM), a lot of investments were being made by venture capital firms: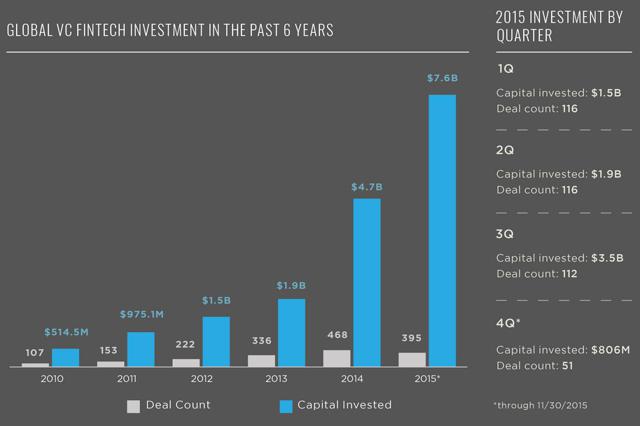 (Source: Pitch Book)
And it seems that the trend will continue and a lot of traditional financial services are at risk of being displaced by the new entrants.
Disrupting through Acquisitions and Partnerships
Fiserv survived a number of bubbles and recessions thanks to its corporate acquisition strategy that I described at the beginning of this article. The same thing the company does now to increase its presence in the FinTech sector. It buys small enterprises or startups that are disrupting the traditional financial industry by releasing their own financial technology services that are better than that of a competition. It also partners with big-name institutional investors that are interested in using these services in their business routines.
First major acquisitions in FinTech sector for Fiserv occurred in 2011. At the time, the company purchased M-Com, a provider of mobile banking applications and bought CashEdge, a provider of online funds transfer services. Then in 2013, it acquired Open Solutions, their main asset of which was a DNA account processing platform which Fiserv integrated into its portfolio.
However, the real expansion started this month. First Fiserv was chosen to deploy its technology for Suffolk Country National Bank to improve customer experience, then it partnered up with Alpha Payments Cloud to help the Australian banks to faster their way to process payments, and was selected by big British Columbian banks for deploying its DNA processing platform for their business.
And then last week, Fiserv bought the Community Financial Services (CFS) arm of e-banking and payment solutions provider ACI Worldwide (NASDAQ: ACIW) and partnered with Bank Innovation to launch its own FinTech accelerator.
The accelerator will play a huge part of Fiserv's future success in the FinTech sector. Thanks to the resources and partnerships that the company has, it can serve as a connection point between financial services startups and thousands of bank and credit union clients all around the world.
Over the last few years, the stock price of Fiserv was rising at a moderate pace: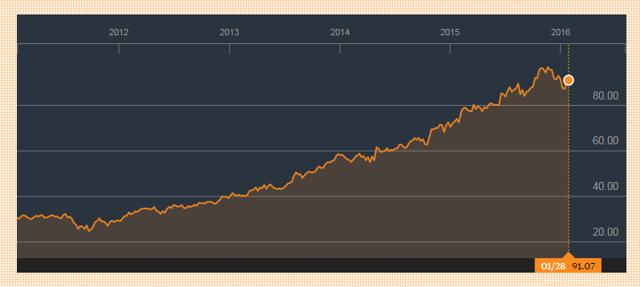 (Source: Bloomberg)
Also, the company quickly recovered after the recent market selloff and showed that it can be a safe bet for investors in a troubling time. And the reason why I believe that it will continue to grow is because it has decades of experience in the industry and willingness and ability to dig deep to understand what its clients want.
Recent partnerships and a strong start to the year are indicating that Fiserv is strongly devoted to its mission of improving customer service and increasing its own shareholders value for the long-term.
Disclosure: I/we have no positions in any stocks mentioned, and no plans to initiate any positions within the next 72 hours.
I wrote this article myself, and it expresses my own opinions. I am not receiving compensation for it (other than from Seeking Alpha). I have no business relationship with any company whose stock is mentioned in this article.