We Examine The Performance, Fundamentals And Opportunities For The Recently Woeful Sector
By Rahim Shad and Peter Wietrak, Analysts
An unhealthy dependence on easy capital over the past several years has created a major challenge for the metals and mining sector. Invesco Fixed Income (IFI) believes the mixture of high leverage and slowing demand for commodities is proving to be a lethal combination that warrants continued close attention in 2016.
Cautious on metals and mining after a difficult year
Last year was very difficult for high yield investors, especially those with exposure to metals and mining. For example, the metals and mining sector was the worst high yield performer of the year, with total returns of -27.94% versus -4.99% for the broader high yield market.1 The US investment grade metals and mining sector also weakened, declining by 14.51% and significantly underperforming the broader Barclays US Credit Index, which was down by only 0.77%.2
In our view, the metals and mining sector remains vulnerable this year as well, as Chinese demand continues to slow due to a shift away from fixed asset spending. At the same time, after years of global investment in capacity expansion, which was mostly debt-funded, the supply of most commodities continues to surge, depressing commodity prices. Against this backdrop, we believe investors need to approach the metals and mining sector with caution. We favor participating only in companies with the balance sheet strength and cash liquidity necessary to survive the downturn.
Default expectations increased
As we look at the distressed part of the high yield metals and mining sector today (defined as bonds trading with spreads wider than 1000 basis points), the distressed percentage stands at 66% of the sector and around 4% of the Barclays US High Yield Index.3 Under the current commodity price regime (our base case), we could see a quarter of the metals and mining sector in default this year, representing roughly 1% of the Barclays US High Yield Index index.4 However, if prices continue to fall sharply, (our more bearish scenario), close to half of the sector could default, representing roughly 2% of the Barclays US High Yield Index.4
IFI's approach to investing in the metals and mining sector
While we remain cautious on the metals and mining sector in high yield and investment grade, we continue to seek exposure to select companies that we think can weather the storm. Our preference is weighted toward companies with strong balance sheets, leaders in cost structure, free-cash flow generators and, in certain cases, companies with strategic assets. More than anything, we look for prudent management and companies that are likely to allocate capital appropriately in these challenging times.
Migrants to high yield may provide opportunity
One segment of the metals and mining sector that could potentially offer opportunities for high yield investors this year may be so-called "fallen angels" - that is, investment grade companies downgraded to high yield. We would expect to see investor interest in these former investment grade companies that, in most cases, still carry better balance sheets than their high yield counterparts, in addition to more diverse product lines and opportunities to gain access to financing due to their favorable asset profiles. We believe this potential credit migration may especially be of interest given the limited new issuance currently seen in the high yield market.
The main downfall of fallen angels in the metals and mining sector has been their willingness to invest in or acquire assets, often energy-related, in an attempt to diversify their existing portfolios of base metals or bulk commodities. Such companies relied on sustained commodity prices to generate sufficient cash flows and subsequently reduce leverage. At current commodity prices, fallen angels now often rely on asset sales and other sources of cash to improve their balance sheets, which is not sustainable. However, we expect that some will begin to reap the benefits of their investments in the next few years as their assets begin production, making these companies potentially appealing to high yield investors.
Signs of potential recovery in the sector
We believe the outlook for metals and mining must include China as part of the equation. At a minimum level, we need to see Chinese growth stabilize in order to upgrade our outlook for metals and mining. One of the early telltale signs of a possible turnaround in metals and mining prices would be "end of cycle" behavior - typically a pull-back in commodity supply, either due to producer consolidation via acquisitions or outright credit defaults. Each of these, while disruptive in the short term, could be a healthy indication that supply and demand are finally rebalancing, painting an improved picture for the health of the sector going forward.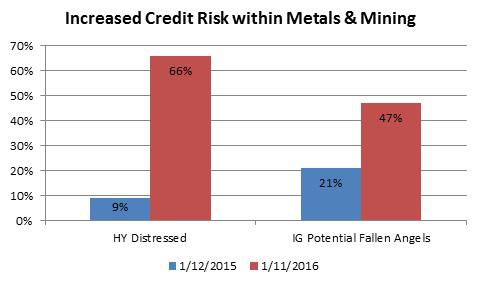 Source: Barclays US High Yield Index - Metals and Mining component, Barclays US Credit Index - Metals and Mining component, Invesco, Jan. 12, 2015 and Jan. 11, 2016. Note: Investment grade potential fallen angels are defined as investment grade bonds with spreads greater than the spread of the BB-rating component, within the Barclays US High Yield Index. For reference, BB-rating spreads were 453 bps on 1/11/2016 and 345 bps on 1/12/2015. Barclays Live.
Sources:
The JPMorgan US High Yield Index, Dec. 31, 2015.
Barclays US Credit Index - Metals and Mining component, Barclays US Credit Index, Dec. 31, 2015.
Barclays US High Yield Index - Metals and Mining component, Barclays High Yield Index, Jan 11, 2016.
Barclays US High Yield Index, Invesco, Jan 6, 2016.
Important information
The JPMorgan US High Yield Index is designed to mirror the investible universe of the US high-yield corporate debt market, including issues of US- and Canadian-domiciled issuers.
The Barclays US Credit Index is an index composed of corporate and non-corporate debt issues that are investment grade (rated Baa3/BBB- or higher). Please note that an investor cannot invest directly in an index.
The Barclays US High Yield Index covers the universe of fixed rate, non-investment grade debt, including corporate and non-corporate sectors.
Spread represents the difference between the yield on a corporate bond and a similar maturity US Treasury bond.
A basis point is one hundredth of a percentage point.
Fixed-income investments are subject to credit risk of the issuer and the effects of changing interest rates. Interest rate risk refers to the risk that bond prices generally fall as interest rates rise and vice versa. An issuer may be unable to meet interest and/or principal payments, thereby causing its instruments to decrease in value and lowering the issuer's credit rating.
Commodities, including mining and precious metals, may subject an investor to greater volatility than traditional securities such as stocks and bonds. In addition, fluctuations in the price of precious metals may affect the profitability of companies in the precious metals sector. Changes in the political or economic conditions of countries where companies in the precious metals sector are located may have a direct effect on the price of precious metals.
Businesses in the energy sector may be adversely affected by foreign, federal or state regulations governing energy production, distribution and sale as well as supply-and-demand for energy resources. Short-term volatility in energy prices may cause share price fluctuations.
The information provided is for educational purposes only and does not constitute a recommendation of the suitability of any investment strategy for a particular investor. Invesco does not provide tax advice. The tax information contained herein is general and is not exhaustive by nature. Federal and state tax laws are complex and constantly changing. Investors should always consult their own legal or tax professional for information concerning their individual situation. The opinions expressed are those of the authors, are based on current market conditions and are subject to change without notice. These opinions may differ from those of other Invesco investment professionals.
| | | |
| --- | --- | --- |
| NOT FDIC INSURED | MAY LOSE VALUE | NO BANK GUARANTEE |
All data provided by Invesco unless otherwise noted.
Invesco Distributors, Inc. is the US distributor for Invesco Ltd.'s retail products and collective trust funds. Invesco Advisers, Inc. and other affiliated investment advisers mentioned provide investment advisory services and do not sell securities. Invesco Unit Investment Trusts are distributed by the sponsor, Invesco Capital Markets, Inc., and broker-dealers including Invesco Distributors, Inc. PowerShares® is a registered trademark of Invesco PowerShares Capital Management LLC (Invesco PowerShares). Each entity is an indirect, wholly owned subsidiary of Invesco Ltd.
©2016 Invesco Ltd. All rights reserved.
High yield: Drilling through the data on metals and mining bonds by Invesco Blog