After the huge crash in oil prices from over $100 a barrel to around $30, investors should be thinking of their next move (assuming they didn't take a leveraged position in oil and are now broke). While many are contemplating whether oil prices will go further down or start to recover, analyzing the knock on effect to other assets may prove slightly more predictable. Oil prices are so fundamental to the dynamics of the economy, it will inevitably have an effect on just about every asset class which, if understood, can be a profitable time for an investor.
Recap
The decline in oil prices has been the result of a perfect storm of supply and demand factors. On the supply front, Saudi Arabia has decided to increase output to drive shale producers out of the market. At the same time, supply disruption in other areas like Iran has ended or not materialized. On the demand side, China seems to be slowing down faster than many expected, and the over-spending in infrastructure projects (which are energy intensive) looks likely to be coming to an end. Europe is sometimes mentioned as a cause of demand worries, however, a brief glance at oils tepid response to previous Eurozone crises makes this look like a benign factor. For normal assets, such a decline in price would be followed by a big decrease in supply. However, OPEC countries have very low marginal costs, as they typically restrict production, creating very inelastic supply. Some have even been thought to increase production as prices decline to meet budget targets.
Lessons From History
The decline in the prices of oil (and commodities in general) following the oil shocks of the 1970s made way for a period of economic growth in the 80s and 90s. As can be seen, the S&P 500 (SPX) generally performs better during a period of falling commodity prices.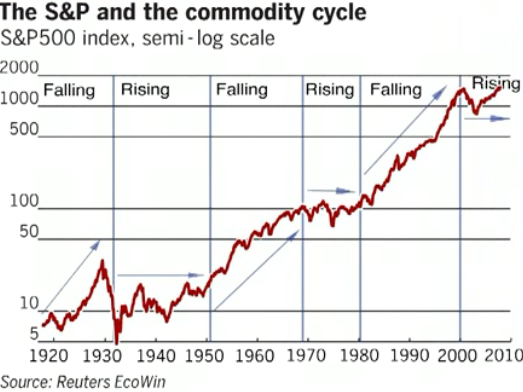 As oil also drives down the prices of the whole energy sector anything that requires energy as an input, which is just about every good, will get cheaper, meaning consumers can spend more on other things. In economic terms, the potential output of the economy increases. This is especially the case for those countries that are net importers of oil, as they experience a gain in terms of trade, while oil exporters may find the terms of trade effect creates a negative overall effect.
The economist James Hamilton emphasizes the narrative of oil price driving economic growth. He has shown that there is a historical correlation between oil shocks and recessions. In this research, he looks at how large negative oil shocks affect GDP, and found that large enough movements have a clear negative effect. He also observed (in 2005) that since the Second World War a spike in oil prices preceded nine out of ten recessions in the U.S.
Recent Price Movements
With this in mind, it might seem confusing as to why the collapse in oil prices has caused a collapse of many other asset classes. While some assets may be exposed to energy suppliers and others assets might be exposed to a slowing China e.g., The Shanghai Index [SSE], many others that don't fall into either of these categories have declined as well. Indexes like NASDAQ (IXIC), FTSE 250 ((MCX)) and the DAX (NASDAQ:DAX) all have minimal exposure to commodity companies but have still seen large declines recently. It is clear that the market sees what is happening as being negative for the overall economy.
The basic reason for this is because investors fear that oil prices are declining as part of an overall decline in demand from the global economy, as well as the possibility of it causing financial instability. I will argue why both of these fears are unfounded when it comes to economies like the U.S. and Europe.
It's Not So Bad
Firstly, the decline in demand that is partly responsible for the decline in oil prices, as well as other commodities like iron ore, mostly comes from China, who has been spending huge amounts on infrastructure. At the same time, as spending less on infrastructure, China is trying to move towards more normal consumption. Whether this is being achieved or not is up to debate, though either way the narrative is that this decline in demand will come from infrastructure spending, which is intensive in raw materials/commodities including oil. Most large developed economies, however, e.g. Japan, U.S., Germany, UK, etc., are net importers of these commodities. It could be argued that the cumulative effect of problems in China and commodity exporting countries will have a knock-on effect to these developed economies. However, this is not what happened after the oil shocks in the 1980s/90s, and it wouldn't make sense for it to happen now. Even if a fall in demand was experienced in places like Brazil, Australia, etc., as well as China, that very fall in demand makes imports as well as export products cheaper. The result of this is that domestic consumers are able to spend more in response. There is always a risk that this transition takes time, and so there is a period of pain in the meantime, however accommodating central banks would make it unlikely that demand is reduced for long.
The financial instability issue comes from investors or lenders losing a large portion of their wealth. As a result of this, there could be a domino effect where the decrease in asset prices creates insolvency and creditors suffer. However, when there was a Latin American debt crisis in the early 80s, there was minimal impact to the U.S. economy from the losses banks and investors experienced. Though banks were helped by increased liquidity, the exposure was never large enough to cause a problem. The main type of bank loan is domestic housing, so unless this experiences a large fall, banks are unlikely to suffer to the extent that it leads to contagion. At the same time, the improved terms of trade means other assets might perform better, including housing.
Conclusion
Overall history favors the commodity importing countries. The benefits still appear much greater than the drawbacks. In the U.S. for example, over 10% of GDP is spent on energy. This is before factoring in other commodities that have declined in price, e.g. iron ore, copper, etc. From these declining as much as they have, there should be an increase of a few percentage points to potential output over time. On top of this Japan, Europe and the U.S. are all large importers of energy. The relative price decline in these industries compared to their export industries will further benefit these countries. Japan's situation might be slightly more uncertain however, being geographically so close to China.
Many modern economists follow the idea that economic fluctuations start with the supply shock, which then drives demand in the way of investment and consumption. This countervailing demand effect may take some time to work through, but the gains are definitely there for America, Europe and some other economies given time. As a result, the decline in stock market prices in these countries represents a good buying opportunity in non-resource companies dependent on domestic consumers. As shares in these countries should not only recover but experience gains from this event, it is best to target indices or companies mostly exposed to the domestic consumer. As such indices with a lot of global exposure or exposure to the resource sector may be less suited e.g., the FTSE 100 (UKX). The FTSE 250 (MCX), U.S. consumer goods index (NYSEARCA:IYK) and U.S. consumer services index (NYSEARCA:IYC) are all better suited for this purpose, however they are also very highly priced on a historical basis so aren't ideal when there are cheaper options available. If you can stomach the uncertainty in the Eurozone, then European stocks are more attractively priced and are generally focused on the European consumer. My personal favorite, however, is the Dow Jones U.S. Home Construction Index (NYSEARCA:ITB), which has declined significantly and should also benefit from a reduction in the price of input materials decreasing.
Disclosure: I am/we are long ITB. I wrote this article myself, and it expresses my own opinions. I am not receiving compensation for it (other than from Seeking Alpha). I have no business relationship with any company whose stock is mentioned in this article.