Ross Stores (NASDAQ: ROST), the parent company of Ross Dress for Less and dd's Discount, is the largest off price retailer chain of apparel and home fashion in the United States. As of their most recent quarter ended October 31st, 2015; Ross had a total of 1,448 stores across 34 states, District of Columbia, and Guam.

As a New Yorker, I've been mainly familiar with TJX Corporation (NYSE: TJX) parent company of Marshalls, TJ Maxx, and Home Goods - a business which has grown nicely over the years thanks to its popularity amongst deal-seeking consumers and a highly profitable business model.
It wasn't until the summer of 2014 that I discovered Ross stores during a trip to Washington, D.C. I was quickly intrigued after noticing a lot of in-store similarities to TJX. After some research, I was surprised to find that over the past decade, Ross stock performance has not only surpassed the S&P 500 but that of its closest competitor and other well known retailers including Macy's (NYSE: M) and JC Penney (NYSE: JCP):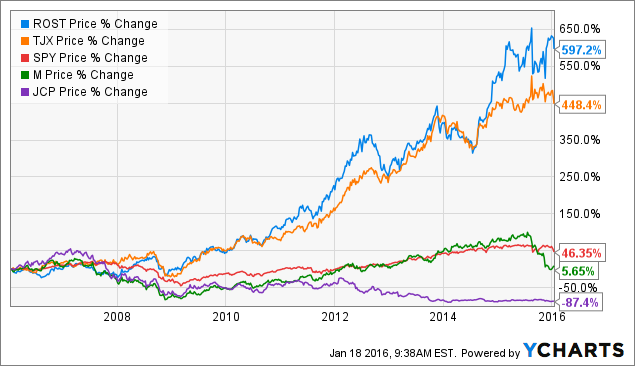 With that said, considering historical performance is never a guarantee of future prospects the questions become: What exactly makes the business profitable? What kind of growth strategies does Ross have in store to ensure continued success and profitability? Can existing and prospective investors continue to benefit?
In this report, we look further in to the above noted questions and look to determine whether this company would be a nice addition to a diversified portfolio. Lets dive right in.
What Makes Stores like Ross Successful
As briefly noted, Ross Stores and TJX follow a very similar business model - they offer an assortment of in season (or close to season) merchandise including clothing, shoes, kitchen appliances, and household decoration items. Ross has an amicable relationship with a vast number of suppliers whom look to manage excess inventory at large department stores and/or luxury goods manufacturers (think Michael Kors, Coach, Calvin Klein, etc.). Ross personal shoppers work closely with the vendors and get to decide from a vast selection of high quality merchandise and bringing them over to Ross customers at deep discounts.
Ross merchandise sells for 20-70% off regular department store prices. Its main demographic is 75-80% female between the ages of 18-54 purchasing for herself or for the family. The vast majority of stores are located in markets with large population of middle income households. The offerings are tailored to the preference of the female who enjoys the "treasure hunt" experience and to individuals who need a bargain or simply want a bargain.
Offering clients a "treasure hunt" experience and great value on brand name, high quality, in-season merchandise is one of the company's core strategies which has driven growth for over 30 years.
Growth & Profitability Strategies
Leaner Operations, Fatter Margins
Ross has been working on becoming more efficient with operations across all segments. It strives to boost profit margins and help enhance cash flow by reducing working capital needs.
One main strategic approach has been inventory management. As per Ross, the company has reduced in-store inventory by over 40% over the past several years. A leaner inventory promotes faster turn around in merchandise and helps to maximize gross margin. This strategy also helps to enhance the number of fresh merchandise customers can find each time they visit a store.
The ongoing strategic investments in shortage control initiatives have contributed to higher profit margins over the past decade:

Source: Morningstar
Notice that Ross profitability ratios have been increasing consistently across the board.
Expansion Plans
Ross long term goals include doubling the size of stores in existing and new markets within the U.S to reach a target number of stores between 2,000-2,500. Time frames with the noted expansions have not been specified.
As documented in annual reports, extensive research has confirmed Ross has the ability to cluster stores closer together without the risk of cannibalizing existing locations. New stores are opened strategically taking in to consideration important factors including market penetration, local demographic characteristics, competition, expected store profitability, and ability to leverage overhead expenses.
A Closer Look at Valuation Metrics
As shown below, we first compare ROSS valuation metrics with that of its closest competitor, TJX. As you can see, both businesses are pretty much at par in nearly all categories.
Next, notice how both Ross and TJX are trading at higher multiples in comparison to other department stores and industry peers.

Source: Morningstar
The Higher multiples can be justified by the expectations the market has for discount retailers in comparison to regular department stores. It is no secret that sales and profits for stores like Macy's and JCP have been suffering significantly in recent times. Part of the reason is high competition from online retailers as well as a growing consumer culture that consistently demands deep discounts without sacrificing value and quality.
Businesses like TJX and Ross seem to offer a nice middle ground between high quality and value at attractive prices while keeping the concept of brick and mortar shopping alive and well.
Risk Factors to Keep In Mind Going Forward
Watch growth (or lack thereof) in Comparative Store Sales
A very important metric to keep in mind when analyzing companies with a primary brick and mortar presence is Comparative Store Sales, or CSS. In Ross case, this refers to stores that have been in operation for a full 14 months. A closer look at annual reports over the past five years shows that ROSS comparative store sales numbers peaked in 2012 and have remained a bit stagnant on a year over year basis since then:

Source: Ross Annual Reports
Conference call for fourth quarter and full year 2015 results is scheduled for March 1st 2016; I'd keep a close eye on what management has to say about full year CSS results.
Top rivals, such as TJX, aggressive plans for eCommerce
Ross's closest competitor has been very clear about its plans to improve their online store platforms and boosting online sales. It is no mystery that in this day and age, sales coming from online platforms have been aggressively increasing year over year for pretty much all types of businesses. I have yet to notice much discussion or any clearly outlined plans for eCommerce strategies coming from Ross management. This could be a bit worrisome considering where we are headed in the future of retail. This another factor I'd keep an eye on going forward.
Higher expenses and dimmer outlook reported in recent quarters
Ross management is well aware of what peers are doing and have expressed some concerns going forward due to a retail environment that have turned highly promotional. As expressed by CEO Barbara Rentler during the most recent conference call for third quarter 2015:
"In the upcoming fourth quarter, we face challenging prior year comparisons, ongoing uncertainty in the macro-economic environment, and a holiday season that will be highly promotional. Therefore ... we believe it is prudent to maintain our prior year guidance for this period. For the 13 weeks ending January 30, 2016, we continue to project same store sales to be flat to up 1%, versus strong 6% gain in the prior year, with earnings per share of $0.60 to $.63 compared to $.60 in last year's fourth quarter".
With that said, outlook for full year 2015 earnings per share remains optimistic with earnings per share outlook forecasted within the range of $2.45 to $2.48 per share, up 11% to 12% from $2.21 reported in fiscal 2014.
Final thoughts
There is no doubt that Ross has been quite a successful and profitable business over the past 30 years despite operating in a highly competitive environment. It has been able to retain a strong position within the off-price retailer industry with only a single close competitor.
With that said, while evidence shows that the future can continue to be bright for Ross going forward, if you decide to start (or add on to) a position on this business, I'd keep a very close eye on the risk factors noted above going forward. Keeping in mind that this business operates in a highly competitive space and historical results are no guarantee of future returns. All we can do as investors is make educated decisions based on the data that is available to us and so far things look good for Ross.
This business could be the 'best kept secret' in the world of discount and off-price retailers. Looking forward to seeing what else they have in store going forward.
Disclosure: I/we have no positions in any stocks mentioned, and no plans to initiate any positions within the next 72 hours.
I wrote this article myself, and it expresses my own opinions. I am not receiving compensation for it (other than from Seeking Alpha). I have no business relationship with any company whose stock is mentioned in this article.