The collapse in oil prices have sent shares of exploration and production companies tumbling. Oil recently traded as low as $26 per barrel. This is below the break-even cost of production even for some OPEC countries like Nigeria. The falling rig count in the U.S. and around the world means new production of oil will not keep pace with the natural decline in oil production from existing wells. Eventually oil prices must rise substantially from here to maintain a global balance between supply and demand. This may take a few more months, or even a year or two. Or, it may happen overnight if Russia and other non-OPEC countries strike a deal with OPEC and cut supply.
For those with a longer-term horizon it is only a matter of time before oil prices rise. The key is finding an oil company that has relatively low debt and is positioned to ride out the slump. Matador Resources (NYSE:MTDR) is just such a company. Last year I recommended five low debt oil stocks to swap into and five high debt oil stocks to swap out of. Matador was one of the five recommended stocks. As a basket the five low debt stocks have significantly outperformed the five high debt stocks over the last year. However, it should be noted the five low debt stocks are down, just not down nearly as much.
Matador's management team has had a commitment to maintaining a healthy balance sheet long before the oil slump. A strategy that didn't seem as glamorous as all out growth in the go-go days of $100 oil prices is now very much in vogue as investors seek companies that can survive. Matador is not only positioned to survive, it is also positioned to thrive.
Matador Resources is a company with relatively low debt in the industry versus its peers. According to its SEC third quarter financial statements, Matador had total liabilities of $564 million and had shareholder equity of $717 million. The company had third quarter revenues of $72 million when not factoring in gains on hedges of $26 million for the third quarter.
Since the end of the third quarter of 2015 the company has sold a gas gathering system for $143 million. The cash from that transaction was used to reduce Matador's total liabilities from $564 million to $421 million. This leaves Matador with almost twice the amount of equity as debt. Very few small-cap oil and gas companies can make that claim right now.
Matador's management is committed to keeping its debt to EBITDA ratio at one to two times. Here is a look at how Matador has managed its debt to EBITDA ratio over the last few years: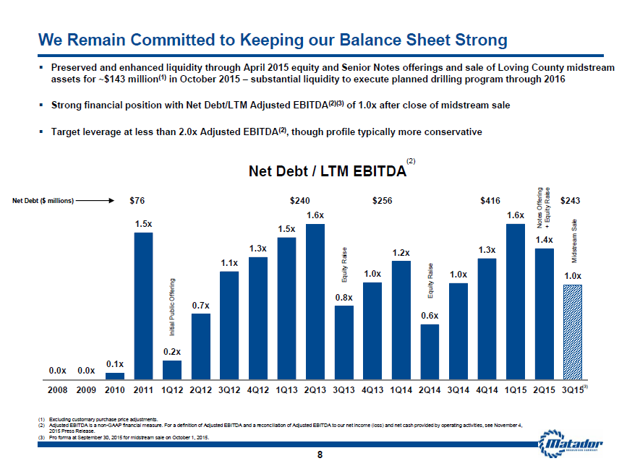 The main reason to consider Matador has been its move to acquire valuable acreage in the Permian Basin. The Permian is a stacked play with multiple formations prospective for both oil and natural gas. Matador can acquire additional acreage during the downturn because of its strong financial position. Matador currently has 90,000 net acres in the Permian. Below is a look at its rapid growth in the region: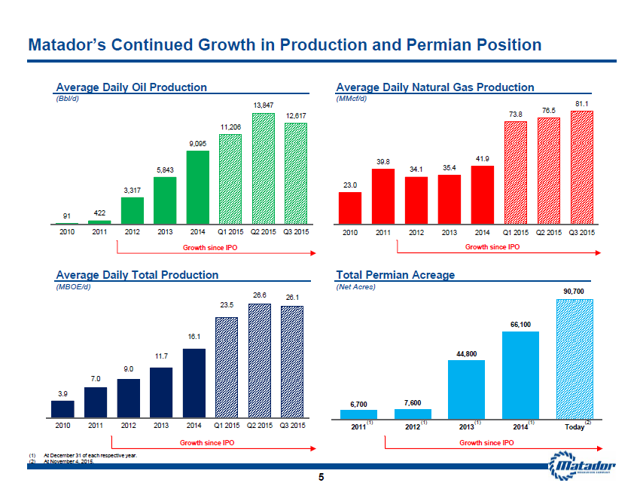 Matador's wells in the Permian have EURs averaging between 500,000 BOE and 1 million BOE. Here is a look at some of their most recent wells drilled in the area: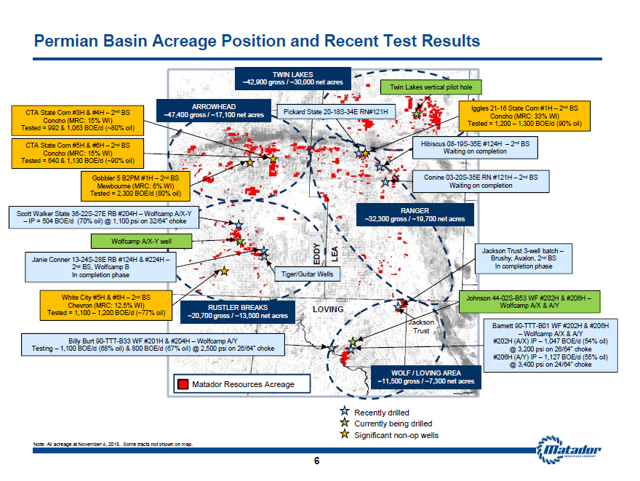 Because it is a stacked play Matador has thousands of potential future drilling locations. The company will be able to grow production if and when oil prices rebound significantly.
One of the advantages of operating in the Permian is a well established system of pipelines to transport oil and natural gas to the major hubs. This helps drillers in the area avoid steep discounts for oil like the one that exists in the Bakken, or steep discounts for natural gas in parts of the Marcellus, due to lack of takeaway capacity.
Matador still faces the uncertainty of when oil prices will rebound, and how high they will go. Matador's stock price could fall further if oil stays in $20 to $30 range. What makes Matador attractive is their acreage can be very productive and valuable should prices rebound. Because Matador is not highly leveraged it doesn't offer as high a return as some oil stocks right now. On the other hand it is also not trading at prices that indicate it could go into bankruptcy in the near future. If one believes in a rebound in oil prices, then Matador is a good stock to own and still sleep soundly at night.
Disclosure: I/we have no positions in any stocks mentioned, and no plans to initiate any positions within the next 72 hours.
I wrote this article myself, and it expresses my own opinions. I am not receiving compensation for it (other than from Seeking Alpha). I have no business relationship with any company whose stock is mentioned in this article.