Two seemingly conflicting factors weigh on gold Friday due to fresh data, but their impacts could align for gold through the year ahead. The factors are the U.S. economy and the relative value of the dollar versus foreign currency. What gold does Friday will depend on how fresh data presents, but over the longer term I anticipate gold will gain on U.S. economic softness and fading dollar strength.

Gold gave back ground on Thursday, possibly on profit taking as stocks opened gap-higher. But I suspect gold stayed down as stocks fell due to anticipation of a key event scheduled for Friday. The Bank of Japan (BOJ) closes out its Monetary Policy Meeting Friday, and no matter what it does, it is more likely to sound dovish than hawkish. The BOJ meeting therefore threatens to stir up dollar strength, which tends to harm gold. But a second factor could undermine dollar strength almost as quickly as it develops.
Fourth quarter GDP data is due for report, and it could swing gold in either direction but upward is most likely. Bloomberg's survey of economists shows the consensus expectation at just 0.9% growth, versus 2.0% in Q3. The data point is bad news even if it meets consensus, but the range of economists' expectations extends down to as low as unchanged and as high as 2.3% growth. If the data falls short of 0.9% growth, it will decimate investor expectations for the U.S. economy. As a result, oil could come off its latest highs and rediscover its connection with stocks. Unfortunately, that connection would drive stocks down sharply, and I believe through their 52-week lows for the year.
Economic softness may be bad for equity investors, but it's good for gold. Expectations for the Federal Reserve will have to adjust, and dollar strength must dissipate. The price of gold must rise in turn, and gold relative securities with it.
| | |
| --- | --- |
| Precious Metal Relative Securities | Year-to-Date |
| Vanguard Total Stock Market (NYSE: VTI) | -8.0% |
| SPDR Gold Trust (NYSE: GLD) | +5.0% |
| Sprott Physical Gold Trust (NYSE: PHYS) | +4.6% |
| iShares Silver Trust (NYSE: SLV) | +2.9% |
| Sprott Physical Silver Trust (NYSE: PSLV) | +3.8% |
| Market Vectors Gold Miners (NYSE: GDX) | +1.0% |
| Sprott Gold Miners (NYSE: SGDM) | +0.3% |
| Direxion Daily Gold Miners Bull 3X (NYSE: NUGT) | -0.7% |
| Direxion Daily Gold Miners Bear 3X (NYSE: DUST) | -11.9% |
| Newmont Mining (NYSE: NEM) | +8.6% |
| Royal Gold (NASDAQ: RGLD) | -21% |
Gold jumped on Wednesday, after the Fed published its Monetary Policy Statement.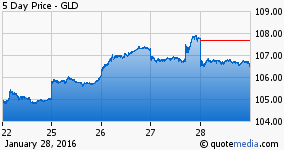 Gold's move higher was more likely due to concern about the economy than it was on Fed expectations. I reviewed the FOMC statement and was not convinced the Fed conveyed a dovish message, but it did express concern about the economy. I found the statement to be relatively neutral as far as policy is concerned. But if that message has to change, and the Fed must convey expectations for fewer rate hikes this year or a pause altogether, or even a reversal, then dollar strength is undermined.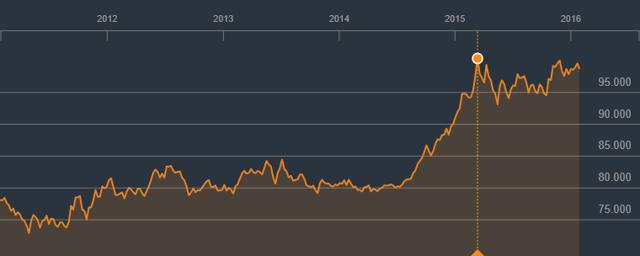 Dollar Index Chart at Bloomberg
The dollar has been pricing in Fed plans for monetary tightening for some time now. If those Fed plans have to change to accommodate an unanticipated economic situation, dollar strength will be quickly undermined. That again means gold strength will be quickly built.
So in conclusion, while the data may be conflicting on Friday and gold's direction difficult to determine, I think there is a greater chance of gold support. And over the course of the year, I am more confident the factors at play will align behind gold. I cover gold regularly and invite relative interests to follow my column here at Seeking Alpha.
Disclosure: I/we have no positions in any stocks mentioned, and no plans to initiate any positions within the next 72 hours.
I wrote this article myself, and it expresses my own opinions. I am not receiving compensation for it (other than from Seeking Alpha). I have no business relationship with any company whose stock is mentioned in this article.