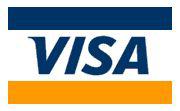 Visa (NYSE:V) is a payments processing company which reported their earnings after the close on Thursday, January 28th. As a shareholder for almost three years, I am interested in not only the results but the tone of those results and the comments of the management team. I try to dial into as many of the calls as I can of my thirty-three holdings and watchlist.
Visa narrowly beat expectations with an adjusted net income of $1.7 billion or $0.69 per share, an increase of 10% over the prior year. A very small beat, basically inline with the analysts estimates of $0.68.
Charlie Scharf, Chief Executive Officer since November, 1, 2012, had a positive tone and began, "We continue to be pleased with the performance of the company given the ongoing macroeconomic headwinds that we have discussed before."
Process transactions were up 8% yoy this quarter (shown on the chart in millions) and the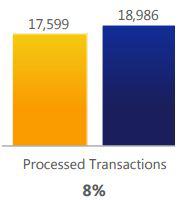 total number of cards was also up 5%.
Gross Revenue was up 6% but so were client incentives, so net operating revenue was up only 5%. Expenses were up 2%, but personnel and marketing expenses were down. Concerning is that network and processing expenses as well as general and administrative expenses were up. Expectations were for high single digit growth in expenses this quarter, so even though expenses were up, they were up only 2%, so this was a win for management.
"Adjust diluted earnings grew 10%, Volume growth was a healthy 11.5%, only down slightly from December's healthy 12% growth. US outbound spending is strong but it is offset by continued weakness from Canada, Brazil, and Russia, and more recently seeing increasing weakness in the Middle East and China. We do see some areas of seeing strength in Mexico, New Zealand and Japan, but they are obviously smaller markets for us.
The US holiday season, showed results similar to last year's, but spending patterns have been changing. E-commerce grew in the mid-teens versus mid-single digits for online stores. The timing also changed. There was less spending on Black Friday and Cyber Monday but more spending further along in the season.
I can relate to these shopping trends personally. I am doing more online shopping and this year I also delayed spending until shortly before Christmas. The sales days were less attractive. I know that I use my Visa card increasingly more than I used to, as do many of my friends. With the liability off of my shoulders I am comfortable using tap-and-pay and have been using it multiple times a week for several years.
Visa Europe
CEO Scharf said that Visa has received two of the three required regulatory approvals. "We are making very good progress...Most importantly, we feel as good about the transaction today as the day we made our announcement....We remain confident we are creating value and are focused on execution at this point."
China
In China, Visa is moving toward the ability to make a formal application, waiting for final regulations to be released. "We have a clear path to have a compliant operating environment, so we can compete domestically when we are awarded a license."
Tailwinds and Headwinds
Vasant Prabhu, the Executive Vice President and Chief Financial Officer had a much more matter-of-fact presentation of figures and facts including tailwinds and headwinds.
Significant tailwinds mentioned:
October 1st was the official kick off of chip cards being rolled out across the states.
Next month 650 Sam's Club stores, WalMart.com and Sam's Club.com will begin accepting Visa.
Visa Checkout online has been successful and growing with some larger retailers participating.
Visa Commerce Network is a more recent offering gaining traction.
Mr. Prabhu said that the macroeconomic environment is clearly a mixed-bag. Conditions are similar to previous reports. Domestic volatility in China is also a headwind.
The currency headwinds had a 3% negative impact on earnings and the high US dollar (and corresponding lower currencies around the world) is an ongoing headwind for Visa, but that there is continued strong underlying payment growth. The team prioritized spending, due to the expected currency effect on revenue. He warned we can expect a larger interest expense for next quarter.
He also mentioned that "Results are reasonably good which speaks to the strength of the business model" and "to date, macroeconomic weakness has not been seen in US spending."
Outlook
"While the Company is not changing its financial outlook for the fiscal full-year, continued moderating cross-border volume growth and subdued domestic activity across our geographies could ultimately affect our results."
Current guidance is that revenue will have high single-digit to low double-digit growth, with the expectation of a continued 3% negative foreign currency impact. The Annual operating margin will be in the mid-60's. EPS is expected to grow in the low-end of the mid-teens.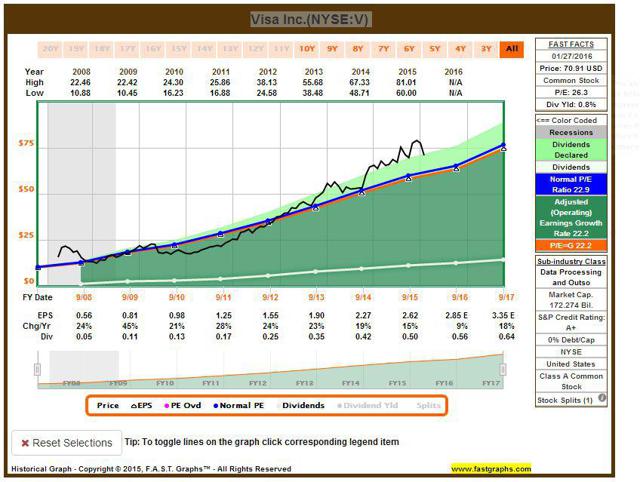 The FAST Graph shows that the share price of Visa has dropped about 15% from its overvalued highs towards the fair value orange line, very similar to its normal PE. It is also interesting to note that over the last year, whenever it reaches down to the top of the dividend line, where it is reaching again, it seems to bounce. Maybe we'll get another bounce. I hope so.
My first purchase of Visa was on March 18, 2013. Other purchases were made, May 6, 2014 and April 21, 2015. On March 19, 2015 there was a four-for-one split. I am in favor of stock splits not because it makes any difference to the share price, but because it makes it easier for a smaller retail investor to DRIP dividends and use options. My last purchase of Visa made it my largest US holding which as of today is 3.19% of the portfolio, around the middle of the pack.
I also have a cash-secured put in play for 18 March 16 $77.50. Yes, I realize it is well underwater. Since there are still 50 days left in this option, I am not too worried. Additionally, my foundational goal for the portfolio is future income. If I was to get put these shares today, my average cost with the premium averaged in would be $74.74. When averaged into my current holding, the ACB would be $67.
The dividend is a small 0.81%, 14c per share paid out quarterly. However, the dividend growth is significant, as shown here in this chart from FAST Graphs.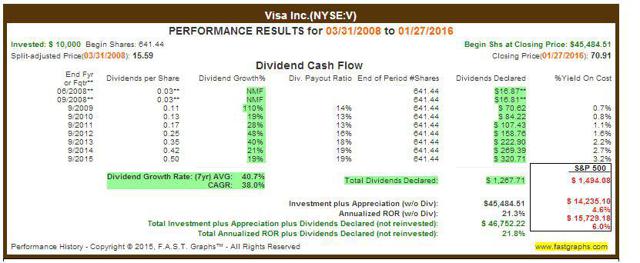 If I did not already own a large-enough holding in Visa, I would be seriously considering this company. If there is further share price weakness while the market digests this earnings report, it may be an opportunity to purchase. The tailwind of the chip cards being introduced across the states may be significant. One may also want to wait until the currency headwind normalizes a little.
Other financial technology companies that I follow are MasterCard (NYSE:MA), DH Corp TSX:DH (OTC:DHIFF), Automatic Data Processing (NASDAQ:ADP). I have a very small MA position in my vacation spending account. A comparative look at these holdings is interesting and tells me that a focus on Visa is appropriate.

In many ways I was left with the same impression of the conference call with Visa as I was with CN Rail (NYSE:CNI) earlier this week. This is an excellent company facing some significant macroeconomic challenges, but facing them head on and well. Visa is also not shying away from growth despite the headwinds, demonstrated by their activity towards enveloping Visa Europe and deploying as soon as possible into China. There are exceptional prospects for growth here, with the chip cards, entering China, integrating Visa Europe, Visa Checkout, and Visa Commerce Network, but one is not likely to see this growth in the next 12 months.
Since I do not have a 12 month time frame, and I am mainly looking for future income, I can only conclude that this is a company I want to partner with for the very long term and I will continue to look for purchasing and/or put-writing opportunities to keep my holding around 3-5% of the portfolio as it grows.
Disclosure: I am/we are long V, MA, CNI.
I wrote this article myself, and it expresses my own opinions. I am not receiving compensation for it (other than from Seeking Alpha). I have no business relationship with any company whose stock is mentioned in this article.