Realty Income (NYSE:O) has done a remarkable job for shareholders since the real estate investment trust became a publicly traded company in 1994. Steady dividend growth throughout the ups and downs of the stock market has made Realty Income one of the best, if not the best income stock on the Street.
Two reasons have been standing out for income investors to buy the REIT: Slow, but steady dividend growth, AND the company's resilience to economic recessions thanks to a high degree of balance sheet flexibility and good property management.
Realty Income has even continued to grow its dividends throughout the Great Recession when many other real estate firms were in serious financial trouble. This only added to the REIT's reputation as a top-rated income vehicle.
Off to a good start this year, but wait for a consolidation to buy
An investment in Realty Income in 2016 has so far paid off twice for investors. For one thing, investors got a ~4% dividend raise in January that was well received by shareholders. Realty Income now pays investors a monthly dividend of $0.1985/share dividend, which brings Realty Income's present dividend yield to 4.34%.
Further, Realty Income's stock has held up very well in 2016; it is up ~6% this year. That's not too bad a return considering that the S&P 500 is down ~7% over the same time.
As good as that sounds, though, Realty Income's stock has climbed to a new 52-week high this week and it is on the brink of being overbought. A consolidation, therefore, which will happen sooner or later, might make for a better buying opportunity, and a better yield.
Waiting for the pullback?
Realty Income's shares hit a new 52-week high on Wednesday at $55.74, and the Relative Strength Index flashes a value of 67.97 suggesting that the stock could enter overbought territory soon.
Waiting for a pullback rather than buying Realty Income's stock close to its latest 52-week high might be a better option for income investors at this point in time.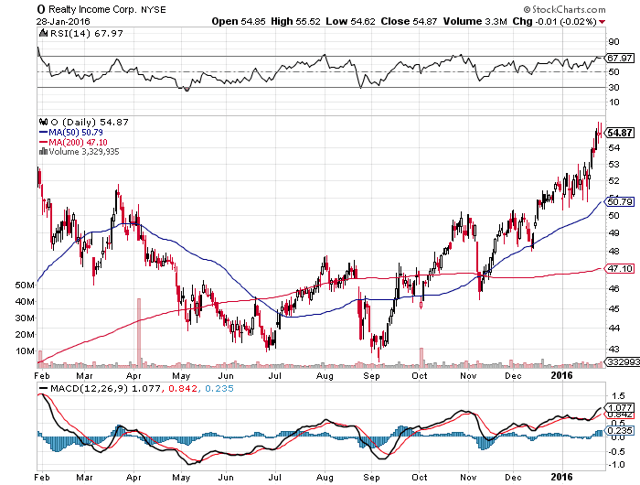 Source: StockCharts.com
Not cheap...but quality always has its price
Realty Income guided for 2016 adjusted funds from operations in a range of $2.85-2.90/share. This means that Realty Income's shares now sell for ~19.1x 2016e AFFO, based on Thursday's closing price of $54.87. Realty Income's market valuation implies a ~5.2% 2016e AFFO yield.
Your Takeaway
As much as I love Realty Income's stock for regular portfolio income and as a 'safe harbor' investment, I wouldn't want to rush into it at this point in time. Realty Income's stock has done extremely well year-to-date when compared against the S&P 500 index performance, and is close to being overbought. I think investors will see Realty Income drop towards $50 once more in the coming weeks where the stock is a much better 'Buy' for income investors that aren't already invested in the REIT.
Disclosure: I am/we are long O.
I wrote this article myself, and it expresses my own opinions. I am not receiving compensation for it (other than from Seeking Alpha). I have no business relationship with any company whose stock is mentioned in this article.