Arctic Cat, Inc. (NASDAQ:ACAT) is a leading maker of snowmobiles, all-terrain vehicles or "ATV's" and other related products and accessories. This stock has a 52-week high of nearly $40 per share and it now trades near the 52-week low of just around $11. In fact, this stock has lost about half its value in just the past few weeks. Part of this is due to concerns about weaker sales brought about by a not so cold winter season, and some of it is also because of the major market pullback we have seen in the first part of 2016. However, it now appears like excessive negativity has created a bargain buying opportunity for long-term investors. This is the type of stock that can provide very significant returns if you buy at or near the bottom.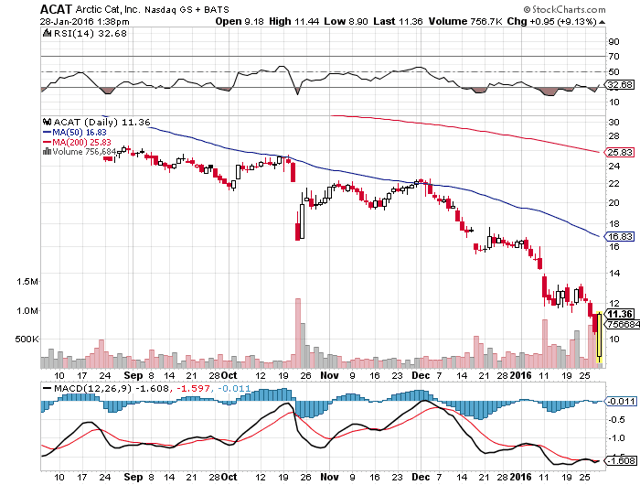 As the chart above shows, this stock is now oversold with a relative strength index or "RSI" of just about 26. This means it could be due for a strong rebound in the coming days and weeks. However, I like this company and the valuation for a number of fundamental reasons. First of all, this is a small cap stock that does not get a lot of coverage, especially as it operates in a niche segment. Because it is a small cap, it can experience more volatility as well as potentially heightened liquidity risks. This is a factor that can push the stock to low levels, and even overshoot to the downside as it has appeared to have done now. Because of this, I would average into a position over time.
On January 28, 2016, Arctic Cat reported a net loss of $2.4 million (or 18 cents per share) on revenues of $166 million for the fiscal third quarter of 2016. The company lowered guidance as well and now expects a full-year net loss of between 25 to 30 cents per share for fiscal 2016. Much of this was due to slow sales from the unseasonably warm winter and also due to the strength of the U.S. Dollar. However, there was also some good news, and the company reiterated the goal for reaching the $1 billion goal in annual sales in the next four years; the company Q3 press release stated:
"Still, we expect that fiscal 2016 fourth-quarter sales will increase approximately 40 percent compared to the prior fiscal year's fourth quarter and that we anticipate cutting the fourth-quarter net loss almost in half. In fiscal 2017, we expect to begin accelerating our sales and earnings power. We remain committed to achieving our stated goal of reaching $1 billion in sales by the end of fiscal 2020."
It is important to consider that unfavorable weather this winter and foreign exchange rates are not the fault of company management and therefore there is no company specific issue here. Polaris Industries (NYSE:PII), which also makes snowmobiles, also recently lowered guidance, in part, because of the Dollar. For many reasons, Arctic Cat shares look extremely undervalued even as the company faces some challenges, and there are some positives to this story. For example, it now trades below book value which is $14.66 per share. I really like the fact that this company has an extremely strong balance sheet with less than $16 million in debt. (According to the latest data on Yahoo Finance.) This company has annual revenues of about $638 million and yet after the recent decline in the stock, the market capitalization is just below $150 million. That means the price to sales ratio is incredibly low, which is another sign that this stock is undervalued. $638 million in annual revenues is equivalent to about $49.25 on a per share basis.
According to Shortsqueeze.com, there are currently about 1.5 million shares short. This represents nearly 12% of the float and about 5.5 days worth of average trading volume. That is enough of a short position to spark a short-covering rally, especially from these low levels.
Arctic Cat's extremely low valuation, iconic brand name within the industry and solid balance sheet could make the company an ideal target for a private equity firm buyout or for another larger company to consider. Brunswick Corporation (NYSE:BC) which makes boats and other recreational goods has been acquisitive. It could make sense for Brunswick to consider Arctic Cat especially since it could boost sales in the winter months which would offset slow boat sales during that season. Yamaha (OTCQX:YAMCY) has been rumored to be a potential suitor especially since it partnered with Arctic Cat to power the ZR 120 Arctic Cat sled. Yamaha has many billions in annual revenues and it could easily afford an acquisition like this. A Snowmobile.com article pointed out some of the potential benefits by stating:
According to this watchful insider, "An acquisition of ACAT would move the needle for Yamaha, increasing its sales by more than five percent…. Power Products, which includes all-terrain vehicles and snowmobiles, is Yamaha's third-largest division, generating nine percent of its total sales. An acquisition of ACAT would increase the size of this division by more than 60 percent."
On January 11, 2016 analysts at Raymond James downgraded this stock from a strong buy to a market perform rating. After a more than 50% plunge from the 52-week high, isn't this just a little late for a downgrade? This is maybe why analysts don't always have the best reputation. If anything, it would make more sense to have a strong buy rating now that the stock is a fraction of what it was in the past few months. A recent article summarizes other analyst ratings and price targets which range between $17 to $20. These targets all suggest significant upside potential.
Arctic Cat has just around 13 million shares outstanding, which is exceedingly low for a company with annual revenues of about $638 million. With so few shares outstanding, the profits, on a per share basis can be immense when business conditions are ideal and historically it has been. For example, Arctic Cat earned $1.79 per share in 2012, $3.02 per share in 2013, and $2.97 per share in 2014. Based on this proven earnings power, Arctic Cat appears very undervalued when compared to the rest of the market, especially since this company could post much stronger results at some point in the future when business and weather conditions are better.
I don't mind buying some shares of Arctic Cat at around $11, and holding until this company has another strong winter sales season. As we have seen in the past, this company has the ability to earn about $3 per share (especially thanks to the very low amount of outstanding stock) and it has traded for about $40 in the past year. If it takes a year or two for earnings to rebound and for the stock to potentially trade at much higher levels, it will be worth the patience. If you want to read more about other deep value stocks, check out Supervalu (NYSE:SVU), another beaten down bargain which I wrote about in this article and follow me for future updates and stock picks.
Data is sourced from Yahoo Finance. No guarantees or representations
are made. Hawkinvest is not a registered investment advisor and does
not provide specific investment advice. The information is for
informational purposes only. You should always consult a financial advisor.
Disclosure: I am/we are long ACAT.
I wrote this article myself, and it expresses my own opinions. I am not receiving compensation for it (other than from Seeking Alpha). I have no business relationship with any company whose stock is mentioned in this article.