TransAlta (NYSE:TAC) is a non-regulated electricity generation and energy marketing company in Canada, the United States, and Western Australia. The company has over 100 years of operating history, with a diversified portfolio of power generating facilities consist of 4931 MW of coal-fired, 1315 MW of gas-fired, 1402 MW of wind and solar, and 914 MW of hydro. It also has an energy marketing segment that provides services such as wholesale trading of electricity and other energy-related commodities and derivatives. Today, TransAlta has over 2,300 employees, 68 facilities, and over 8,700 MW of net capacity in operations. It is one of Canada's largest publicly traded power generators and marketers.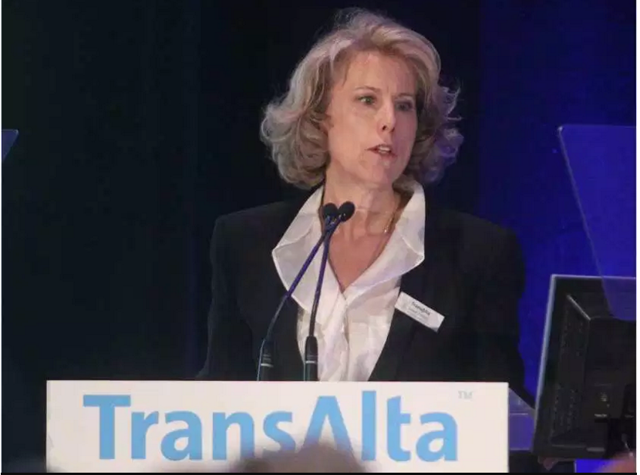 (Source: Calgary Herald)
Recent sell-off
On January 15, TransAlta announced that it will cut its dividend by 78% to improve its balance sheet due to the widening credit spread after Moody's credit downgrade. This has caused a severe sell-off of the company's stock.
Currently, the company is only selling for 6.18 times EV/EBITDA, with a market capitalization of 950 million. The valuation is especially attractive considering TransAlta also owns 65% of TransAlta Renewables (OTC:TRSWF, RNW.TO). TransAlta Renewables has a market capitalization of 2.21 billion. TransAlta's stake in the company is essentially worth $1.43 billion, $500 million more than the entire market cap of TransAlta. The market is essentially giving a negative equity valuation for the rest of TransAlta.

(Source: I/B/E/S and Credit Suisse RAVE)
Based on the chart computed by Credit Suisse RAVE, TransAlta has a lower P/E, EV/EBITDA, and higher Div Yield than the averages of Canadian infrastructure.
Asset mix
Other than its 65% stake in TransAlta Renewables, TransAlta also have 4931 MW of coal-fired power plant, 1315 MW of gas-fired, and 914 MW of hydro. Coal assets represent around 32% of the EBITDA for TransAlta, wind represents 24%, gas represents 35% and hydro represents 9%.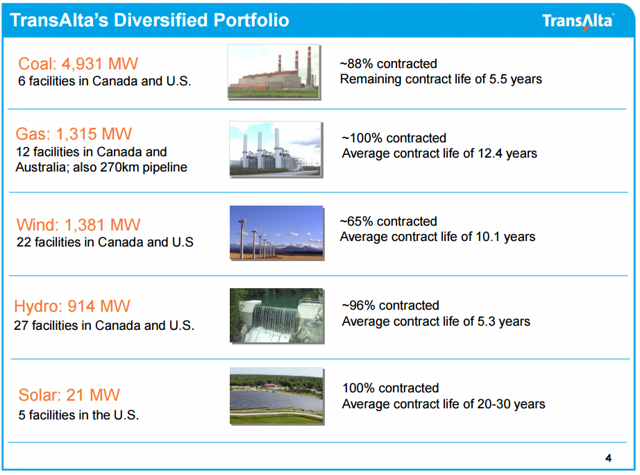 (Source: Company Filings)
The company has hedged out most of its capacity for coal, gas, hydro, and solar. In fact, 87% of the power prices for 2016 are contracted at a favorable rate of $50/MWh, when the current power price is only at around $32. The company is set to produce another year of steady cash flows with only 13% of the prices exposed to spot energy price movements. The company is forecasting a similar EBITDA as 2015 in the range of $900 million to $1.2 billion.
Not only is the company well positioned in 2016, TransAlta also has 80% and 70% of its capacity hedged out at favorable prices for 2017 and 2018, respectively. From 2018 to 2020, the company's Purchase Power Agreements (PPAs) will begin to slowly roll off. However, these PPAs were contracted at a going rate of $25/MWh. It seems company management is confident that they will be able to negotiate for better rates upon termination of these contracts.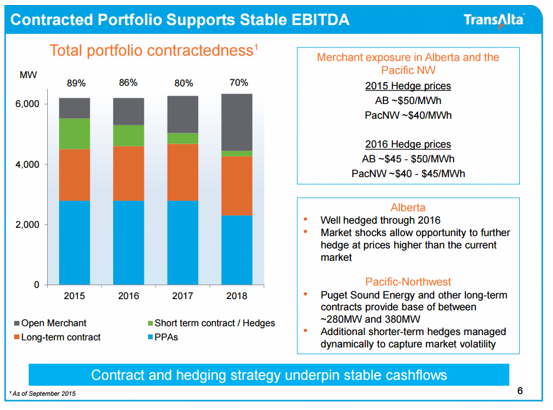 Alberta Climate Change Plan
Despite its attractive valuation and visibility of future cash flows, TransAlta is facing a lot of headwind in regulations.
Alberta's climate change plan calls for a phase-out of the 6,200 megawatts of coal-fired power generation in the province by 2030, with 30 per cent of that capacity to be replaced with renewable energy. It's working to select a facilitator who will negotiate with the power producers and hammer out details of the transition plan.
(Source: Calgary Herald)
About 1/3rd of the company's asset is coal-powered plants, although the company is planning to phrase these plants out by 2030, there is a lot of uncertainty about how the government will implement these changes. Analysts are forecasting $12 billion of foregone revenue for the industry and $1 billion for TransAlta.
If the government phases these plants out too quickly, it may incur unexpected stranded costs for the industry. Moreover, in the current environment, coal plants are 30-40% oversupplied, and they still contribute to 30% of the total power generation. Switching away from these plants will create needs for additional renewable and gas-powered plants. These plants are not economically viable until power prices reach $70-80/MWh - the prices are currently only at $30/MWh. There is a lot of uncertainty regarding which player will eventually benefit from the regulation.
TransAlta is trying position itself better to capture the potential opportunity by cutting its dividends. However, because of the Moody's downgrade, its credit spread has widened, and this may cause TransAlta to lose comparative advantage when competing with other companies. Cost of capital and credit rating is one of the most important deciding factors when government delegates projects. Having a inferior cost of capital may substantially lessen TransAlta's future chances of acquiring these new projects.
Depressed energy prices
If the energy prices continue to be depressed at current levels, some Alberta oil sands producers will decrease their production or discontinue their operations. This, in turn, will decrease the demand for power and further deteriorate the already low power prices. However, company management does not see the oil producers decreasing their production this year. This may be a concern later on when the PPAs start to roll off for TransAlta.
Conclusion
All that being said, I still think at current prices TransAlta offers investors a once-in-a-decade buying opportunity. The regulatory headwinds should be cleared by the end of the year, and to be frank, I don't see how the government can push for a very aggressive plan to phase out the existing coal-powered facilities. These facilities still make up for 39% of the total power generation in Alberta. In my opinion, the company's credit spread is likely a bigger threat than its regulatory risk. If TransAlta can maintain its investment grade with other agencies and decrease the credit spread, I think the stock is worth somewhere in the $7-8 range. I am/we are long TAC.
Disclosure: I am/we are long TAC.
I wrote this article myself, and it expresses my own opinions. I am not receiving compensation for it (other than from Seeking Alpha). I have no business relationship with any company whose stock is mentioned in this article.