JPMorgan just lifted its 2012 forecast for Brent crude to $118 from $112. This should provide an additional tailwind to crude producers, including those from non-traditional sources like shale and oil sands. One Canadian producer that is rapidly growing earnings, has solid fundamentals and could find itself being acquirer is Nexen (NXY).
Nexen - "Nexen Inc. operates as an independent energy company worldwide. Its Oil and Gas segment explores for, develops, and produces crude oil, natural gas, and related products. This segment primarily operates onshore in Yemen and Canada, and offshore in the U.S. Gulf of Mexico and the U.K. North Sea, as well as in Colombia, offshore West Africa, and Norway. This segment also develops and produces synthetic crude oil from mining bitumen in the Athabasca oil sands in northern Alberta." (Business Description from Yahoo Finance).
7 Reasons to pick up NXY at $20 a share:

Nexen is showing solid earnings improvement. The company made $1.83 in FY2011, it is expected to earn $2.06 in FY2012 and analysts project $3.18 in earnings for FY2013.
It is selling in the bottom third of its five-year valuation range based on P/B, P/E and P/S.
It has a low five-year projected PEG (.70) and sells for just 23% over book value.
BMO Capital Markets and Bank of America just upgraded the stock. Barclays Capital upgraded the company to a buy in late November.
The stock is showing increasing technical strength and just crossed over its 200 day moving average (See Chart - click to enlarge)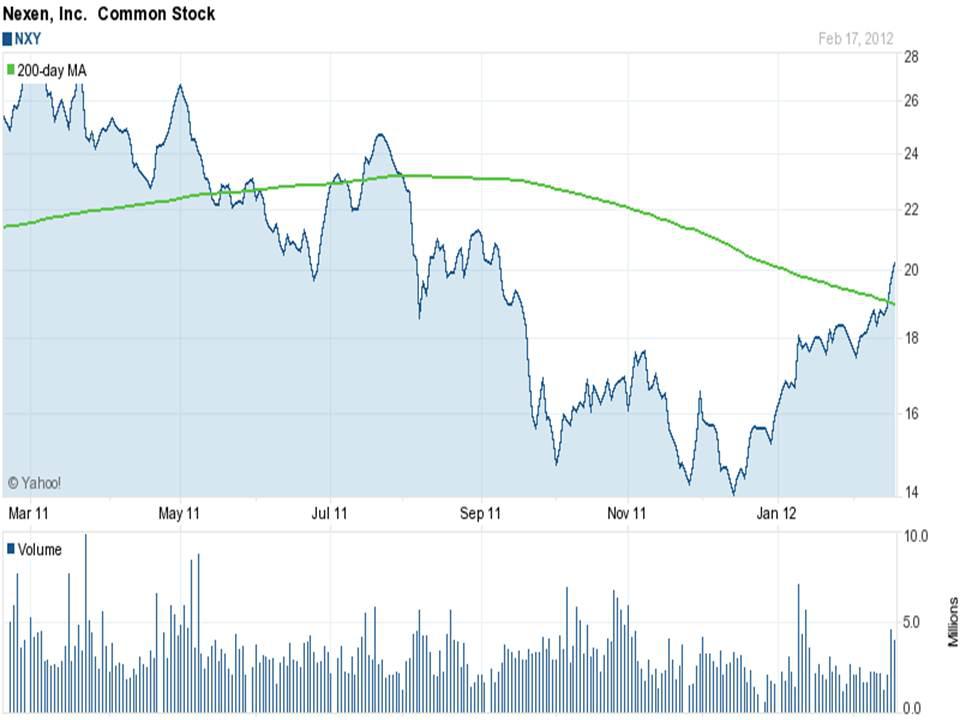 China's Sinopec (NYSE:SNI) recently paid more than $2.16 billion for Canadian oil and gas explorer Daylight Energy. Analysts have cited both Talisman Energy (NYSE:TLM) and Nexen as potential targets. Nexen has already partnered with Chinese energy giant CNOOC (NYSE:CEO) to explore the Gulf of Mexico so it could make a logical acquisition for an Asian-based company.
Nexen also recently announced an agreement with INPEX Gas British Columbia Ltd. to jointly develop shale gas assets in the Horn River, Liard and Cordova Basins in Western Canada. Nexen will receive $700 million for a 40% interest in these resources, and will remain the operator. This is one reason analysts expect the company's revenue to leap more than 25% in FY2013
Disclosure: I am long TLM. May go long NXY over next 72 hours