Hopefully this article will help you improve your investing profits.
Facebook Inc. (NASDAQ:FB) is a worldwide social networking company. It already has 1.59B monthly active users, 1.44B mobile monthly active users, and 1.04B daily active users. Yet, it insists that it will continue to push to become a truly worldwide social networking site. I guess that means everyone in the world. There are only about 7.29B people in the entire world; and only about 3.2B have Internet access. In other words FB already has about half of the possible members it could reasonably get. That is an outstanding achievement for a company that was founded in 2004.
In Q4 2015 Total Revenue grew by 52% to $5.8B. Advertising Revenue grew by 57% to $5.6B (66% on a constant currency basis). It beat on revenue by $470 million. It beat on Adjusted EPS at $0.79 by $0.11, which is a good sized beat (+16%). Mobile advertising revenues were 80% of total advertising revenues. This was up from 69% a year earlier. This is good because in December and November of 2015 total US consumer spending via mobile was up 59% year over year according to comScore. Free cash flow was $2.14B for Q4 2015 and $6.08B for FY2015. Cash, cash equivalents, and marketable securities were $18.43B at Q4E 2015. Capital Expenditures were $692 million for Q4 2015.
Daily Active Users for December 2015 were up 17% year over year. Mobile Daily Active Users were up 25% year over year for December 2015. Monthly Active Users were up 14% year over year at 1.59B. Mobile Monthly Active Users were up 21% year over year at 1.44B. The chart below shows Facebook's recent growth in Daily Active Users. It is split out by Geographic region so you can compare it to revenues in the chart below it.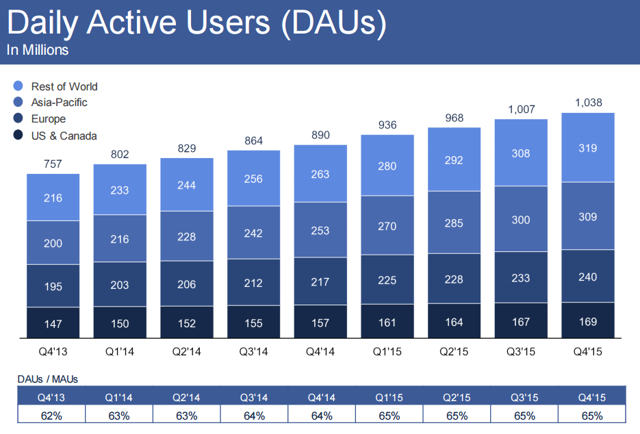 The chart of revenue growth breakout by geography is below.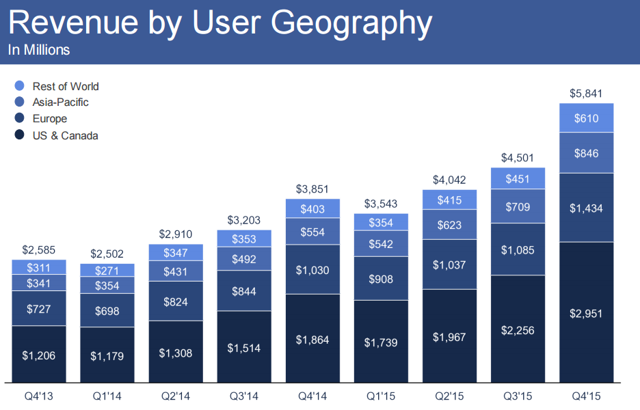 As readers can see most of the revenues are coming from the US, Canada, and Europe. However, on a percentage basis the growth in both the Asia-Pacific region and the Rest of the World region is growing at a comparable rate. This bodes well for Facebook because many of the emerging markets are in the Asia-Pacific region. There is a lot of wealth there. China has the second largest GDP in the world by itself. It is good for Facebook that there is such a large potential for growth there.
The chart below shows the average revenue per user -- ARPU --broken out by region.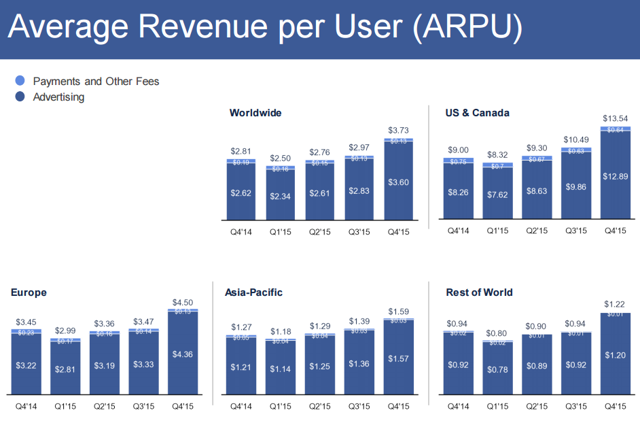 Again this shows the potential for growth in Europe, the Asia-Pacific, and the Rest of the World areas. It shows good consistent growth in the US and Canada.
Aside from Facebook itself, Facebook Lite (for low bandwidth areas) now has over 80 million users. Messenger has 800 million monthly users. WhatsApp has nearly 1 billion monthly active users. The Instagram data was as of September 2015 with 400 million active users. In addition Facebook has increased its video with 100 million hours of viewing daily in Q4 2015. FB has 2.5 million active advertisers. There are 50 million small businesses which now use pages on FB. All of the above are good to great metrics. They show a healthy FB.
The Samsung (OTC:SSNLF) Gear VR shipped over the holidays with the Oculus software. FB also opened pre-orders in January for its Oculus headset. This will ship to users in more than 20 countries by the end of March 2016. More than 100 Virtual Reality games are coming for Oculus by the end of 2016. Later in 2016 FB will ship its Oculus Touch Controllers. These will get people's hands involved in the VR experience. The gaming community that is expected to make use of these products amounts to about 250 million persons. For FY2016 these new VR products are not expected to have a significant effect on EPS.
FB had some good marketing stories to tell. Microsoft (NASDAQ:MSFT) Xbox used ads tailored to FB and Instagram for the launch of Halo 5. They created videos to capture audience attention within the first three seconds even without sound. This drove over 380 million impressions and 49 million video views. It increased purchases by 10 points in the US. During the Black Friday period, ShopDirect, the UK's second largest online retailer, saw a twenty times return on ad spend from their FB, etc. campaign. Further FB measurement tools like Conversion Lift prove FB's worth to advertising customers. With stories like the above, it is easy to see why FB is being successful.
The bad news is that FB had $320 million in Forex costs in Q4 2015 alone. It expects Forex headwinds to continue in FY2016. CEO Mark Zuckerberg specifically mentioned a 30% headwind from Forex in Brazil. FB will have to pay significant taxes in the low 30% range in FY2016 (a bit less than the FY2015 range). FY2016 CapEx will be in the $4B-$4.5B range. Amortization expenses are expected to be in the $700-$800 million range. Stock based compensation is expected to be in the $3.1B-$3.3B range. Overall GAAP expenses are expected to grow 30%-40%; and non-GAAP expenses are expected to grow 45%-55% in FY2016.
Zuckerberg mentioned that the comparisons in FY2016 will be a lot tougher because the company did so well in FY2015. This will mute growth. FB seemed to avoid specific numbers for Revenue growth figures. However, one might surmise growth of 30%+ in FY2016, given there was 52% growth in FY2015. This is still good; and investors should be happy. If CEO Mark Zuckerberg is "managing expectations" in the Steve Jobs mode, FB investors should perhaps be very happy.
Remember FB has beaten expectations for the last four quarters in a row by an average of 9.3%. Theoretically this might mean approximately 40% revenue growth in FY2016. It is also instructive to note that the average analysts' Five Year EPS Growth expectation per annum is 32.26%. This agrees well with Mark Zuckerberg's comments. Of course, if a recession and/or a BEAR market hits, investors will likely have to temper their revenue, EPS, and stock price gain expectations a bit. Still FB appears to be a solid stock. It is a long term buy.
The two year chart of FB provides some technical direction for a trade/investment.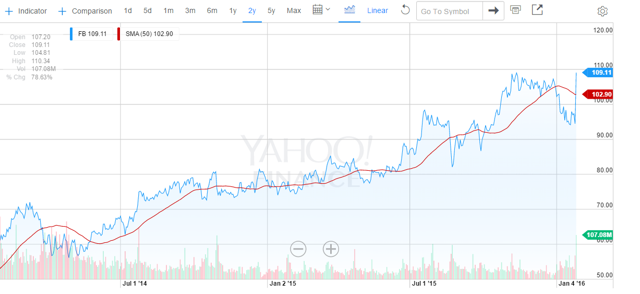 FB is in a strong overall uptrend. This does not appear to be broken yet. However, the stock price did dive with the recent US stock market dive. The Beta is 0.93. In other words the stock price is expected to move up or down with the overall market. I recently had a SELL rating on the SPDR S&P500 ETF (NYSEARCA:SPY); but a few days ago I raised that to a NEUTRAL rating based on the expectation of an announcement of a higher rate of QE from the ECB at its March 2016 meeting and an expectation of slower rising, not rising, or decreasing Fed Funds rates based statements from FOMC voting member Bullard. This last expectation was largely confirmed by the Fed at its meeting announcement this week.
With the above NEUTRAL rating for the overall US equities markets in place (from me) at this time, FB is a long term BUY. It should outperform the overall US equities markets. If you are thinking more short term, you may wish to wait for FB to break above its recent resistance at about $109 before entering the stock. Alternatively you may wish to wait for a post earnings fall after Amazon (NASDAQ:AMZN) disappointed on Q4 2015 earnings. A third possibility might be to average in over time. FB looks like a good stock to own. We will have to wait to see what the Fed, the ECB, the BOJ, etc. have in store for us. Trying to read the tea leaves exactly with so many external entities significantly controlling the markets is fraught with peril.
The PE of FB is 109.55 as of the close on January 28, 2016; and the FPE is a quite reasonable 26.48. This makes FB very much a bargain when the average analysts' five year EPS growth per year estimate is 32.26%. The actual growth may be roughly 10% higher (due to FB's management managing expectations). Further consider that the GAAP EPS are likely to go up in the next couple of years due to the stock compensation for WhatsApp and Messenger disappearing partially over time. Remember the GAAP EPS for Q4 2015 were $0.54 per share compared to the non-GAAP EPS of $0.79 per share. If this separation just halves over the next year or two, that could translate into 22% higher GAAP EPS. That would mean a still lower PE and a lower FPE. FB would then be that much more of a bargain. FB is a good long term BUY.
NOTE: Some of the fundamental fiscal information above is from Yahoo Finance.
Good Luck Trading/Investing.
Disclosure: I/we have no positions in any stocks mentioned, but may initiate a long position in FB over the next 72 hours.
I wrote this article myself, and it expresses my own opinions. I am not receiving compensation for it (other than from Seeking Alpha). I have no business relationship with any company whose stock is mentioned in this article.