Boeing (NYSE:BA) is a stock that I've found somewhat difficult to understand in the past. The company's core products are very well received in the marketplace and the stock is cheap with huge capital distributions to boot. Back in October the company reported a great quarter with strong guidance and at $147, I reiterated my long term bull stance. Part of the reason I like BA is because its margin profile continues to improve as SG&A costs are leveraged with higher sales. But recent turmoil in the stock - due in no small part to its Q4 earnings - has caused BA to hit new 52-week lows. So is the bull case dead or is this a strong buying chance for bulls?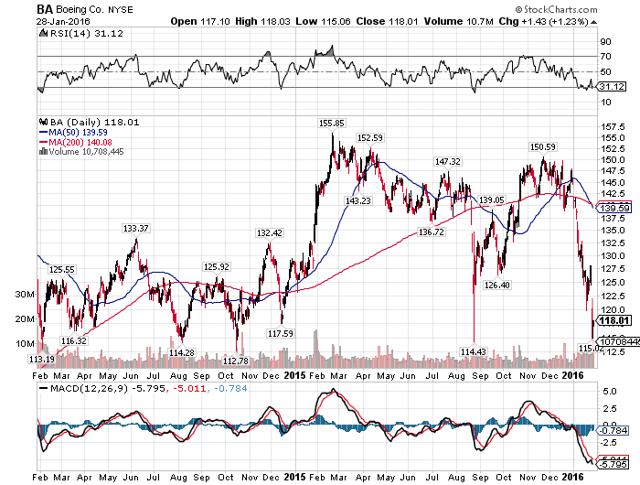 My bullishness on BA has been due in large part to the strong performance of its new products and the aforementioned gains in its operating margins over the long term. BA has done a fantastic job of doing more with less in terms of SG&A spending in recent years and that trend is continuing. BA's numbers in Q4 were messy due to some non-recurring items but in general, earnings were pretty good. But when BA's guidance was discovered in the press release, suddenly Q4 didn't matter anymore. Indeed, I too was taken aback by some of the numbers I saw and given the magnitude of the bearishness of BA's guidance, I can't say I'm surprised the stock was punished.
On the top line, BA's backlog continues to grow and now stands at almost half a trillion dollars. The company has years of revenue already lined up and that is certainly a good start for long term growth. This is part of the reason why I think the long term bull case still has a chance with BA; having years of revenue already in the pipeline is not something most businesses can claim. And with planned production increases in the coming years, it seems BA intends to make good on eventually shrinking the backlog. However, taking in more orders than you can produce is a good problem to have and my only concern about BA's top line is its ability to get product out the door quickly enough to avoid losing orders due to long wait times. That certainly isn't a problem yet but it is something to keep an eye on.
BA's revenue guidance, however, for 2016 was light. Consensus is about $95 billion for 2016 but BA's guidance is for just $93 to $95 billion, indicating a miss is far more likely than a beat. Surely, this was a significant part of the reason why the company's shares were hammered after the report was released. I did not expect BA's revenue guidance to be so light and given all the momentum it has operationally, one has to wonder if guidance is lower than what management thinks it can reasonably do this year in order to setup a second half rally. We won't know for some time of course but the sheer magnitude of the weakness makes me think something is up; the alternative is that BA's production capacity is low enough that it will continue to struggle to meet demand.
In addition to weak revenue, BA guided for just $8.55 in EPS at the midpoint, well below consensus as well.

In fact, BA's EPS estimates were $9.42 for this year just last week and the same story goes for 2017; EPS estimates have plummeted since BA reported. Right now, given the cuts to the outlook BA provided, I'm concerned that the long term bull case has hit a major bump. However, the evidence surrounding the backlog, lower SG&A costs and production increases, among others, I have to think management is playing the earnings management game. If not, and these numbers are real, it represents a serious slowdown and risk to BA's EPS trajectory but for now, I'm giving management the benefit of the doubt.
BA's operational strength allows it to return lots of cash to shareholders, something that is a big draw for me. I always pay attention when a stock has a cheap valuation as well as a sizable buyback and pays a dividend and BA fits all of those characteristics. It bought back $800 million of stock in Q4 and $6.8 billion for the full year and even increased its existing authorization to $14 billion. That is good for 17.7% of the current float, an extraordinary level of repurchases. Of course, this will not happen overnight but that 17.7% will eventually be added directly to EPS growth and given the guidance the company just provided, that is a much needed boost. Buybacks of that size don't come around often and investors should take notice.
In addition, BA still pays its ample 3.7% dividend, a very high yield in this market. BA's dividend is unequivocally safe so investors seeking income will surely take notice. I have to think BA's yield is at the point where income seekers will be interested and that should mean at least a small respite from the selling.
I still like BA's long term future and at this point, I think management provided guidance it can beat in 2016. Time will tell if I'm right but overall, the bull case is still intact. The company is ramping production to meet soaring demand and its margins should continue to structurally increase over time, particularly as new products mature. However, instead of just buying the stock, I'm going to take a bit of a safer approach and sell puts instead, collecting a sizable yield and reducing my cost basis simultaneously.
I still believe in BA so the put I'm looking at is the January 2017 $115 strike, selling for $12.85. The put, if sold, gives you the obligation to buy the stock for $115 next January if it is trading at or below that price at the time the put expires. You get to keep the $12.85 regardless of what happens, however, so in essence, you either collect the $12.85 for tying your money up for a year or you end up buying BA with a cost basis of just $102.15 ($115 - $12.85). That is a very favorable setup for those of us that like the story with BA but don't want to go all in simply buying the stock.
The risk, of course, is that BA goes lower and you get put the stock; this is not a riskless strategy. It simply lowers your risk by lowering your cost basis significantly, putting the odds more on your side. In return, you give up the potential upside if the stock does stay above $115 and rally because you don't participate in the upside. But given that the yield on the put being sold that expires in about 51 weeks is in excess of 11%, the risk/reward here is very strong. Right now, with sentiment low on BA, I think the preferable strategy to just buying the stock is to sell puts on it instead, lowering risk and generating lots of yield in the process.
Disclosure: I am/we are long BA.
I wrote this article myself, and it expresses my own opinions. I am not receiving compensation for it (other than from Seeking Alpha). I have no business relationship with any company whose stock is mentioned in this article.