While the markets are focusing on the surge in Oil (NYSEARCA:OIL), and the related Energy Sector ETF (NYSEARCA:XLF) which was up by 4% in the past 2 weeks, little is being said about the Global Metals and Mining ETF (NYSEARCA:PICK), which was up by 3.6% compared to the S&P 500 index (NYSEARCA:SPY) up by only 0.5% for the same period.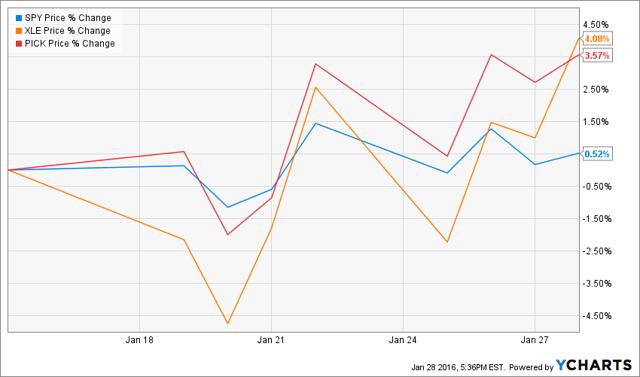 Recent History of Industrial Metals
The Metals and Mining Producers have suffered major declines in the past few years which can be attributed to several factors: slowing global growth, a surging greenback, and a massive crash in oil prices. China's faltering growth was the main driver in the collapse of these commodities as China is the world's biggest consumer of industrial metals (for example 40% of global copper demand comes from China). As a result, the global miners' and producers' share prices have been suffering major declines over the past couple of years.
Response of Metal Producers
In order to get through the global routs in commodities, metal miners and producers have been under pressure to act, and they took several steps:
Slashing exploration budgets and capital spending.
Closing mines and laying-off thousands of workers.
Substantially reducing their outstanding debts.
Increasing efficiencies in production by focusing on profitable operations.
Cuts or suspension of dividend payments, such as Freeport-McMoRan (NYSE:FCX) who announced recently that it was suspending its dividend last December in order to balance cash flows and limit its debt.
Cuts in production and capital spending are starting to impact the bottom line of metal miners. Glencore (OTCPK:GLNCY) last December announced steeper cuts to its debt and capital spending plans and issued upbeat guidance, boosting shares of Freeport-McMoRan , Rio Tinto (NYSE:RIO), BHP Billiton (NYSE:BHP) and other miners.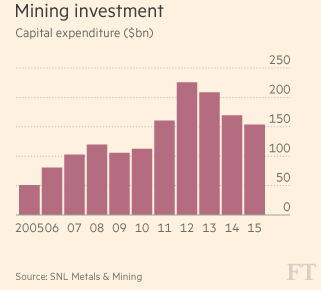 Outlook on Metal Commodities and Global Miners
While the world is beginning to feel the effect of aggressive supply cuts, there are indications that many commodities are likely to experience a "supply crunch" in 2016. I will focus in this section on 3 commercial metal commodities, 2 of which- Zinc and Copper- may present the most severe cases in supply shortages:
1- Zinc: Zinc is currently the fourth most widely consumed metal in the world after iron, aluminum, and copper due to its strong anticorrosive properties, its bonding capacity with other metals, and anti-rusting effect when used together with iron and steel.
Worldwide Zinc production losses were quite significant in the past year, especially in China where production has been down by 60-70%, mainly due to low prices, environmental issues and the government delaying renewing mining licenses in its crackdown on pollution. Following phenomenal shipments of zinc in the past few months, the country's Zinc imports reached multiyear highs (highest levels since May 2009) and were up by over 400% during the month of December 2015 alone, mostly on concerns about supply tightening in 2016. Globally, Zinc production has been constricted due to several blockbuster mines such as Australia's Century reaching their end-of-life cycle with little new production in the pipeline. A recent survey of analysts polled by Reuters shows that Zinc will be one of the top performer commodity in 2016 due to an estimated global deficit of 53,000 tonnes in 2016 and 275,000 in 2016.
2- Copper: Perhaps the sharpest commodity supply crunch in 2016 will be in copper which may send prices soaring in 2016 (check my recent article published on FXempire"Copper Supply Crunch in 2016 May Send Prices Soaring"). Copper is the world's 3rd most widely used metal, mainly in industries such as construction and industrial manufacturing. Many experts recently issued warnings about the looming production shortage in the commodity:
The reduction in supply could cause prices to spike in 2016, said the International Copper Study Group who revised down copper production forecasts in October 2015, and said that there will be 130,000 million tonnes deficit in 2016.
"We expect the copper market will record a deficit before the end of 2016", analysts at Intesa Sanpaolo, stated in October 2015.
According to a study done last December by Wood Mckenzie, 2016 will be the year where production cuts will start to be felt, while demand remains strong. In the longer term, Wood Mackenzie predicts a 10 million tonnes deficit by 2028.
EIU (Economist Intelligence Unit) in its Economic and Commodity Forecast, July 2015, sees the price of copper in 2016 at around $3 per pound and steadily climbing thereafter (current copper price is at $2.0).
3- Iron Ore: The case for supply shortages in Iron Ore is not as strong as for the 2 other commodities above; however, there are some signs that production will get moderated as many higher cost producers were squeezed out of the market. Excess supply of Iron Ore is being absorbed by strong demand coming from outside China, resulting in some analysts negating any oversupply in 2016. Demand for iron ore is expected to remain strong in 2016 with growth coming from India, the Middle East and Southeast Asia, as reported by Rio Tinto.
China Imports of Commercial Metals reach record-highs
Chinese Zinc imports surged last December to the highest level since 2009.
Copper shipments, also during December, reached their highest level since at least 2008.
Iron Ore imports in 2015 increased by 17% from the prior year and soared to an all-time high.
It seems that Chinese buyers have been snapping up metals on concerns about supply tightening in 2016, and in anticipation of further weakness in the yuan.
Effect of Crude Oil price on Commercial Metals
Crude oil and commercial metals are commodities that seem to have little to do with each other; however, surprisingly, these commodities have historically followed similar patterns and price trends. Let us have a look for example at the historical correlation between Brent crude and Copper prices over the past 10 years as depicted in the chart below: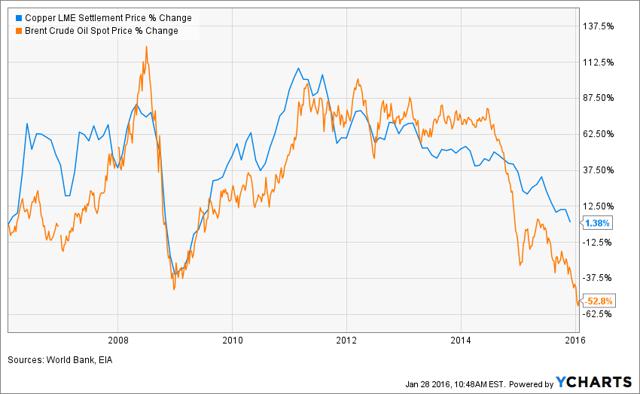 One can argue that the historical price trends can be explained by the global economic cycles or by the extent of the strength of the US dollar index to which both of these commodities are inversely related. However, we cannot deny the fact that these commodities follow similar price trends, which leads me to believe that the widely expected recovery in oil prices in 2016 will be bullish for industrial metals.
Global Quantitative Easing (QE)
Quantitative Easting (QE) is expected to get a boost in 2016 with major Central Banks across the Globe (China, Japan, and Europe) declaring that they will do everything possible to battle inflation and lift consumer spending. Renewed strength in demand for housing and manufactured products will greatly benefit commodity prices, especially industrial metals. Metal prices jumped last week as ECB's Draghi hinted at new monetary stimulus.
Upbeat Reports by some Banks and Large Investors
In a note, Morgan Stanley recently called for investors to increase their exposure to emerging markets and commodities, citing attractive valuations. The firm upgraded its outlook on Anglo American - the second worst performing stock in the sector, and lifted its ratings on both Rio Tinto and BHP Billiton to "overweight".
BNP Paribas advised in October 2015 against taking an aggressively negative price view on metals. It expects growth in world base metals demand to pick up to 3% in 2016 from 2015 levels.
Carl Icahn, billionaire investor, increased his share in Freeport-McMoRan to 8.5% last August, citing attractive valuations in the sector.
Bottom Line
The Outlook for the Commercial Metals sector looks very positive as a severe supply crunch looms for several underlying commodities. While no one can predict the absolute bottom in prices, investing in the "global metal miners and producers" currently provides rare deep value not found elsewhere in the market as the sector is severely oversold. Citigroup recently called that "Long Oil -- the Trade of the Year". While I mostly agree with that statement, I would add 2 words to it and have it rather say "Long Oil and Metals -- the Trades of the Year".
In my next article I will highlight the best plays in the Commercial Metals Miners & Producers for those who want to diversify their portfolio with exposure to the sector. Most companies in this industry pay very generous dividends and can be great additions to a high-yield Retirement Portfolio. Follow me to get the latest updates!
Note: Rida Morwa's premium research and his list of top rated high-dividend securities are posted on "Retire with High Dividends" a service by Seeking Alpha. For those who have not subscribed yet, "Retire with High Dividends" provides a unique approach to dividend safety through diversification and value investing (overall target yield of 6% to 9%). For more info, press the orange banner below entitled "LEARN MORE" or click here.
Disclosure: I am/we are long PICK.
I wrote this article myself, and it expresses my own opinions. I am not receiving compensation for it (other than from Seeking Alpha). I have no business relationship with any company whose stock is mentioned in this article.
Editor's Note: This article covers one or more stocks trading at less than $1 per share and/or with less than a $100 million market cap. Please be aware of the risks associated with these stocks.