PFPT's Q4 was predictably unprofitable, with pre-tax losses reaching 42% of revenues. For every 1 US$ of sales, the company spends $1.42. Even more predictably, management and probably most analysts have lauded the quarter as a great success. Unfortunately, the more the company grows, the deeper is the hole that investors pour money into. While the model is analyzed in depth elsewhere, these numbers merit some commentary all by themselves.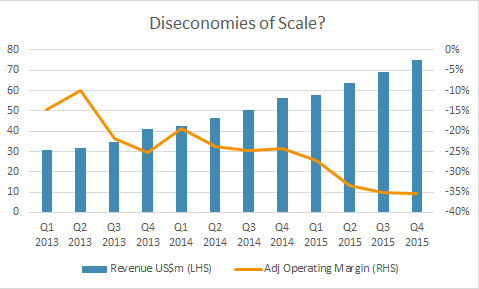 Growth
Let's start with the "good" news. PFPT is all about growth and they duly reported Q4 revenues slightly ahead of analyst estimates. At 33% year-on-year, this is the slowest growth rate PFPT has reported in years. Note that this period includes three acquisitions, including one in Q4.
Growth is important not just to PFPT's valuation but even to its survival - for two reasons. Firstly, the company relies on advance payments from its customers to stem the cash outflows generated by its loss making operations. If the cumulative pile of these prepayments were to stop growing, cash burn would accelerate dramatically. Secondly, investors, suppliers, and employees need to believe that the stock is valuable as the company relies heavily on using it as a currency for payment. Management has been successful in diverting attention away from spiraling losses by waving the growth flag - if this ceases, PFPT's ability to pay bills with expensive stock decreases dramatically.
Reported revenue consists partly of recognition of deferred revenue (pre-paid subscriptions) where the cash has already been paid. The remainder is genuine new business - revenue signed up and recognized during the actual quarter. Unlike billings, this reflects an incremental run-rate of revenues and is unaffected by the duration of contracts. While the number is not reported, it can be estimated by assuming a distribution of short-term deferred revenue over the coming 12 months.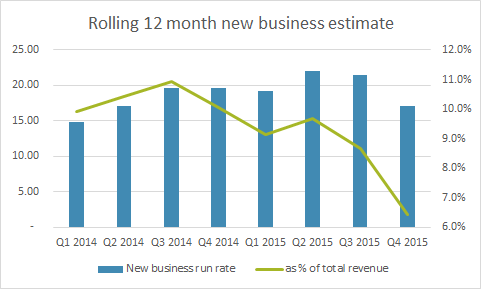 It looks like Q4 new business was very weak - the above chart shows a rolling 12-month average to account for seasonality. I estimate that only around $2.5m of revenues in Q4 might be related to new business - the balance is a recognition of deferred revenues that have already been paid for.
Billings growth has also slowed to 31% year on year from rates as high as 50% in previous quarters. Adjusted for the Q4 acquisition, the number drops below 30%.
Profitability
Even as growth slows, PFPT is spending ever more to generate it. Gross margins dropped back down to 68% in Q4, reversing a brief trend of improvement. This suggests price discounting to bring in the business. To make matters worse, it looks like contract terms are being shortened as well. Long Term Deferred Revenue as a percentage of total continues to decline - this does not bode well for continuing to plug the losses by increasing cash taken upfront. This ties in with the lower growth in billings during this quarter.
Sales and marketing spend has continued to rocket and has risen above 60% of revenues. Revenue growth is being sustained by a combination of higher marketing spend, lower prices and shorter contract terms. This impacts negatively on profitability, cash flow and visibility.
Other costs are also rising roughly in line with revenues. The bottom line is that losses as a percentage of revenues are as high as they have ever been - a classic display of diseconomies of scale.
Cash Flow
As well as its usual ongoing operating losses, PFPT faces an additional headwind in Q4. Accounts receivable spiked to 73% of revenue from 55%-65%, which is a drag on cash generation to the tune of $16m. While something similar happened in Q4 2014, it has not been this prominent in previous years. As PFPT generally takes in money upfront, this suggests contracts signed last minute at the end of the quarter, where clients have not yet paid their invoice. It ties in with the sharp drop in estimated new business (there would have been minimal revenue impact from these in the quarter). It might also explain the jump in marketing expenses, fall in gross margins and shorter contract durations - PFPT may have been pulling out all the stops to make the sales and billings numbers. The positive would be that it potentially sets PFPT up for an easier Q1 if receivables get paid and more of the revenues are recognized.
While PFPT humorously calculates a positive free cash flow figure, this relies on offsetting the operating losses with a number of things. Reported net cash levels dropped by $17m during Q4 alone.
First off, the company uses its stock to pay bills - $60m worth during 2014. This may not be much in the context of its $3bn market cap, but it's a very considerable 23% of revenue. In total, without actually having a secondary offering, the company has issued 3.1m shares during the year - currently worth around $180m or 70% of its revenues (!!!).
Secondly, as described previously, the company relies on prepayments from clients to plug the hole. This contributed $22.5m in cash during the quarter.
Thirdly, the company takes in cash from the ongoing exercise of management options - $6.7m this quarter.
Finally, the company deferred payments to suppliers giving it a $4.6m temporary cash boost.
If we adjust for working capital changes but assume, as GAAP does, that issuing stock is simply a substitute for cash payments, Q4 operating cash flow was roughly negative $19m. This is before debt costs ($5m), cost of acquisition ($10m) and capital expenditure ($7.7m). Annual steady state cash burn could be as high as $150m when the regular acquisitions are taken into account.
For a business that potentially has over $431m of debt (assuming repayment of convertible bonds) this is not a comfortable position.
The problem is that PFPT is on a treadmill from hell. It cannot try and rein in costs because its growth would slow much more than it is already. If its growth were to slow, its ability to issue stock in lieu of payment would fall dramatically and it would lose the working capital tailwind. So the logical strategy is to keep spending and issuing shares, paying for revenues. Unfortunately, experience shows that these kind of business models can only be taken so far. Especially as they rely on fickle investors accepting to ignore accounting principles indefinitely.
Disclosure: I am/we are short PFPT.
I wrote this article myself, and it expresses my own opinions. I am not receiving compensation for it (other than from Seeking Alpha). I have no business relationship with any company whose stock is mentioned in this article.