"History Does Not Repeat Itself, But It Often Rhymes" - Mark Twain
There are many downsides in approaching advanced middle age. The annual checkup, the occasional bouts of forgetfulness, the frequent desire for the late afternoon nap, and wondering whether your beloved Arizona Cardinals will ever win a Super Bowl before you die are just a few that I can list. However, the benefit of being an equity investor for over three decades is it allows one to keep the market in perspective even during frequent bouts of volatility and fear.
I have seen many things over that time span including the October 1987 stock market crash, the internet boom & bust of the late 90s and of course the financial crisis and near Great Depression II that we all recently had to endure.
As a veteran investor one realizes that these bouts of irrationality frequently hit certain areas of the stock market. I recently highlighted that the recent spike in the high yield credit markets that unfairly caused the high yielding REIT space to sell-off unfairly as one example. There are myriad names providing a 6% to 8% yield with cheap valuations in this sector currently. In October of 2014 I observed the Ebola scare that knocked 30% to 40% of the airline stocks was a huge short term buying opportunity, which it accurately turned out to be.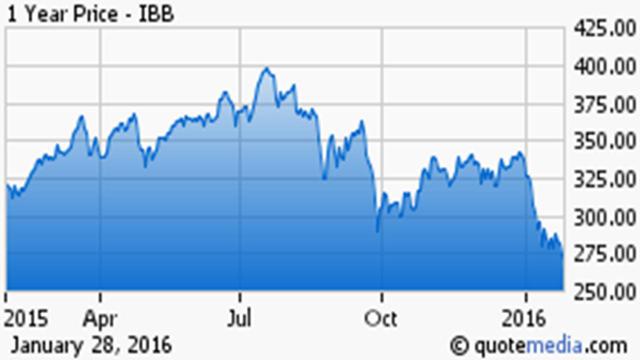 Right now, we have a similar situation for those with historical knowledge of what happened in the early 90s. The biotech sector is down some 35% from its highs this summer in no small part thanks to the election driven rhetoric around drug price "gouging". The industry has become a favorite punching bag as Hillary Clinton battles an "avowed socialist" for the right to represent the Democratic Party in the upcoming presidential election.
The sector has been rocked by every tweet from Mrs. Clinton about the subject. Bernie Sanders has upped the volume by opposing the proposed new FDA head as he had a previous small consulting role with this reviled industry at the moment.
While there are certainly some bad actors in the industry that take old drugs and aggressively institutes a series of price hikes, the vast majority of the firms in this space focus on discovering and developing next generation drugs to address new conditions or better alleviate a host of diseases.
The carnage in biotech currently is reminding me of the action in the big pharma names (the big biotech of their time) in the early 90s. Then a young governor named Bill Clinton had squeaked into office with 43% of the national vote in a three way race within a very divided nation politically (Sound familiar?). One of his campaign planks was to reduce healthcare and drug costs.
This soon gave birth to an effort to nationalized healthcare which was soon dubbed "HillaryCare". Big pharma names like Pfizer (NYSE:PFE) and Merck (NYSE:MRK) plunged 30% to 40% from the time election results became known in November 1992 to the end of the first quarter of 1994.
Of course, we now know in hindsight that this turned out to be great long term entry point in these names. The "Health Security Act" was introduced in November 1993. Thanks to the infamous "Henry & Louise" commercials as well as coordinated opposition from business lobbies like the National Association of Manufacturers and the Business Roundtable, the effort soon died on the vine. This led to the mid-term debacle of 1994 where Democrats lost over 50 congressional seats. Hillary Clinton and other advocates of a single payer health system were soon thrown under the bus as Mr. Clinton tacked back to the center in his successful "triangulation" strategy.
A few years later "the era of big government" magically and unpredictably was over, at least for a few years. Once it became clear this legislation was dead on arrival, both Pfizer, Merck and other healthcare concerns that would have been impacted by this single payer effort gained 30% to 50% through year end 1994.
It is important to remember that this legislative effort failed even though one party held the Presidency, the Senate and the House of Representatives. What chance will any major effort to control drug pricing or institute price controls after the election have after November 2016 where we will still have divided government with the opposition party firmly in control of the House of Representatives and with a 50/50 chance to retain the Senate? Not to mention coming on the heels of the still unpopular Affordable Care Act. There is also nothing carved in stone that says either Hillary Clinton or Bernie Sanders will be the next president.
The Bill Clinton administration is hardly the only one that has got the nation all riled up for an effort that eventually led to naught. Jimmy Carter's synthetic fuel initiatives in the late 70s and George W. Bush's efforts to partially privatize Social Security after his re-election in 2005 are two others that easily come to mind.
The point is that no one can know what the future holds but it sure seems that this is a historical overreaction to changes that have little to no change to have a major impact on an industry. Given this, I continue to add incrementally to a variety of solid large cap positions within the biotech sector. As I recently noted in my instablog, there are five strong reasons this sector should outperform the overall market over time. As a seasoned investor, I have learned the value of biding my time and waiting for the latest nonsense to blow over.
Disclosure: I am/we are long MRK.
I wrote this article myself, and it expresses my own opinions. I am not receiving compensation for it (other than from Seeking Alpha). I have no business relationship with any company whose stock is mentioned in this article.