There has been an interesting disconnect between the price of BreitBurn's (NASDAQ:BBEP) bonds and its preferred units recently. The bonds are superior to the preferred units as they rank higher in the capital structure and also can't have their payments deferred without severe consequences. At the very least the bonds should trade at the same percentage of par as the preferred units, and historically the bonds have typically traded at or above the level of the preferred units by this measure. However, the preferred units now trade for roughly 50% higher than the bonds based on percentage of par, making them distinctly overvalued compared to the bonds. This appears to be fueled by a short squeeze in the preferred units.
There is potentially an opportunity to short BreitBurn's preferred units since it is now 50% overvalued, but that is tricky to pull off. This does appear to be a prime opportunity for preferred unit holders to either exit their positions or swap into the unsecured bonds though.
BreitBurn's Series A Preferred Units trade under the symbol BBEPP.
The Bonds
For the valuation comparison, I've chosen BreitBurn's 8.625% Senior Unsecured Notes due October 2020. This bond issue is superior to the preferred units in many ways. It ranks higher in BreitBurn's capital structure than the preferred units, so in the event of a restructuring there is a greater chance of some recovery. As well, the 8.625% coupon is higher than the 8.25% that BreitBurn's Series A units pay out. Failure to make an interest payment would result in a default, so companies will continue making bond interest payments well after preferred unit distributions are suspended. Preferred distributions can be suspended to save cash in the near-term with limited consequences, so that is a move than many E&P companies have made recently.
About The Series A Preferred Units
The distributions on BreitBurn's preferred units are cumulative, so even if there is a distribution suspension, they would presumably be paid up eventually if BreitBurn recovers. However, there is the risk that the distribution is suspended, oil prices do not recover sufficiently quickly, and then BreitBurn restructures. The bonds would be receiving coupon payments until restructuring, while the cumulative preferred distributions get wiped out.
One advantage of the preferred units over the bonds is that the distributions are made monthly rather than semi-annually. As well, short squeezes can give the preferreds some short-term upside like we are seeing right now. However, overall the preferreds are distinctly inferior to the bonds and should not be trading for a higher percentage of par than the bonds.
Historical Valuations
Here's a chart showing how the Series A units and 8.625% bonds due 2020 have traded based on percentage of par value since mid-2015. I've adjusted the bond prices to account for accrued interest.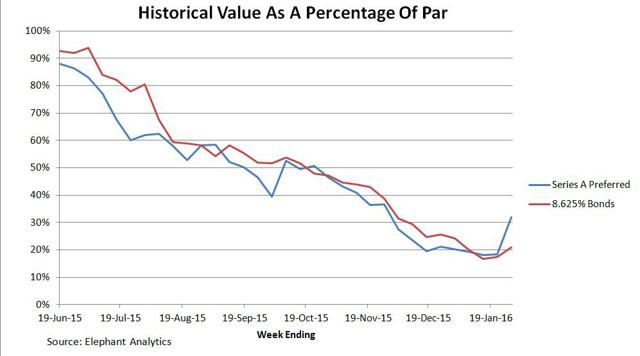 As shown in the chart, BreitBurn's 8.625% notes have typically traded at a higher percentage of par than its Series A preferred units. This is true for 27 of the 33 weeks covered. The Series A preferred units have typically traded for around 93% of the value of the bonds (after normalizing the par values). The historical range outside of the last week has been 76% to 108%, but now it has reached 152%.
Bonds Undervalued Or Preferreds Overvalued?
Now that we have seen that the preferred units have diverged significantly in price from the bonds, the question that needs to be figure out is whether the bonds are undervalued or the preferreds overvalued. I think it is mostly that the preferreds are overvalued. The preferreds have jumped over 100% from their lows, while the bonds have increased close to 30%. The increase in bond valuation is in the range that some other distressed companies have seen their bonds rise recently. However, there is nothing that would justify a 100% increase in bond prices, which is what would need to happen to keep the preferred to bond value ratio within historical boundaries.
Assuming that the bonds are fairly valued, the Series A preferreds should be worth approximately $4.90 right now (93% of the value of the bonds). Based on historical ranges, they should be worth $4 to $5.70.
Additional Notes
BBEPP can be quite hard to short, which is likely contributing to the short squeeze. The bid-ask spread can be fairly significant and there are often few or no shares available to short. There is also a significant cost to short, with the distribution yield of 25+% and an additional fee to short that is currently listed at 21% per year. As well, there is a risk of forced buy-in that may be fueling the jump. These factors make BBEPP suitable for shorting only if one expects a sharp movement down soon, and probably only in small quantities to limit risk.
I believe that conditions are ripe for a significant decrease in BBEPP's unit price though. Despite the recent recovery in oil prices, spot prices are still down over 15% from when BBEPP last traded at around $8. As well, another two months of hedges have rolled off and the outlook for a major price recovery (while improving as production cuts are made) can't be said to be any better than it was in early December. There is also a high chance that BreitBurn will need to suspend the preferred unit distributions as its borrowing base review comes up in April.
There is also a limiting factor for BBEPP's rise in that it makes sense for preferred unit holders to swap into BreitBurn's bonds if they wanted to continue holding a position in BreitBurn. Thus one would expect the gap in values between the bonds and preferred units to narrow back to historical levels rather than continue to rise indefinitely.
A full swap would result in a 50% increase in the par value of the holdings and a greater than 50% increase in the current yield, along with moving up the capital structure and increasing the chance of continued payments.
Conclusion
BBEPP appears significantly overvalued compared to BreitBurn's bonds due to an apparent short squeeze. The bonds have many advantages over the preferred units, so preferred unit holders should really either be swapping into the bonds or selling their positions since the preferreds are 50% overvalued compared to the bonds. A fair valuation for the Series A preferreds would appear to be $4 to $5.70 when the 8.625% bonds are trading at 18.5 cents on the dollar plus accrued interest (around 21 cents in total).
I am also exploring shorting BBEPP since it is demonstrably overvalued. However, this is a tricky and apparently crowded trade with some notable challenges including what I've mentioned above.
Disclosure: I/we have no positions in any stocks mentioned, but may initiate a short position in BBEPP over the next 72 hours.
I wrote this article myself, and it expresses my own opinions. I am not receiving compensation for it (other than from Seeking Alpha). I have no business relationship with any company whose stock is mentioned in this article.
Editor's Note: This article covers one or more stocks trading at less than $1 per share and/or with less than a $100 million market cap. Please be aware of the risks associated with these stocks.