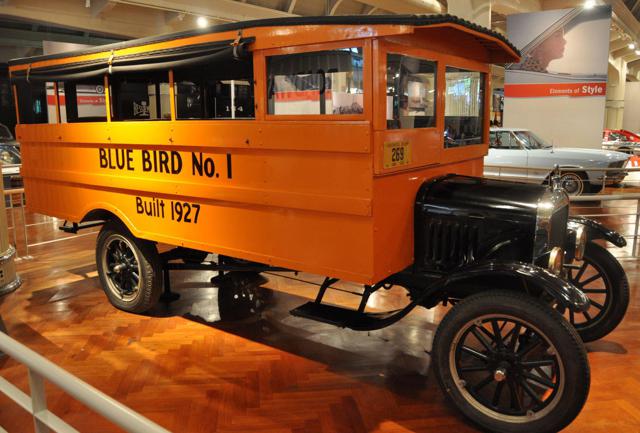 Blue Bird bus No. 1 on display in the Ford Museum.
Raise your hand if you have ever ridden on a yellow school bus to school. Even if you had this experience, you might not know this occurrence could be traced back to a man named, Albert Luce (1888-1962). Upon returning from World War I, where Luce had served in France, he came back with plans for returning to work in the growing automobile industry. Luce opted not to return to his former California area where he had a distributorship for the Maxwell automobile (forerunner of Chrysler). Instead he moved to a small farming community in central Georgia, where the major source of revenue came from growing and harvesting peaches. It was there where he had obtained a franchise from the Ford Motor Company. This was in 1919.
His franchise was located in Fort Valley, Georgia, where today the population is still less than 10,000 residents. A few years later he obtained his second dealership in nearby Perry, Georgia. In 1925 Luce received an order from a local cement company wanting a vehicle that would allow the transporting of workers to and from job sites. Luce orders a wooden frame from North Carolina, where he bolted it onto a Model T Ford chassis. Almost immediately, Luce recognized the potential of driving such a vehicle over unpaved or poorly paved Georgia roads would render the bus as being unusable before the owner had finished paying for it. With this concern, Luce opted to work with a local blacksmith, there in Perry. The goal was to construct a bus body made primarily of steel that would fit on a steel chassis. The first bus was built in 1927, where it had the steel components complimented with a wood roof and roll-up canvas curtains that served as the 'windows'. This bus was sold to a school bus driver in nearby Marshallville, Georgia. Luce built his second bus in 1929.
By 1932, Luce had disposed of his automobile dealerships and opened a bus manufacturing plant in a rented shed where peaches were packed. In 1934, he moved his operations to a rented horse stable. It was 1935 that he built his first free standing manufacturing facility in Fort Valley, Georgia. Luce was concerned that by naming the new company after himself, he felt that marketing efforts using the Luce name could incite others into referring to his company as the "Loose" Bus Company. At the beginning, Luce's company was known as the Blue Bird Body Company. Today this has been shortened to the Blue Bird Corporation (NASDAQ:BLBD).
Until 1992, the Luce family maintained ownership of Blue Bird. It was in 1992, with assistance from Merrill Lynch, and the management team at the time, they purchased the Luce's interest in the company. In 1999 the British Henly's Group, with additional funding from Volvo Group, purchased the company from Merrill Lynch.
In 2006, the Henly's Group ran into financial difficulties, especially with the Volvo involvement. Unable to support the debt the company was placed into bankruptcy. Cerberus Capital purchased Blue Bird in the resulting bankruptcy proceedings. In the latter part of 2014, Hennessy Capital, a Texas investment firm, purchased for $255 million a portion of the Cerberus investment in Blue Bird. In February, 2015, Hennessy and Cerberus opted to sell stock to the public with an IPO for 10,000,000 shares at the offering price of $10.00. Now for the first time in its long history, Blue Bird was a publicly owned corporation.
Investment Thesis:
In recent years, with the outside ownership controlling the company, Blue Bird executives have undertaken plans for returning the company back to its roots-building and selling buses for public transportation purposes. As with many other companies, Blue Bird over the years had attempted to diversify the company into other products, such as the motor-home RV market. Blue Bird had also opened plants in other states and even in Mexico and Central American countries.
Today, Blue Bird is back to its roots, building buses, plus now having a parts division for resupplying owners the repair parts needed for their Blue Bird buses. All manufacturing is now done in one location--Fort Valley, Georgia. The only foreign association they now have is the continuing joint venture with the Canadian bus manufacturing company, Girardin.
One other area of change is Blue Bird now manufactures their chassis frames in their Fort Valley, Georgia, plant. In previous years all chassis frames were purchased from outside sources, such as Ford and General Motors. All buses built here in the United States, use in-house built chassis frame. Only Girardin continues to purchase chassis frames from Ford.
The final major change they have incorporated into their bus options is the use of propane and compressed natural gas, or CNG. This option offered by Blue Bird is now gaining a major share of this type fueling option for the fleet owners needing cost savings on the vehicles they operate. Blue Bird is the clear leader in sales with these fueling options for their line of buses.
Current Product Line

Model Name

Photo

Year Introduced

2010

2003

1948

Assembly

Drummondville, Quebec, Canada

Fort Valley, Georgia

Configuration

Type A

MB-II:single rear wheel

G5:dual rear wheel

T-Series: single/dual rear wheel

Type C

Type D

(front engine, rear engine)

Chassis Manufacturer

Ford Motor Company

Ford E-350/E-450 (2010-2014)

Ford Transit (2015-on)

General Motors

Blue Bird

Fuel Type(s)

Gasoline, Diesel, Propane

Gasoline, Diesel, Propane

Diesel, Compressed Natural Gas (CNG)

Passenger Capacity

10-30

36-77

54-90

Other Notes

Introduced for 2011 model year as part of Micro Bird, Inc. joint venture with Girardin.
Replaces Micro Bird
2015 Micro Bird T-Series is the first Type A school bus based on the Ford Transit cutaway chassis in North America.

Vision was introduced in 2004 and is currently in its second generation (introduced 2008).

Vision uses an in-house chassis from Blue Bird.

Vision underwent further upgrades for 2015 model

The All American FE has been produced on a Blue Bird-designed chassis since 1952; the All American RE chassis has been produced by Blue Bird since 1988.
Current version (internally known as T3) introduced for 2014.
Known in export markets as the Blue Bird TX3; formerly known as the TC/3000 and All Canadian.[21]
Historical Revenue Growth and Projected Growth for FY2016:
| | | | |
| --- | --- | --- | --- |
| FY 2011 | $566M | | |
| FY 2012 | $598M | | |
| FY 2013 | $777M | | |
| FY 2014 | $856M | | |
| FY 2015 | $919M | | |
| | | | |
| FY 2016 | $960M | $985M | Guidance |
| | | | |
| | | | |
Full-Year-2015/Reported December 2015
Total net sales were $919.1 million for the fiscal year ending October 3, 2015, an increase of $63.4 million or 7.4% compared with prior year.
Blue Bird sold 10,378 buses in this period, up 8.1% compared with the same period last year. Net bus sales revenue for the year of $861.7 million was 7.5% higher than prior year.
Full-year net parts sales were $57.5 million, up 6.6% compared with 2014, driven by success with many of their go-to-market initiatives.
Gross Profit-2015
Full-year gross profit was $120.4 million, up $11.0 million from the prior year. Bus gross profit of $99.3 million was up $10.0 million or 11% over prior year. The increase was driven by higher unit sales and favorable material costs, partially offset by a less profitable product and customer mix in the first half of the fiscal year as well as higher overtime costs.
Parts gross profit for the year of $21.1 million was up $1.0 million or 5% compared with the prior year. Higher sales of parts drove the profitability growth.
______________________________________________________________________________
Net Income/Loss-2015
Net income was $14.9 million for the year, an increase of $12.2 million compared with net income of $2.8 million in the same period last year. This primarily reflects an increase in operating profit of $17.9 million and a $6.0 million reduction in income tax expense, partially offset by a $12.9 million increase in interest expense.
Guidance for FY-2016
Net Sales: $960-$985, up from $919 in FY2015
Adjusted EBITDA: $72-75 million, up from $70 million in FY2015 *
Adjusted Free Cash Flow: $30-35 million, compared with $45 million in FY2015. No adjustments are included in the FY2016 Free Cash Flow guidance **
It should be noted that Blue Bird expects the ADJUSTED EBITDA will be impacted by higher spending due to investing in new initiatives and product that are expected to provide a foundation for future growth.
Blue Bird also expects their Free Cash Flow will be impacted by higher cash taxes, higher capital spending, purchasing new technology and physical plant changes that will support capacity expansion.
It also should be noted that Blue Bird expects 1st Q, 2016, results will be impacted because seasonality issues. This will continue until the second half of the year where the addition of second shift workers will make up their expected full year growth results. It should be noted that Blue Bird will report their 1st Quarter, 2016 results on February 9th. These results will give investors a better basis for evaluating how the full years results can be attained.
Demographics That Will Impact the Continued Growth in the Bus Transportation Industry:
The following data is provided by the US Department of Education. (The full report is available here):
Enrollment trends in preK through grade 8 and grades 9 through 12 have differed over time as successive cohorts of students have moved through the public school system. For example, enrollment in preK through grade 8 decreased throughout the 1970s and early 1980s, while enrollment in grades 9 through 12 generally did not begin to decrease until the late 1970s and continued to decrease further into the 1980s than enrollment in preK through grade 8 did. Enrollment in pre-K through grade 8 started to rise in the latter part of the 1980s and continued to rise throughout the 1990s and 2000s. Between 2000-01 and 2012-13, enrollment in pre-K through grade 8 increased by 1.3 million students, reaching a total of 35.0 million students. Public school enrollment in pre-K through grade 8 is projected to increase to 37.6 million students in 2024-25, an increase of 7 percent over 2012-13. After declining in the 1980s, public school enrollment in grades 9 through 12 began to increase again in 1990-91. Despite a period of decline from 2008-09 through 2011-12, the years from 2000-01 to 2012-13 saw an overall 9 percent increase in enrollment in grades 9 through 12, which resulted in a total of 14.8 million students in 2012-13. Between 2012-13 and 2024-25, enrollment in grades 9 through 12 is projected to increase by 4 percent, to 15.3 million students.
The growing K-12 enrollments provide the requirement for school districts expanding their fleet of school buses. Also, the age of their current fleet adds to this need. Outside the public K-12 schools needing bus transportation for their students, other agencies need replacement vehicles that offer cost savings with newer fueling options and other enhancements that make such vehicles more cost effective within governmental budgets.
Product Enhancements Being Implemented by Blue Bird:
Previously I mentioned the propane fueling options where Blue Bird has captured the largest percentage of new sales for this typed vehicles. In addition to the propane fueled vehicles, Blue Bird has or will be introducing the following new vehicle enhancements in the near term.
Planned for availability by late 2016, Blue Bird will have the first CNG-Powered (Compressed Natural Gas) version of the Vision school bus model. They will use the Ford 6.8L V10 engine and 6R140 transmission and the ROUSH CleanTech fuel system. These options will provide users with more efficient and less expense fueling options, plus meeting emission control restrictions.
Introduced mid-year will be the inclusion of the ISV Diesel-Powered Blue Bird Vision models buses. This option will provide users a quiet and more fuel-efficient Cummins ISV 5.0L V8 diesel engines
Also, in the summer, 2016, Blue Bird will introduce the Eaton Procision Transmission. This will be the first dual-clutch seven-speed automatic transmission available in Class 6-7 vehicles in North America. The benefit of this new type transmission includes providing the driver more acceleration and shift points to reach the highest gear as early as possible. This option will be available on the Blue Bird ISB Diesel models.
Positive Issues Relating to Company Debt:
In September, 2015, Blue Bird announced they had paid down 11% of their outstanding debt of $226, by paying off $25 million dollars of this debt. This makes total payments for this outstanding debt amounting to $34 million, including the required amortization payments made on their loan agreement. Assuming they continue their ability for generating cash, it appears Blue Bird will opt to use excess funds for creating a positive balance sheet and fund options to enhance future growth.
Pro Considerations:
The bus transportation needs market is currently in an uptrend.
Blue Bird is the market leader for new buses.
Over the last the past five (5) years Blue Bird has grown their annual revenue by 62%.
For FY2016, Blue Bird is expecting revenue growth to continue with the high-end guidance reflecting a 7% increase.
Blue Bird management team has extensive experience in the industry.
Blue Bird has a very active program of developing and implementing new technologies into their product line.
Recent cash flow has allowed Blue Bird to pay down debt obligations.
In both segments of their market they showed gross profit growth during last FY-2015: 11% for the bus/5% for replacement parts
In the expanding fueling option of propane, and now Compressed Natural Gas-CNP- Blue Bird has taken the lead in this market share.
Con Considerations:
Though now being a public company, Cerberus holds 58% of the common stock.
Based on the Cerberus ownership, retail stockholders will not be able to override any actions put forth by Cerberus.
The bus market for K-12 students is dependent of economic considerations found in the respective school districts. Any economic slow-down in key market areas with have an adverse impact on public funding for new buses.
The new move into alternative fueling options could be impacted by the current low price for gasoline. It is my opinion; school districts will look at the long term impact on the price of oil and the history of pricing this commodity. They 'should not' be swayed by the current price for a barrel of oil, and thus look at the long-term implications of their fueling options vs. the extra cost for purchasing vehicles equipped for using propane or Compressed Natural Gas.
Due to the small float in Blue Bird's stock, any large buy or sell orders will have a major impact on the stock, whether up or down being the action.
Anyone purchasing the stock should have a firm bid price for their purchase, in order to get their price for the stock, considering it has a low daily trading volume.
Conclusion:
I'm not advocating anyone purchasing Blue Bird stock at this time. I think there is a compelling story for the stock; however, I think it prudent one should wait for the current market sell-off to run its course. Small cap stocks are at the mercy of downward pressure, where normally any non-direct events would not impact a particular stock. But in the current market, the selling pressure is across the board. Historically, this period of their fiscal year, Blue Bird's revenues and profits are at their lowest point. They will be reporting their 1st Quarter, FY2016, results on February 9th. It is currently projected that Blue Bird will show a loss for the quarter. I would wait for this report, and factor in the results where you should have a better idea for them achieving their full FY results for 2016. I believe the trend is up for Blue Bird, but there is no need for anyone opting to go against the current trend in the overall market.
For a more detailed report on Blue Bird, I would suggest anyone interested should review the details offered in a recent presentation made by senior management.
I currently hold a small position (Between 500-1000 shares). I will wait to see how the overall market stabilizes, and Blue Bird starts the year, before I add to my holdings in the stock. Good luck with your investing decisions!
Disclosure: I am/we are long BLBD.
I wrote this article myself, and it expresses my own opinions. I am not receiving compensation for it (other than from Seeking Alpha). I have no business relationship with any company whose stock is mentioned in this article.