U.S. Steel (NYSE:X) has suffered the fate of many other commodities companies over the past few years. The continual downtrend in the equity complemented by the c-level management team cutting capex and overleveraging themselves puts these types of companies in a very bad position now. I bought U.S. Steel ahead of earnings because I thought they would beat street expectations based upon some previous cost-cutting initiatives (i.e. The Carnegie Way) that I had discussed. Unfortunately, despite a beat on the top and bottom line, the weaknesses in U.S. Steel's business were clearly visible as well as the weaknesses in the macro environment. I have not reached my risk tolerance, yet, so I will remain a shareholder for the time being in hope of breaking even.

China Remains A Large Headwind
We're all aware of the effect China can have on global equities. While it has been aggravated in recent months due to the increasingly poor reports revolving around their GDP, we're still waiting on the proposed supply-side reform. When we boil it all down, U.S. Steel is suffering at the hands of lower realized prices and lower volumes. The company lost $30 per ton on average this past quarter, which is likely to blame for the low EBITDA metrics presented below.
Interestingly enough, we seem to be getting some data on low steel inventories particularly at the hands of tightening cash flow around the world. The Chinese Lunar New Year is right around the corner and once the holiday concludes, analysts believe that it's going to lead to a pickup in the demand for iron ore and raw metals in general. Now, this would undoubtedly be exceptional for U.S. Steel, but there's an inherent caveat in this as the problem of oversupply will again rule headlines as Chinese smelters ramp up output. So, while we may see some ST upside in iron ore and steel futures, I'd advise investors to curb their optimism.
The company keeps pointing to the strong American construction and automotive increases, but has yet to realize the benefits of these end markets. It's just not visible in the earnings. The word China isn't even mentioned once on their market fundamentals slide in their recent earnings presentation. Not being able to recognize the real problems at hand - the problems that dictate the commodity output prices for this company - has me concerned.
The brutality of the lack of demand from not only China but their global customer base is readily visible in U.S. Steel's Q4 ER. EBITDA for the flat-rolled segment was at its lowest level all year at just $2 million and adjusted EBITDA actually turned negative to -$13 million. Tubular EBITDA nearly matched a weak Q2 figure at -$48 million. Even on the international front, U.S. Steel Europe recorded its lowest level in all of 2015.
What I'm keeping my eye on is the three remaining trade case decisions. After an initial favorable ruling on one of the cases, the U.S. Department of Commerce will soon make these rulings and hopefully they provide a push to U.S. Steel's stock. That's the best near term catalyst I see for the stock and if we see some strong upside from these cases, I'll likely sell off a portion of my currently holding.
Hold Or Sell?
With a market cap now trailing $1 billion, a once glorious stock to own has become a nightmare to deal with. It's unfortunate that we're trading around 40 on the RSI, as it's nothing notable to demand a kick back up past the 50 DMA of $7.92. The 200 DMA is well out of reach at $15.67, but I've begun to see it be used less and less as the LT PT from analysts. We've seen some interesting trends in the last three months, notably the two sharp downtrends beginning in November and December. The circled portion of the graph below is where I've taken my position (on Tuesday morning), and considering this is the 52 week low, I feel comfortable about my cost basis.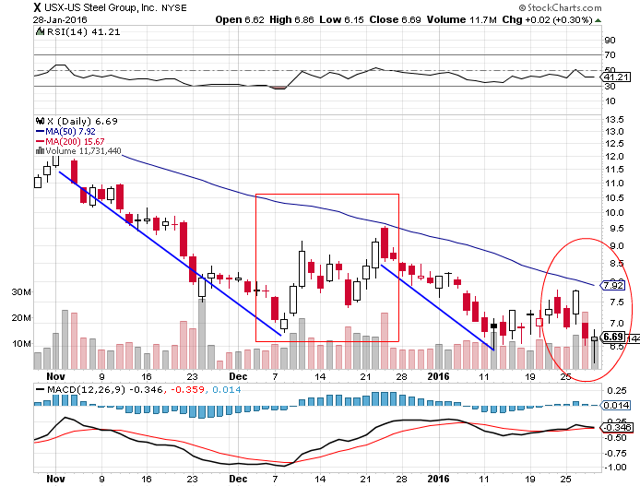 Source: StockCharts
With the stock being downgraded today from a buy to a hold at Argus with a PT of $4, it's likely that we'll see some downward pressure in 2016. I do not expect this to be a radically changing year as changes on the supply side take time to implement. Those supply side negatives are directly evident in U.S. Steel's cash flow, which concerns me.
OCF was $51 million in Q4, which while positive, was still the lowest level all year. Reiterating that they have $2.41 billion in LT debt, the company actually can't afford to cut - not with the current cash flow levels. It also can't afford to ramp up production or put other facilities back online in order to try and compete on a market share basis. Cash assets are lower than they have been at $775 million, but liquidity isn't at the point yet where this company needs to wave the white flag. However, it does make you wonder how this company is even able to yield 2.96%.
Perhaps a silver lining in this otherwise bleak earnings report is the Carnegie Way. The program was attributed with $815 million in cost savings in 2015, which helped U.S. Steel keep its head above water. Even with this efficiency, it's worth noting that the company suffered a $250 million carryover loss from actions taken in 2015.
While the Carnegie Way looks nice and appealing in headlines, it's not as viable as it could be, clearly. I don't doubt that management knows what it is doing, but I feel that shareholders are going to start holding them far more responsible for the initial guidance they set. Particularly, I'll be keen on the $500 million projected increase in working capital for the full year 2016. Furthermore, if any earnings revisions occur in 2016, the stock would likely be sent to new 52-week lows.
Conclusion
It's dismal out there, folks. U.S. Steel's financial health is decreasing and if it records a few more quarters like this, there will be an increasing amount of speculation on the equity. There are likely better, more stable players to allocate capital to, like Nucor Steel (NYSE:NUE), but U.S. Steel remains the more leveraged bet. Even with the Carnegie Way benefits, U.S. Steel needs to be accountable for further cost reduction, further debt reduction when earnings improve, and creating favorable volumes as this is an increasingly uncertain environment. While I'm long the stock due to the drastically improved risk/reward scenario, I caution investors as this is an incredibly risky equity.
Disclosure: I am/we are long X.
I wrote this article myself, and it expresses my own opinions. I am not receiving compensation for it (other than from Seeking Alpha). I have no business relationship with any company whose stock is mentioned in this article.