Analyst: Simon Zhang
Company Profile
Crown Crafts, Inc. (NASDAQ:CRWS) operates in the infant and toddler products segment of the consumer products industry through its subsidiaries Crown Crafts Infant Products, Inc., which designs, markets and distributes infant and toddler products including bedding, blankets and other nursery accessories; and Hamco, Inc., which designs, markets and distributes bibs, bath items and other accessories. Sales are generally made directly to retailers such as mass merchants, chain stores, juvenile specialty stores, Internet retailers, wholesalers, grocery, and drug stores. Crown Crafts is headquartered in Gonzales, Louisiana, the United States.
Rising Expected Birthrates In The United States
As the U.S. economy continues to strengthen, solid improvements in wages and employment will encourage couples to have children, leading to an expectation of an imminent rise in birthrates. Increases in U.S. annual births will drive the baseline demand of infant products, which raises the expectation that Crown Crafts' future sales will benefit from rising expected birthrates in the U.S.
Shareholder-Friendly Management Practices
Due to the efficient management and rigorous cost containment efforts Crown Crafts maintains, the company preserves a healthy balance sheet and strong operating cash flow over the years. Therefore, the board and the management team are keenly focused on delivering sustained value creation to shareholders through attractive and consistent cash dividends.
Valuation & Recommendation
Buy rating at a target price of $10.97, based on the valuation methodology of a combined, weighted DCF model and Comparable Company Analysis of forward EV/EBITDA multiples. With a current price of $8.21, there exists 33.64% upside potential.
Business Overview
Products & Brands
Crown Crafts operates indirectly through its wholly-owned brands, Crown Crafts Infant Products and Hamco. The company's two operating subsidiaries provide a variety of infant products under company-owned trademarks and exclusive private label programs for certain of its customers.
1. Crown Crafts Infant Products
Crown Crafts Infant Products (CCIP) is the dominant manufacturer of infant and toddler bedding sets, blankets, and accessories to mass and specialty markets. These products are designed, manufactured and sold pursuant to the licensing agreements for trademarks. Trademark licensors include Disney (NYSE:DIS), Fisher-Price, Happy Chic Baby, Nautica, Sanrio (OTCPK:SNROF) and Sesame Street. Products offered by CCIP are marketed under CCIP's sole brand NoJo.
2. Hamco
Hamco is the leading manufacturer of infant bibs and disposable feeding products in the U.S. market. Hamco was founded in 1984, and it primarily manufactured baby bibs and soft bath products. In 1997, it was acquired by Crown Crafts. In 2009, Hamco acquired Neat Solutions, which was an innovator in disposable feeding products for children. In 2010, Hamco acquired the Bibsters brand of disposable bibs from P&G (NYSE:PG). Hamco's infant products mainly include reusable and disposable bibs, soft bath products, place mats and toilet seat covers.
Revenues
Utilizing the revenue breakdown below, Crown Crafts' revenues in 2015 have been generated primarily from its subsidiary Crown Crafts Infant Products (CCIP). Crown Crafts reports its revenue breakdown into product categories which consist of toddler bedding collections, infant bedding collections, blankets, bibs, disposables and accessories. Infant and toddler beddings produced by CCIP have historically been the primary revenue contributors for Crown Crafts at 51% of its 2015 revenues.

The company's historical annual sales growth rate averages at 4.7%. However, net sales in fiscal year 2012 and 2013 were adversely affected due to a legal proceeding filed by the company's close competitor BreathableBaby, LLC. In 2011, BreathableBaby filed a complaint against Crown Crafts Infant Products which alleged that CCIP's mesh crib liner infringed upon BreathableBaby's patent rights relating to its air permeable infant bedding technology. In 2014, Crown Crafts reached a final settlement with BreathableBaby to resolve this matter under the terms of which CCIP will be permitted to manufacture and sell a redesigned mesh crib liner product Crown Crafts also made a one-time payment of $850,000 to BreathableBaby. As a result of the litigation, the company's sales declined by 5.2% in 2012 and 8.1% in 2013, but as the litigation wound down, sales returned to positive growth since 2014, and sales are projected to grow at 5.8-6.7% over the next five years.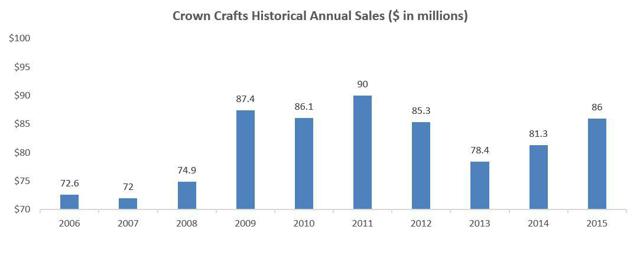 Supply Chain
Crown Crafts' products are produced by both domestic and foreign manufacturers, with the largest concentration being in China. The company makes sourcing decisions on the basis of quality, timeliness of delivery and price. CRWS maintains a foreign representative office located in Shanghai, China, which is responsible for the coordination of production, purchases and shipments, seeking out new vendors and overseeing inspections for social compliance and quality.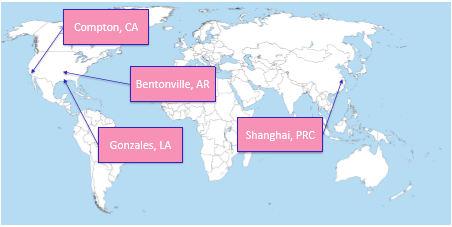 Crown Crafts' products are warehoused and distributed from a facility located in Compton, California. The distribution facility is only 10 miles away from the Port of Long Beach, California. The company also utilizes third-party warehouses as needed to supplement the warehousing capacity at its Compton distribution facility. Its products are marketed through a national sales force consisting of salaried sales executives and employees located in Compton, Gonzales and Bentonville. Substantially, all products are sold to retailers for resale to consumers, and sales outside the United States are made primarily through distributors. Crown Crafts' two key customers are Wal-Mart (NYSE:WMT) and Toys"R"Us, which represent 36% and 25% of the company's annual gross sales.
Company Locations
Compton, California - Headquarters for Crown Crafts Infant Products (CCIP); main distribution facility for North America for CCIP and Hamco/Neat Solutions; and 10 miles away from Port of Long Beach (93 employees).
Gonzales, Louisiana - Headquarters for Hamco/Neat Solutions; also the corporate headquarters for finance, accounting, human resources and information technology (37 employees).
Bentonville, Arkansas - Administrative office in support of sales to Wal-Mart. Please note that Wal-Mart's headquarter is also located in Bentonville (three employees).
Shanghai, China - Foreign representative office, coordination in China of production, purchases, shipments, vendor selection, vendor inspections for quality and social compliance (eight employees).
Macro Environment
Demand Factors - U.S. Birthrates
As Crown Crafts specializes in manufacturing infant products, the baseline demand is derived from annual births in the United States. Utilizing the chart below, annual U.S. birthrates began falling dramatically from 2008 to 2011 by over 8.5% before bottoming out in 2011. However, the numbers largely leveled off in 2012 and 2013 and started to recover in 2014 by 1.4%, leading to an expectation that a rise in birthrates is imminent. Considering the steady economic recovery in the United States, continuous gains in employment and wages are expected to push fertility back up in the near future, as the improving economy encourages more couples to have children. A rebound in the U.S. birthrates will increase the demand of infant products, which functions as the key to boost Crown Crafts' future infant products sales, thus increasing the company's profitability.
Commodity Price Exposure
As a majority of Crown Crafts' infant products are made from cotton, the company's raw material costs are primarily related to cotton price. Considering the cotton market in the United States, industry analyst Cotton Outlook (Cotlook) reported in August 2015 that U.S. cotton production will fall to 2.8 million tonnes in the 2016 crop year. The forecast production decline, however, was outweighed by a cut of 305,000 tonnes in Cotlook's projection for cotton consumption. The end result will be a reduction in global inventories of 584,000 tonnes by the end of 2016, smaller than the 597,000 tonne reduction that Cotlook anticipated in July. This indicates a glut in the international cotton market is expected to occur in 2016 crop year, which will post continuous downward pressure on cotton price. The anticipated drop in cotton price in 2016 will reduce the raw material costs that Crown Crafts faces in the near future, thus increasing its profit margins.
Sustained Competitive Advantages
Niche Market Position
Crown Crafts remains a market leader in a traditionally stable niche of infant products industry. The company is ideally positioned, both operationally and financially, to pursue a sustainable and long-term growth in retail markets. From the operational perspective, Crown Crafts only specializes in producing infant bedding, bibs, soft goods and accessories, which allows it to efficiently allocate its resources and management expertise to provide high-quality products with competitive pricing sets. CRWS is strategically positioned for organic growth through continued product innovation, particularly within its well-known branded product lines, ongoing end-market diversification and international expansion. The company also maintains diverse distribution channels and strong licensing and retail relationships throughout the U.S. Financially, Crown Crafts consistently preserves rigorous cost containment efforts, which enables it to obtain a healthy balance sheet with no long-term debt and strong operating cash flows. Consequently, Crown Crafts' steadily increasing financial performance allows the company to offer generous returns to its shareholders.
Opportunistic Acquisitions
Crown Crafts is well positioned for sustainable future growth through continued pursuit of opportunistic acquisitions. The company has completed three accretive acquisitions during the past several years. Specifically:
November 2007 - Crown Crafts acquired Springs Global - certain assets - which was a South Carolina-based manufacturer and wholesaler of bedroom and bath furnishings, for $12.4 million.
July 2009 - CRWS acquired Neat Solutions, Inc., a North Carolina-based manufacturer and wholesaler of disposable place mats and changing pads for babies, for $4.4 million.
May 2010 - Hamco Inc. acquired Procter & Gamble's Bibsters product line, which was a product line of P&G that manufactured and wholesaled infant and toddler bibs, for $1.8 million.
Summarizing the three deals Crown Crafts completed during the past decade, the company has been strategically pursuing horizontal acquisition opportunities to strengthen its business in the infant products industry. We believe such an acquisition strategy the company maintains will be the key to consolidate its competitive and leading position in the infant products industry and drive its future growth.
Consistent Dividend Policy
Due to the rigorous cost-containment efforts Crown Crafts maintains, the company consistently preserves strong track record of financial performance, which enables it to reward its shareholders with attractive and consistent cash dividends. According to Crown Crafts' latest FY 2016 second-quarter report, the company declared a quarterly dividend of $0.08 per share to be paid on January 4th, 2016. When paid, the dividend will mark the completion of six consecutive full calendar years of dividend payments. During fiscal-year 2014 and 2015, aggregate cash dividends of $0.32 per share, amounting to $3.2 million, were declared and paid to shareholders. During the first six months of FY 2016, cash dividends of $0.16 per share have been declared, and total dividends during this year are also expected to remain at $0.32 per share, which represents a 3.8% annual dividend yield. Therefore, Crown Crafts' consistent and attractive dividend policy reflects positive relationships between management and shareholders.
Catalysts
Licensing Agreement With Zutano
On January 8th, 2015, Crown Crafts Infant Products (CCIP) announced that it has signed a licensing agreement with Zutano, a Vermont-based designer of children's clothing, accessories and nursery products, to develop, market and distribute a new line of infant bedding, blankets, bibs, bath and room décor products. The new line was launched in 2015 and will feature the contemporary, playful and colorful designs that have made Zutano one of today's most influential brands in children's fashion. Both the management team of Zutano and Crown Crafts believe that the partnership will facilitate the co-branding and co-marketing of the two companies, thus benefiting the future sales of both parties. As Crown Crafts' fiscal-year 2015 ended on March 29, 2015, the majority of the incremental sales from this new product line will be collected in fiscal-year 2016.
Partnership With Petunia Pickle Bottom
On April 7th, 2015, nine days after the beginning of fiscal-year 2016, CCIP also announced that it has entered into a licensing agreement with Petunia Pickle Bottom for luxury infant bedding, blankets, bibs and bath products. Petunia Pickle Bottom is a prestigious and well-established brand in the premium diaper bag industry. Its diaper bags and accessories products are sold in more than 1,000 boutiques and fine department stores across the globe. The licensing agreement allows CCIP to offer infant products with high quality and fashionable designs under the brand of Petunia Pickle Bottom, and the incremental sales from this new product line will be collected solely in the company's fiscal 2016. Consequently, the licensing agreements with Zutano and Petunia Pickle Bottom that Crown Crafts obtained in 2015 are expected to contribute to higher sales in the company's fiscal-year 2016, thus leaving us an optimistic projection for a higher 2016 revenue growth rate.
Optimistic Third-quarter Earnings Announcement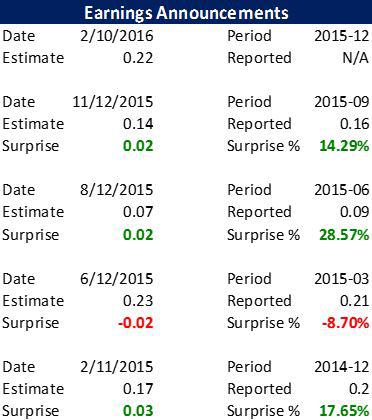 Crown Crafts announced its FY 2016 first- and second-quarter results on August 12th and November 12th, 2015, and its earnings beat analysts' estimates by 28.57% and 14.29%, respectively. The company will report its third-quarter results on February 10th, 2016, and the earnings announcement is expected to function as an important catalyst to drive the stock price. Considering Crown Crafts' latest four quarters' results, which began from February 11th, 2015, its earnings consistently beat analyst estimates by an average surprise rate of 12.95%. This indicates that the company has maintained a strong financial performance and achieved solid improvement in profitability in fiscal-year 2015 and 2016, which leaves us an optimistic forecast for better-than-expected fiscal 2016 third-quarter earnings results that will be reported on February 10th.
Management Team
Randall Chestnut - Chairman, President & CEO
Mr. Chestnut has been an executive of Crown Crafts since January 1995, when he was hired as Vice President, Corporate Development. He was elected the President, Chief Executive Officer and Chairman of the Board in July 2001. Prior to joining the company, Chestnut was President of Beacon Manufacturing Company, a producer of adult and infant blankets, from December 1988 to January 1995. He also served as the Vice Chairman of Wiscassett Mills Company, a yarn manufacturer, from 1990 to 1994.
Olivia Elliott - Vice President & CFO
Ms. Elliott, a Certified Public Accountant, assumed the role of Vice President and Chief Financial Officer in September 2008 after serving as company's Secretary and Treasurer since November 2001. Prior to joining Crown Crafts, Elliott served as the Corporate Controller of Amedisys, Inc. (NASDAQ:AMED), a public home healthcare company, from 1999 to 2001. She also served in various positions at United Companies Financial Corporation, a public lending company, from 1995 to 1999. Elliott began her career in public accounting in 1991 with Deloitte & Touche LLP, where she worked for more than three years.
Nanci Freeman - Vice President & CEO, CCIP
Ms. Freeman serves as President and Chief Executive Officer of the subsidiary company Crown Crafts Infant Products, Inc. since 1999. Freeman began her career with Red Calliope & Associates in 1976 where she worked with her father and former President to build and grow Red Calliope into a leader in the infant and juvenile products industry. Freeman then became the President of Red Calliope in 1997 and President & CEO of Crown Crafts Infant Products when Red Calliope and NoJo merged in 1999.
One recent change in management further strengthened the position of the company. On November 30, 2015, Crown Crafts Infant Products has named Andrea McCook as its new Vice President of Design. McCook will be responsible for all aspects of the product designing and will report to CEO Freeman. McCook has more than 15 years of experience in the design and marketing of apparel and accessories. She has extensive knowledge of trims, fabrics and treatments, along with an expertise in trend forecasting, creative direction and product development. She previously held creative positions at various apparel companies, and she received an Associate of Arts degree in fashion design from the Fashion Institute of Design & Merchandising. McCook's enrollment into the designing team is expected to provide Crown Crafts with creativity, opportunity and expertise to bring new products to the market that are in line with the changing preferences and needs of today's young families.
Risks
Competition Risk
The infant and toddler consumer products industry is highly competitive. Crown Crafts competes with a variety of distributors and manufacturers, and its competitive ability depends principally on styling, price, service to the retailers and continued brand recognition of the company's products. Several of these competitors are larger than Crown Crafts and have greater financial resources to achieve economy of scale, and their aggressive pricing competition could result in a material decrease in Crown Crafts' revenues.
Customer Pricing Pressure Risk
Customer pricing pressure could also result in lower selling prices of Crown Crafts' products, which could negatively affect the company's operating results. Crown Crafts continuously strives to stay ahead of its competition in sourcing, which allows the company to obtain lower-cost products while maintaining high standards for quality. However, if Crown Crafts' two key customers (Wal-Mart and Toys"R"Us) place much price pressure on the company's products, there is no assurance that CRWS could respond to a decrease in sales price by proportionately reducing its costs, which could adversely affect its operating margins.
Product Safety Risk
Crown Crafts must comply with the Customer Product Safety Improvement Act, which imposes strict standards to protect children from potentially harmful products and which requires the company's products to be tested to ensure that they are within the acceptable levels for lead and phthalates. Crown Crafts must also comply with the related regulations developed by the Consumer Products Safety Commission and other state regulatory authorities. Any potential recalls or product liability claims could result in decreased consumer demand for Crown Crafts' products, damage to company's reputation, a diversion of management's attention from its business and increased customer service and support costs, which could significantly affect the company's operating results.
Customer Preference Risk
Crown Crafts' sales are driven by consumer demand for its products. However, the demand for the company's infant products could decline if the designing team is not able to accurately anticipate and respond to consumers' changes in tastes and preferences. The company's failure to adapt to these changes could lead to lower product sales and excess inventory, which could have negative effects on its operating results.
Licensing And Trademark Risk
According to Crown Crafts' report, sales of its licensed products represented 63% of the company's gross sales in fiscal-year 2015, which included 44% of sales associated with its license agreements with Disney. Crown Crafts could experience a material loss of revenue if it is unable to renew its major license agreements with its trademark licensors or obtain new licenses.
Shareholder Base, Liquidity, Market Depth
Share Ownership
Crown Crafts' publicly-traded shares have been listed on NASDAQ - industrial - under the ticker CRWS-O since 2007. Prior to being listed on NASDAQ, the company's shares were traded on NYSE from 1994 to 2007. Free float accounts for 86% of the company's outstanding shares, with 47.26% being owned by institutional investors, which indicates that the company is relatively less exposed to the risks of institutional sell-off. The biggest two institutional investors are Wellington Management Company, LLP (8.52%) and Ariel Investments (7.7%), both of them are America-based investment management companies. Insider ownership of Crown Crafts totals 10.5% of shares outstanding, with 7.32% being owned by the company's president, Randall Chestnut. All members of the upper management are participating in share-ownership compensation plans, which indicates that management incentives are in alignment with that of the shareholders.
Stock Liquidity
Crown Crafts stock's 50-day avg. daily volume averages at 15,057. For a small-cap stock like Crown Crafts (80M), a relative low daily trading volume ensures the price stability of the stock performance. Short interest ratio on the stock accounts for only 0.23% of the free float, indicating that many investors demonstrate optimism on the stock performance and do not expect the stock price to decline.
Valuation
Financial Assumptions
DCF projections for Crown Crafts' revenue growth are based on both historical average sales growth rate and potential revenue catalysts. The revenue is projected to grow at 6.7%, 6.5%, and 6.3% in 2016, 2017 and 2018, respectively. 6.7% revenue growth rate in 2016 is projected using the historical average growth rate of 4.7%, plus 2% premium due to the newly added product lines in 2015 and an anticipated increase in U.S. birthrate in 2016. EBITDA margins are projected to remain at 11% over the next five years due to the company's strong cost-containment practices. Cash dividend declared per share is projected to remain at $0.32 in fiscal-year 2016, as the company continues to offer attractive returns to its shareholders.
Valuation Methodology
Valuation of Crown Crafts is based off a weighted enterprise valuation from both a Discounted Cash Flow (DCF) and Comparable Company Analysis (CCA). The DCF utilizes a Weighted Average Cost of Capital (WACC) of 4.79%, and yields a price target of $10.38 per share. The WACC is calculated with a LTM equity beta of 0.33, a risk free rate of 2.2% and a LTM equity market return of 10%. The beta is derived from regressing the stock's five-year weekly returns against NASDAQ's returns. The CCA gives a price target of $12.73 per share based off a forward 2016 EV/EBITDA multiple of 10.6x which we believe is justified by the strict cost containment the company maintains and the stability of its operations.
The final share price estimate of $10.97 is weighted as 75% DCF and 25% CCA. The reason for the weighting is because of the granularity in assessing Crown Crafts with a CCA, as there are no excellent candidates for comparison. Among the comparable companies, only Summer Infant, Inc. (NASDAQ:SUMR) specializes in juvenile products while other companies' core businesses do not focus on the infant products industry. Therefore, a significantly larger weighting is given to the DCF methodology.
Recommendation
As one of the largest U.S. providers of infant and toddler bedding, bibs, soft goods and accessories, Crown Crafts stands as the industry leader in a traditionally stable niche of the retail industry. The company maintains its long-term growth strategy through continued product innovation, ongoing end-market diversification, international expansion and opportunistic acquisitions. The company also preserves efficient supply chain management and strong licensing and retail relationships throughout the United States. Financially, the company follows rigorous cost-containment efforts to maintain a healthy balance sheet and strong operating cash flows. Consequently, we are initiating a buy rating and target price of $10.97 based on a weighted valuation from both DCF and CCA. With the current price of $8.21, there exists 33.64% upside potential.
Appendix 1: Discounted Cash Flow Model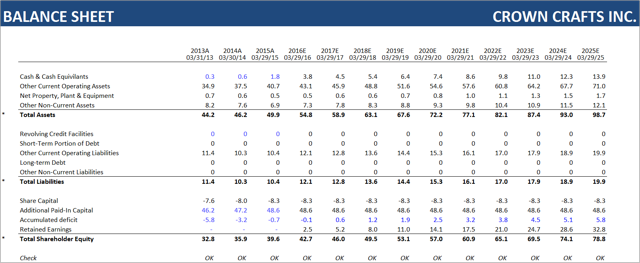 Appendix 2: Discounted Cash Flow Model

Appendix 3: Discounted Cash Flow Model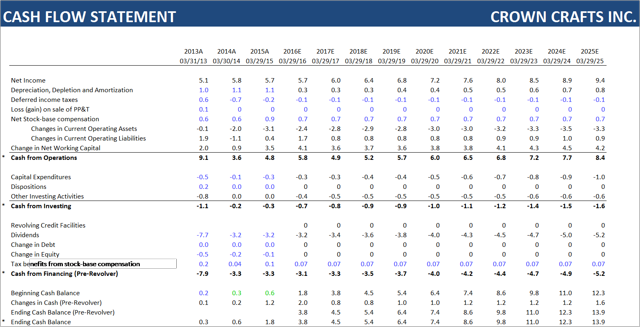 Appendix 4: Discounted Cash Flow Model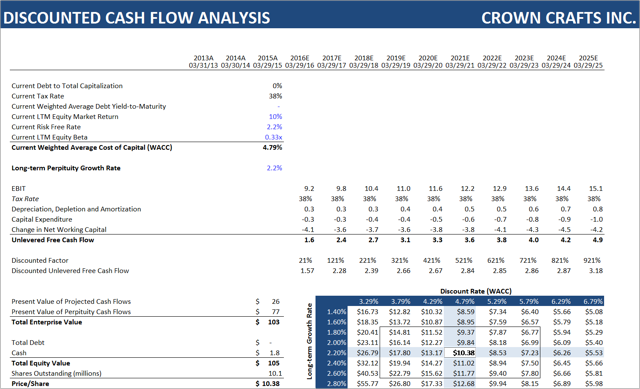 Appendix 5: Comparable Company Analysis And Final Valuation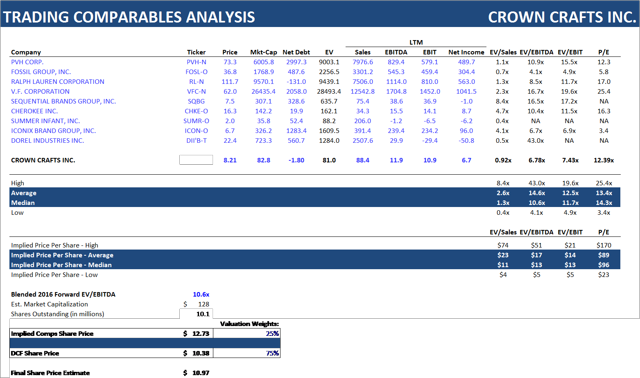 Appendix 6: Valuation Summary

Disclosure: I/we have no positions in any stocks mentioned, and no plans to initiate any positions within the next 72 hours.
I wrote this article myself, and it expresses my own opinions. I am not receiving compensation for it (other than from Seeking Alpha). I have no business relationship with any company whose stock is mentioned in this article.
Editor's Note: This article covers one or more stocks trading at less than $1 per share and/or with less than a $100 million market cap. Please be aware of the risks associated with these stocks.