When we last spoke about Mead Johnson Nutrition Company (NYSE:MJN) just before Christmas, its shares were trading at $78.43. Since then, and much to our surprise, the broad market sell-off and a number of downgrades dragged the shares down by as much as 13.75% to a lowly $67.64.

So what happened here? We would put a large portion of the decline on the market sell-off and its traditionally higher than average beta of 1.44. There was a downgrade to sell from Zacks on January 9 when the shares were trading at $73 which would have also contributed to further declines we believe.
Further downgrades came in a few days later by JP Morgan and Nomura, but the stock had already dropped to around $70 by that point so we would say that was little more than a kick while they're down. Still, not what you want to hear when you've invested in a company.
The reason for Zacks' downgrade was given as:
"Mead Johnson posted dismal financial numbers in the third quarter of 2015, missing the Zacks Consensus Estimate of both earnings and revenues. The company's segmental performance was also considerably weak. Moreover, the near-term challenges in its emerging market segments are expected to continue in 2016 as well. This has forced the company to reduce its EPS guidance for 2015. However, on an encouraging note, during the third quarter, Mead Johnson witnessed strong performance in its recently introduced fully imported range of products in China. We may thus expect the company to deliver positive growth in China in the quarters ahead. Also, currency headwinds and a tough competitive scenario in the pediatric nutrition market continue to pose challenges."
These are fair comments from Zacks, there is no disputing that, but like we said previously, we saw improvements coming in the United States and China in particular. The company delivered on this in its final quarter and managed to beat analyst expectations. Mead Johnson reported before the market opened on Thursday earnings of 78 cents per share, beating analyst forecasts of 73 cents per share by a full 5 cents. On the top line it reported revenue of $967 million, ahead of the consensus analyst estimate of $966 million.
This meant that it achieved full year earnings per share of $3.44. This beat both the analyst consensus estimate and our own estimate which was three cents ahead of consensus at $3.42 per share.
The company benefited from increased sales in the United States and China, as well as the success of its Fuel for Growth initiative. Fuel for Growth is a productivity initiative the company put in place to ensure it is able to fund growth initiatives appropriately as well as support improvements in profitability, while at the same time delivering its long-term financial ambitions.
As shown below, thanks in part to lower dairy prices the company improved its gross margin from 61.4% in FY 2014 to 64.25% in FY 2015. We are hopeful that Mead Johnson can maintain this level in the future.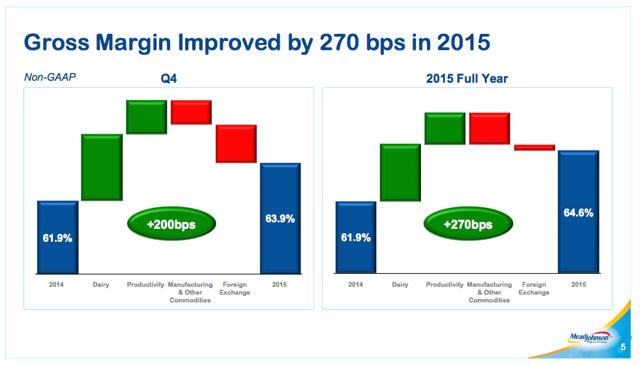 Source: Company release
Following the announcement, the shares responded by climbing 2.93% during the trading day. This is still some way off where we bought in, but we still believe there is a lot of growth ahead and stand by our decision to invest.
Looking ahead we were very pleased to see management raising its full year 2016 guidance. This for us is a sign that things are turning around and we feel market sentiment could start to change now. The company is now expecting 2016 earnings per share to fall in the range of $3.48 per share and $3.60 per share.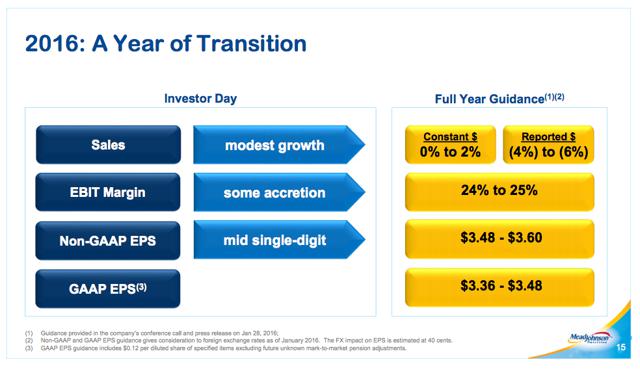 As the company is highly exposed to any strengthening of the U.S dollar this forecast would most likely be impacted negatively should the dollar strengthen. With interest rate rises looking likely this year that should be something we prepare for.
As we said previously, we see massive growth potential in China. The Chinese market alone is expected to increase from $18 billion to over $30 billion by 2017. The lifting of its one-child policy has been a big boost for infant formula producers worldwide. The ever-growing middle class has the financial power, and the desire, to purchase western manufactured infant formula instead of locally manufactured products which they show a strong distrust of since the China milk scandal.
In our eyes there is no getting away from the fact that the shares look extremely cheap on paper. On average the company has traded at a price-to-earnings ratio of 26.87 in the last five years, yet finds itself at just 20.84 times earnings today. With year over year declines this is understandable to a certain degree. We have hopes that this earnings beat will give sentiment a boost and the share price too.
Next year we are expecting sales to increase in its major markets the United States and China. Despite the obvious headwinds from FX, we believe the increased sales and margin expansion should allow for the company to achieve the top end of its guidance.
With a conservative price-to-earnings ratio of 23 times earnings and our forecast $3.60 earnings per share we arrive at a one-year target price of $82.80. This is lower than our original guidance given due to perceived lower market sentiment. We do believe that a few consecutive quarters of year over year growth could be the catalyst to getting the stock trading back up at its usual 26 times earnings.
One positive thing to note for us, is that the share price drop has enabled us to buy more shares and average down. Every cloud has a silver lining.
Disclosure: I am/we are long MJN.
I wrote this article myself, and it expresses my own opinions. I am not receiving compensation for it (other than from Seeking Alpha). I have no business relationship with any company whose stock is mentioned in this article.