At the Fed's recent January meeting, it indicated it is rightfully concerned about getting inflation back up to its 2% target. However, its motivation is partly due to a different reason than what is popularly discussed outside of economic circles. Many simply observe that higher inflation is merely a reflection of healthy demand, saying little about other roles for inflation. However, rather than just a signal, inflation can actually be an ingredient to spur economic growth. In that vein, our focus here will be on the fact that higher wages from a contracting pool of available labor coupled with tighter capacity constraints can motivate businesses to invest more in new equipment, technologies, and software.
Aside from the direct, immediate benefit these investments in capital expenditures (capex) have on economic output, the long run benefits to enhancing productivity can be profound. However, as seen in the nearby graph, productivity has decelerated remarkably in recent years.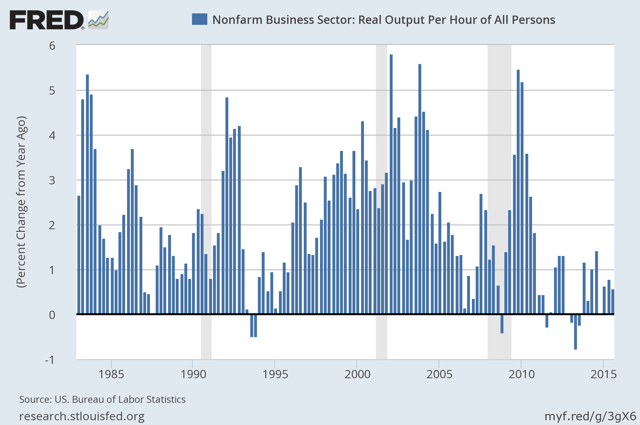 Productivity is essentially the output per hour of labor. It doesn't necessarily mean a single employee producing ever more toasters on an assembly line. Instead, it often means coupling technology or new equipment with existing labor (or even fewer workers) to allow for more production capacity. A few of the many examples of technologies that can increase output with an optimal amount of labor include, for example, web-based travel reservation or customer service systems, self-service retail checkouts, ride-sharing applications or robotics in factories.
Productivity gains also allow a company to pay its workers more in inflation-adjusted terms, raising living standards in the process, while still generating higher profits for its owners. Productivity also plays an essential role in helping the economy grow. In fact, productivity gains plus the growth of the labor force are the two main ingredients in determining a country's long run potential rate of growth. Higher productivity gains allow a company to grow its profits and pay its workers more at the same time. On the downside, productivity can allow a company to replace labor with capital. The maximum benefits accrue when labor force utilization is high, and companies want both to keep existing workers and still expand output at the same time.
For that to make sense, though, companies need to have a high rate of capacity utilization at the same time that building wage pressures force companies to adopt new technologies. That shifts the cost/benefit equation towards increasing utilization of new processes, even with their incumbent expenses. Right now, though, wage pressures have yet to definitively accelerate, and capacity utilization - the percentage of available capital (equipment, technology and machines, etc.) that is actually in use - is still rather low. Consider the nearby graphs that depict the Employment Cost Index from the Bureau of Labor Statistics and Capacity Utilization from the Census Bureau.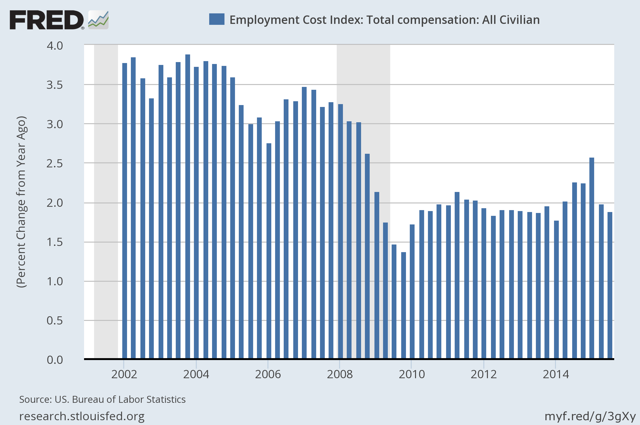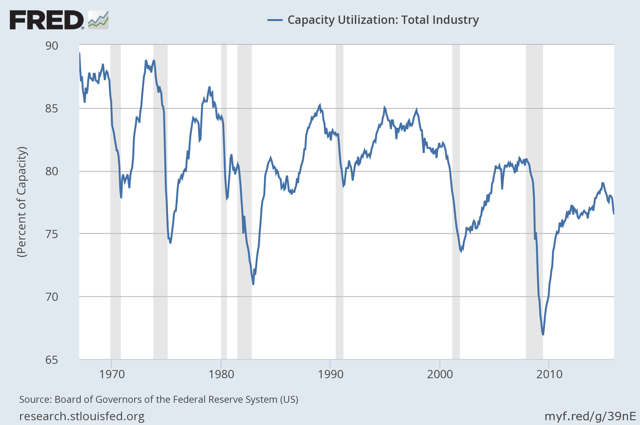 With companies having a large supply of unused capital, be it machines, computers or other productive resources, they have little incentive to invest in more of the same. But when capacity utilization is high, inflationary bottlenecks can develop, which can incentivize capex investment. So the Fed's efforts to spur inflation are partly aimed at sparking enough economic growth to enable businesses to use up their spare capacity. At the moment, with little reason to invest in more capacity when so little is currently used, and with labor costs that are still relatively low, capex investment has gone lacking.
Indeed, look no further than to data on business capex investment, which is measured by an economic indicator found in the Durable Goods report from the Census Bureau, titled, "Nondefense Capital Goods Excluding Aircraft." In the Durable Goods report from January 28, 2016, we learn that this investment fell by 7.5% in December from a year ago, marking a low point in this expansion so far, as seen in the nearby graph. In fact, such a pronounced deceleration in business investment has generally happened during recessions. Part of this reflects a cutback in energy drilling and exploration, of course, as a number of firms have curtailed new investment amid low oil prices, but this pattern is also seen in other industries.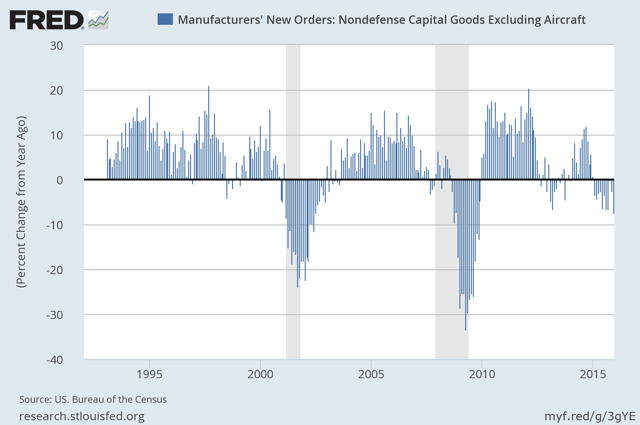 What does all of this mean for economic growth? Given the aging population and other demographic trends, the labor force growth rate is anticipated to be just 0.2% over the next ten years in data published by the Bureau of Labor Statistics. Coupling that with anemic productivity gains and you have the makings for lower long-run potential economic growth, or the rate above which inflationary tendencies might be sparked. That would happen as businesses use up their spare capacity and a tight labor market forces job growth along with wage gains. The historical pattern of this potential growth rate is seen in the nearby graph. The Fed's actions thus far has been an attempt to temporarily goose economic output above the long run "trend" rate of growth to spur both hiring and investment.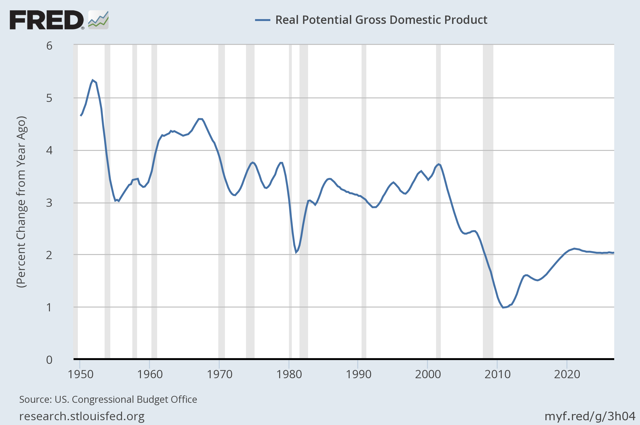 By getting economic growth above this 2% potential rate of GDP growth, inflation might be a natural byproduct. That might encourage companies to invest more in capex, and theoretically could trigger sufficient productivity gains to drive pay raises that are greater than inflation. However, the productivity puzzle is one that has vexed policymakers for years. And low inflation rates have bedeviled other central banks for at least as long (e.g., Japan). In the end, these things are far easier said than done.
Disclosures
Investing involves risk, including possible loss of principal, and investors should carefully consider their own investment objectives and never rely on any single chart, graph or marketing piece to make decisions. The information contained in this piece is intended for information only, is not a recommendation to buy or sell any securities, and should not be considered investment advice. Please contact your financial adviser with questions about your specific needs and circumstances.
The information and opinions expressed herein are obtained from sources believed to be reliable, however their accuracy and completeness cannot be guaranteed. All data are driven from publicly available information and has not been independently verified by United Capital. Opinions expressed are current as of the date of this publication and are subject to change. Certain statements contained within are forward-looking statements including, but not limited to, predictions or indications of future events, trends, plans or objectives. Undue reliance should not be placed on such statements because, by their nature, they are subject to known and unknown risks and uncertainties. Indices are unmanaged, do not consider the effect of transaction costs or fees, do not represent an actual account and cannot be invested to directly. International investing entails special risk considerations, including currency fluctuations, lower liquidity, economic and political risks, and different accounting methodologies.
© 2015 United Capital Financial Advisers, LLC. All Rights Reserved
Disclosure: I/we have no positions in any stocks mentioned, and no plans to initiate any positions within the next 72 hours.
I wrote this article myself, and it expresses my own opinions. I am not receiving compensation for it. I have no business relationship with any company whose stock is mentioned in this article.