Income-focused investors have faced significant challenges over the past few years. In the aftermath of the financial crisis that began in 2008, the Federal Reserve reduced the Federal funds rate to 0-0.25%. This had the effect of substantially reducing the income that investors can generate from traditional fixed income investments such as bonds. For example, as of the time of writing, the highest-yielding investment grade bond fund managed by Vanguard is the Vanguard Long-Term Corporate Bond Index Fund Admiral Shares (MUTF:VLTCX), which has an SEC yield of 4.97%. At this level, a one million dollar investment would be expected to generate approximately $49,700 per year. In my experience, most investors that have managed to amass a portfolio of this size are accustomed to a standard of living that would require considerably more income than this. It is also worth noting that most bond funds have yields that are significantly below this level. This lack of return in the fixed income market has forced investors into the equity market, primarily dividend-paying stocks, in order to obtain a return. This influx of money has caused even traditionally high-yielding sectors, such as utilities, to currently offer meager dividend yields. Finally, the collapse in oil prices that the market experienced over the past eighteen months has caused dividends from the previously high-yielding energy sector to be severely curtailed or eliminated. Fortunately though, there do continue to be investment opportunities available for those income-seekers that are willing to search for them. One such investment is Omega Healthcare Investors, Inc. (NYSE:OHI), a healthcare-focused real estate investment trust.
Omega Healthcare Investors is a real estate investment trust that owns 932 properties in 42 states, which it leases out to approximately 83 different healthcare providers. Unlike many other healthcare-focused real estate investment trusts, Omega Healthcare Investors is highly focused on properties operated by skilled nursing providers, colloquially called "nursing homes." In fact, following its April 2015 merger with Aviv REIT, the company owned approximately 789 skilled nursing facilities, more than twice as many as its nearest public peer.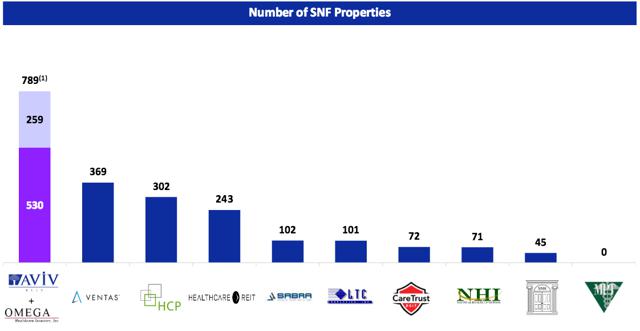 Source: OHI/Aviv Merger Presentation
These skilled nursing facilities comprise approximately 90% of the company's portfolio with the remaining 10% comprised of senior housing.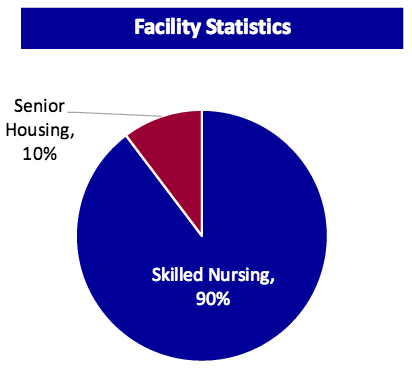 Source: Omega Healthcare Investors
As senior citizens are by far the largest users of skilled nursing facilities (but far from the only ones), Omega Healthcare Investors has a strong focus on the senior market. This focus has been a cause for concern among some of my fellow Seeking Alpha contributors but I think that it is an excellent position for the company to be in.
The reason for this lies in demographics. As many reading this are no doubt already aware, the senior population is expected to grow significantly in the coming years. This is due, at least in part, to the baby boomer generation entering its twilight years. The baby boomer generation is typically defined as the 76 million Americans that were born between 1946 and 1964. This date range would make a member of this generation between 51 and seventy years old today. In most cases, this is too young for an average person to require the services of a skilled nursing facility. However, in ten years, the oldest members of this generation will be eighty years old while the youngest will be nearing early retirement age. In fifteen years, most of the baby boomers will have retired while the oldest could very easily require the services of a skilled nursing facility. Given the size of this generation, this will ultimately result in a surge in the number of senior citizens both in sheer numbers and as a proportion of the population.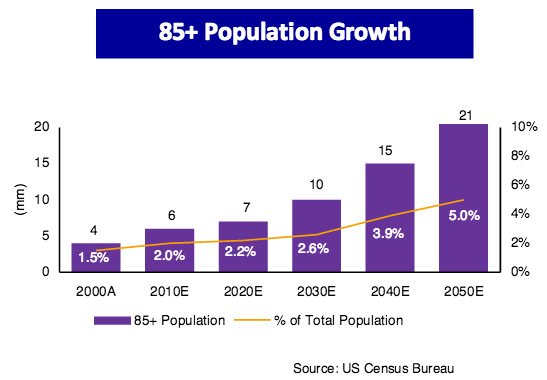 Source: US Census Bureau, Omega Healthcare Investors
Interestingly, the market has thus far proven indifferent to these fundamentals. In fact, instead of responding to the near certainty of a higher demand for skilled nursing facilities going forward by constructing more facilities, the market's response has been to decrease the number of such facilities.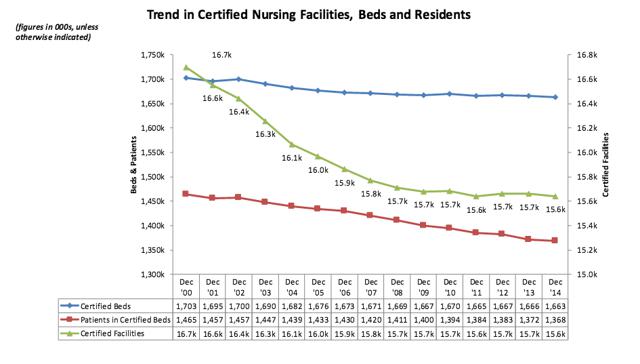 Source: Omega Healthcare Investors
As some readers will no doubt note, the number of patients occupying skilled nursing facilities has also declined, which partially explains the decline in the number of operational facilities. While this is true, the decline in the number of patients has not been as steep as the decline in the number of operational facilities. Furthermore, the decline in the number of patients has not been a constant across the industry. For example, the patient occupancy rate at skilled nursing facilities owned by Omega Healthcare Investors has actually been increasing: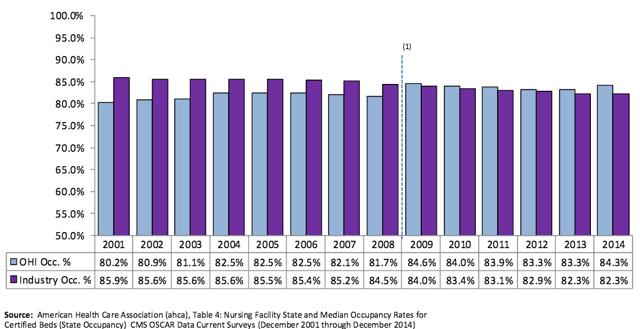 Source: American Healthcare Association, CMS OSCAR Data Current Surveys, Omega Healthcare Investors
In addition, the patients occupying skilled nursing facilities have been requiring an increasing number of services. In 2001, the average patient in a skilled nursing facility required assistance with 3.85 activities of daily living. In 2014, that number has grown to 4.20. This trend provides added confidence that the demand for skilled nursing facilities is likely to increase going forward, not decline.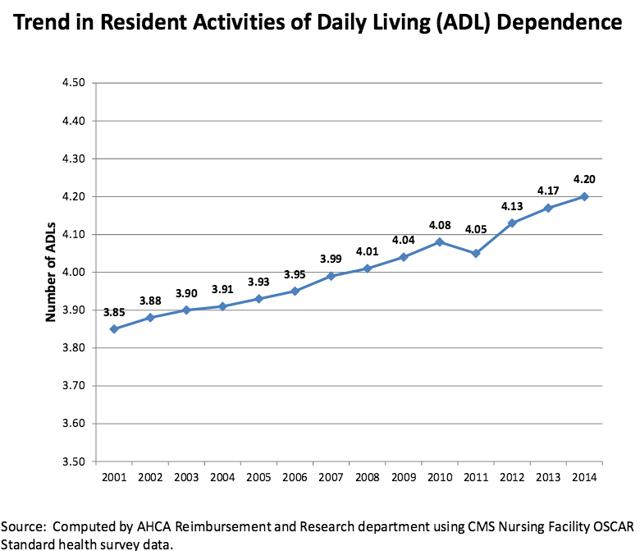 Source: American Healthcare Association, Omega Healthcare Investors
One of the biggest concerns that many investors and analysts have with skilled nursing facilities is their dependence on government-paid healthcare coverage such as Medicare and Medicaid. Given the current state of both state and federal government finances, this is certainly a valid concern. After all, it has been projected that healthcare spending, and by extension the expenditures of both of these programs, will continue to expand rapidly going forward, partially driven by the aging baby boomer generation. Therefore, it stands to reason that government leaders will seek to control the spending of these programs in order to protect other programs. However, skilled nursing facilities could actually benefit from such an action. This is because these facilities can be among the most cost effective places to get many common medical procedures and treatments performed:

Source: Medpac, Omega Healthcare Investors
As a direct result of skilled nursing facilities being the most cost-effective settings in which to seek care, it is a logical assumption that patients will be urged to go to them by government officials looking to cut Medicare and Medicaid costs.
It is important that investors keep in mind that Omega Healthcare Investors does not operate any skilled nursing facilities itself. It merely owns the buildings in which these facilities operate. However, any trends that benefit its tenants will be good for Omega Healthcare Investors as it will increase the market's demand for skilled nursing facilities, allowing Omega Healthcare Investors to grow its real estate portfolio. In addition, these trends will strengthen the skilled nursing segment of the healthcare industry, which may allow Omega Healthcare Investors to increase its lease rates and thus generate more revenue from its existing portfolio properties.
In the introduction to this article, I mentioned that Omega Healthcare Investors remains one of the few investments in the market that boasts a yield high enough to appeal to income-seeking investors. At the time of writing, Omega Healthcare Investors pays an annualized dividend of $2.28 per share, which gives the stock a dividend yield of 7.36% at the current stock price. Furthermore, Omega Healthcare Investors has a strong history of dividend growth. Here is the company's dividend history over the past several years: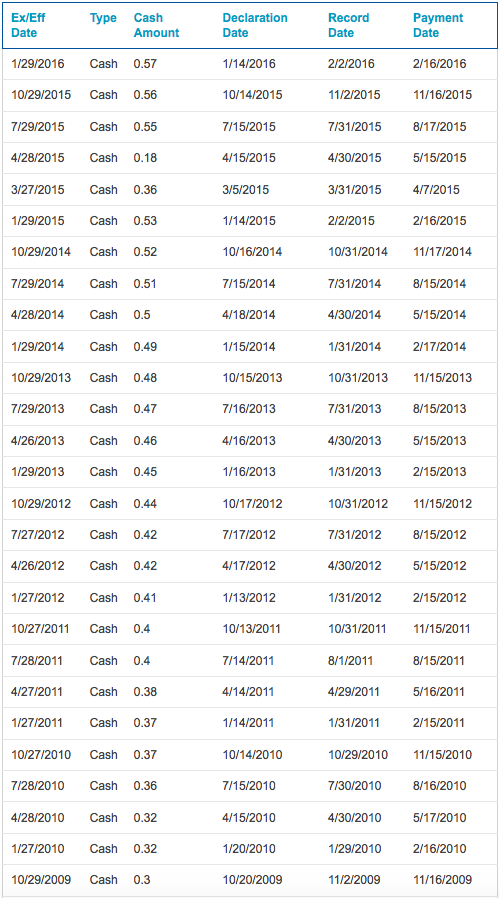 As this chart shows, not only does Omega Healthcare Investors increase its dividend on an annual basis, it typically increases it every quarter. This is an excellent precedent for an investor that is seeking a growing stream of income.
In conclusion, Omega Healthcare Investors appears to have a lot to offer an investor that is seeking income. This company may be worth further research.
Supporting Documents
Disclosure: I am/we are long OHI.
I wrote this article myself, and it expresses my own opinions. I am not receiving compensation for it (other than from Seeking Alpha). I have no business relationship with any company whose stock is mentioned in this article.