Altria (NYSE:MO) reported fourth quarter and full year results on Thursday, slightly missing revenues. Nevertheless I found the company's results encouraging, Altria remains a great company, although the price is not as cheap as it was last year.
Earnings recap
Altria grossed revenues of $4.7 billion in the fourth quarter, which is an increase of three percent over the prior year. Full year revenues increased four percent to $22.8 billion. Altria's fourth quarter earnings per share came in at $0.67, a 1.5 percent increase over the prior year's quarter. This means Altria's earnings per share for the full year totaled $2.80, a nine percent increase over 2014's number. Altria missed EPS estimates by one cent and revenue estimates by $10 million, in both cases the miss was small.
Altria has repurchased 0.6 million shares in the quarter and eleven million shares in 2015. This is well below the long term average, since 2011 (excluding 2015) Altria's average repurchase rate was 30 million shares a year.
What's good, what's bad?
Altria kept increasing both revenues and earnings per share, but the growth rate (especially for EPS) was below the average we have seen over the prior years.
Altria's main source of revenues are the company's smokable products, with Marlboro being the largest contributor. Altria operates in a shrinking market, per capita consumption of cigarettes has been declining for decades. Yet, Altria has been able to grow its earnings at a fast pace, due to the company's great business model, which includes the following points:
- Growing market share
- Increasing the price of each cigarette sold
- Grow margins
- Lower the share count
Through market share growth Altria is able to offset the effects of a shrinking total market (partially), we have once again seen this in the fourth quarter: Altria's market share grew fifty base points (to 51.4 percent), due to growth from Marlboro (up 20 base points) and the company's discount brands. This market share gain allowed the company to perform better than its peers, yet Altria had to report shrinking volumes on a year on year basis: Altria sold three percent less cigarettes than in the previous year.
Through pricing gains (i.e. Altria increased the price of its cigarettes over the prior year) Altria was still able to grow revenues from its smokables business by 2.6 percent -- despite lower volumes Altria's revenues grew, which shows the company's great pricing power, which is partially based on the strong brands and partially based on the fact that the cigarette market is a very price inelastic market per se -- when a cigarette manufacturer increases the price by one percent, demand declines by only 0.25 to 0.5 percent.
What happens when volumes decline, yet revenues grow? Volume declines necessarily lead to lower total input costs (as well as lower operating expenses), which, in combination with revenue growth, leads to higher margins: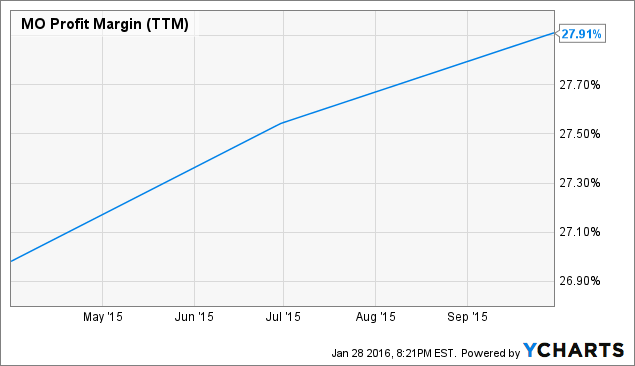 Altria's net margin keeps growing, as well as the company's operating margin: In the fourth quarter of 2014 Altria's operating margin was 29.3 percent, in the fourth quarter of 2015 Altria's operating margin was 31.1 percent, a 180 base point increase in just one year.
The last contributor to Altria's strong growth rate, despite being in a shrinking market, are the company's share repurchases, which shrink the share count, which means each share represents a growing portion of the company's net income over the years.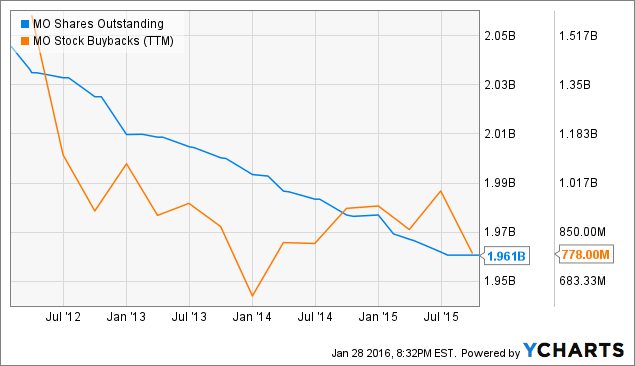 We can see that Altria's share count declined by 100 million over the last four years, but the buyback pace has been declining over that time frame as well. A couple of years ago Altria spent $1.5 billion on share repurchases in just one year, over the last twelve months the company bought back shares for just half of that amount. In the fourth quarter the company's buybacks totaled just $30 million, which doesn't have any material effect on Altria's EPS growth at all. This is due to two reasons, I believe: First, Altria pays out most of its cash flows to investors via dividends, and is investing into future growth drivers such as e-cigarettes right now, which means there is not really a lot of cash available for share buybacks, and secondly, Altria's valuation is not as low right now as it was a couple of years ago, which makes share repurchases less attractive (on a relative basis) -- buying back shares whilst the PE ratio stands at 16 is more effective than buying back shares whilst the PE ratio stands at 22.
We can say that, from the four factors that contributed to Altria's huge success in the past, three are still working in benefit of shareholders: Altria keeps growing its market share, Altria continues to increase prices for its products and Altria's margins continue to grow. The fourth pillar, share repurchases, is not showing a lot of effect right now, Altria's buyback activity has gone to nearly zero. As long as the other three factors remain in play, I don't see this as a big problem though.
Valuation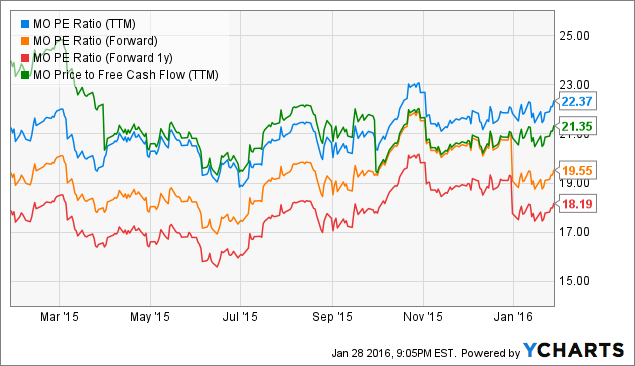 Altria's valuation is not low, but it does not seem too high either. The company trades at 22.4 times trailing earnings, which is a small premium to the broad market, the S&P 500 trades at 20.8 times trailing earnings. Yet I believe a small premium is justified, since Altria has no currency risk at all, and its business is very non cyclical, which makes the company a safer investment than most other stocks.
Altria's forward earnings multiples are 19.6 and 18.2, not low either, but showing the expected growth over the next years. At a price to free cash flow multiple of 21.4 Altria's investors get a free cash flow yield of 4.7 percent -- the majority of these free cash flows are paid out as dividends (for a current yield of 3.8 percent).
Altria's valuation is slightly higher than it was twelve months ago, and a lot higher than it was a couple of years ago -- in 2011 Altria traded at thirteen times trailing earnings, which is just slightly more than half of today's valuation.
I believe Altria's valuation is not too high right now, the dividend yield is still attractive and the company offers depot stability with its very low beta of just 0.55. Yet, on the other hand, the company is not really cheap right now either, and we might see better buying opportunities in the future.
Takeaway
Altria missed estimates for the top and the bottom line, but I don't see any huge problems here: The company is growing its market share, keeps increasing revenues through higher prices, keeps growing margins and thereby is able to report growing earnings despite being active in a shrinking market.
Altria's valuation is not low, but not too high either. For long term holders it doesn't seem like an especially bad time to buy, but better Altria isn't a must have at this price either.
Disclosure: I/we have no positions in any stocks mentioned, and no plans to initiate any positions within the next 72 hours.
I wrote this article myself, and it expresses my own opinions. I am not receiving compensation for it (other than from Seeking Alpha). I have no business relationship with any company whose stock is mentioned in this article.