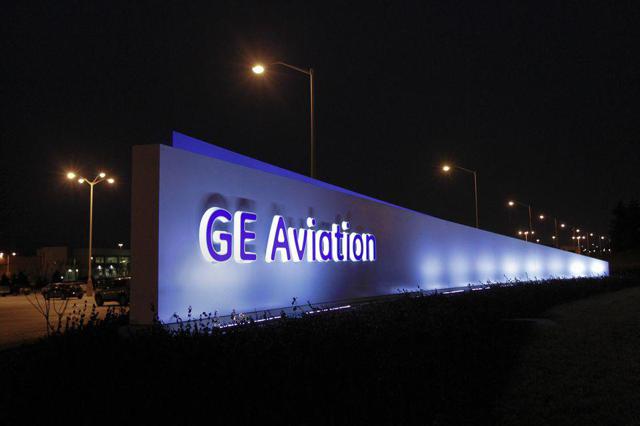 In a recent article, I provided my thoughts on General Electric's (NYSE:GE) Q4 2015 earnings results and highlighted the fact that the company still has great long-term prospects in place. General Electric reported Q4 2015 earnings that were above expectations (beat the consensus EPS estimate of $0.49 by $0.03/share, or 6%), and more importantly, management reaffirmed the estimated 2016 operating EPS range of $1.45-$1.55.
It was not all good news, as Q4 2015 revenue came in short of expectations and several industrial segments reported declining operating results in a quarter that could rightfully be labeled as a "tough operating environment". For example, three industrial segments (Renewable Energy, Oil & Gas, and Healthcare) reported YoY declines in both quarterly revenue and operating profit.
In my opinion, the Q4 2015 results were encouraging when taking into consideration the negative FX impact, global concerns, and the downturn in the oil & gas industry. Furthermore, there was one segment that has reported improving results throughout 2015, and Q4 2015 was a strong finish to the year. The Aviation segment has been flying high, and the impressive performance will likely continue in 2016.
A Deeper Dive --The Aviation Segment
For full-year 2015, Aviation accounted for 23% and 31% of General Electric's total industrial segment revenues and profit, respectively. This compares to 22% (revenue) and 28% (profit) for full-year 2014.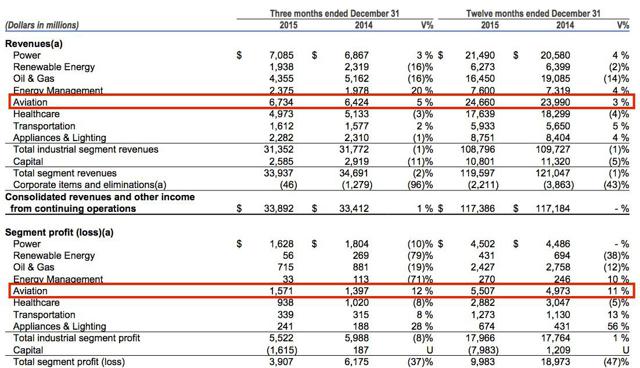 (Source: Q4 and Full-Year 2015 Press Release)
As shown, Aviation's full-year 2015 revenue and profit were up 3% and 11%, respectively. This segment is quickly becoming more important to the General Electric's industrial operating results, as not only is the segment reporting better results but other industrial segments are struggling in the current environment, with the Oil & Gas segment being a good example.
For Q4 2015, Aviation reported increases in revenue (5%) and profit (12%), while also increasing the operating margin by 1.6 pts.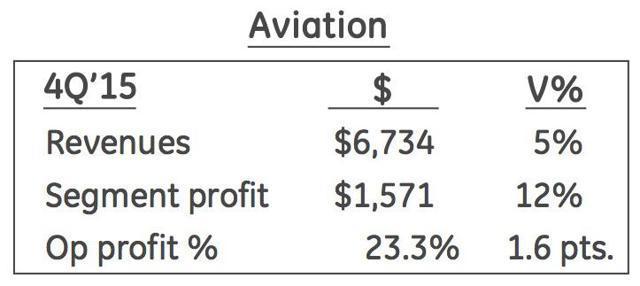 (Source: Q4 and Full-Year 2015 Earnings Presentation)
Aviation finished the fiscal year with a strong fourth quarter, but even more important is the fact that the Q4 2015 results were an improvement over the fourth quarters of 2013 and 2014 (full disclosure: General Electric's earnings results are typically volatile throughout the year with the fourth quarter being stronger than the other quarters).
I created the tables below to highlight the improving operating results for Aviation, and to show just how impressive the Q4 2015 results were for this segment.
| | | | | | | | |
| --- | --- | --- | --- | --- | --- | --- | --- |
| ($ in millions) | Q4'15 | Q3'15 | Q2'15 | Q1'15 | | Q4'14 | Q4'13 |
| Revenue | $6,734 | $6,001 | $6,252 | $5,674 | | $6,424 | $6,170 |
| | | | | | | | |
| Segment profit | $1,571 | $1,353 | $1,269 | $1,314 | | $1,397 | $1,251 |
| | | | | | Avg. | | |
| Operating profit % | 23.3% | 22.5% | 20.3% | 23.2% | 22.3% | 21.7% | 20.3% |
Q4'15

vs. Q4'14

$ Chg
% Chg
Revenue Chg
$310
5%
Segment Profit Chg
$174
12%
Q4'15

vs. Q4'13

$ Chg
% Chg
Revenue Chg
$564
9%
Segment Profit Chg
$320
26%
(Source: Data from Earnings Presentations for Q4'15, Q3'15, Q2'15, Q1'15, Q4'14, and Q4'13; table created by WG Investment Research)
The most important observation to be made from the tables is the fact that Aviation's Q4 2015 operating profit margin (23.3%) is higher than the average profit margin for full-year 2015 (22.3%), and higher than the margins for both Q4 2014 and 2013 (21.7% and 20.3%). Management has significantly grown Aviation's top-line while also cutting costs and becoming more efficient. Going forward, the industrial operating results will be materially impacted in a positive way if management is able to continue this trend.
Additionally, management took time during the Q4 2015 conference call to describe the market opportunity for Aviation and to explain why they believe that 2016 will be a good year for the segment. Below are a few quotes made by Mr. Jeffrey Immelt, CEO and Mr. Jeff Bornstein, CFO during the conference call:
".....global passenger air travel continues to grow robustly up 6.7% November year-to-date both domestic and international markets are strong, particularly in the Middle East and Asia-Pacific. Air freight volume grew 2.3% November year-to-date."

"The Aviation team delivered another solid execution year, for the year revenues grew 3%, operating profit grew 11% and margins expanded 160 basis points. Our share on each of our engine platforms is very strong and a LEAP launch remains on track for mid-year. We expect another solid year from David Joyce and the team at Aviation."

--Both quotes were made during the review of the quarterly results by Mr. Bornstein
This next quote was made by Mr. Immelt in response to a analyst question related to China concerns:
"....I don't think macro anymore when I talk about China I think micro. I think about aviation, healthcare, power, mining that's how I think everybody is got to start thinking about China. Now aviation remains super strong right...... So our team I think has seen some signs of stabilization there. That to me is the swing or let's say on China, but aviation is super strong even today."
Yes, it is a tough operating environment for many of General Electric's industrial segments but there is indeed a market opportunity for Aviation to continue to grow its business (especially in China). The Aviation team delivered a strong quarter, but the segment's order book was nothing to brag about.
Orders
The orders results is an area where Aviation was negatively impacted by the operating environment. For Q4 2015, Aviation reported $6.8b in orders ($2.8b in equipment and $4.0b in services) and this was a 16% YoY decline.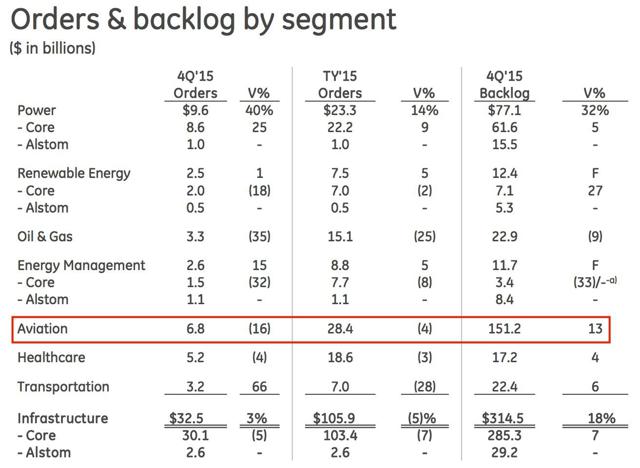 (Source: Q4 and Full-Year 2015 Supplemental Data)
The Aviation orders were largely pulled down by the 47% decline in commercial engine orders. Management mentioned that they expected a YoY decline, as Q4 2014 was a tough comp to compete against (the prior quarter's Aviation orders were up 15%, and the commercial equipment orders were up 8% --see Q4 2014 supplemental data). For the good news, the high-margin business, services orders, increased 9% YoY.
Bottom Line
To start, one segment performing well does not materially move the needle for General Electric but Aviation's performance is encouraging to see in this environment. One thing to listen for going forward is any commentary from management related to a change in the business environment as it relates to Aviation, because Boeing (NYSE:BA) recently reported and provided 2016 guidance that was below expectations. It is important to note that management reiterated the fact that they expect another strong year from Aviation in 2016. Boeing anticipating results below expectations does not necessarily translate into General Electric's Aviation segment being negatively impacted in the current year. However, this is something to closely monitor.
Overall, the Q4 2015 results were mixed. Not good enough to push the stock price significantly higher, but also not bad enough to cause a sell-off (shares are basically flat since the company reported earnings). GE shares are currently fairly valued (see linked article above for more on valuation), but the company has great long-term prospects in place that will lead to capital appreciation through 2018.
The Alstom (OTCPK:ALSMY) acquisition is a game changer that will pay long-term dividends, and the shift to a more industrial-focused company will create shareholder value in the years ahead. GE shares will likely face downward pressure if the broader market continues to sell-off, but any significant sell-off should be considered a buying opportunity for long-term investors.
If you found this article to be informative and would like to hear more about this company or any other company that I analyze, please consider hitting the "Follow" button above.
Disclaimer: This article is not a recommendation to buy or sell any stock mentioned. These are only my personal opinions. Every investor must do his/her own due diligence before making any investment decision.
Disclosure: I am/we are long GE.
I wrote this article myself, and it expresses my own opinions. I am not receiving compensation for it (other than from Seeking Alpha). I have no business relationship with any company whose stock is mentioned in this article.