Last week Jamba Juice (NASDAQ:JMBA) announced the acquisition of Talbott Teas, a Chicago-based premium tea company, recently profiled on ABC-TV's Shark Tank.
Few details of the transaction are available at the moment, but the obvious ratio behind the acquisition seems to be the desire to complete Jamba Juice's product offering through the introduction of a premium tea category that is aligned with Jamba's focus to quality, 100% natural ingredients with no artificial flavors or preservatives. Given the fact that Jamba's major product (smoothies) has a strong summer consumption, the addition of an article with opposite seasonality may also be considered a positive.
James D. White, Jamba's CEO, declared that the move is "part of our strategy for growth through the acquisition of lifestyle specialty brands that fit well with the Jamba brand and our positioning as a leading health and wellness company."
Talbott Teas' products are now available online at QVC, through the Talbott Teas website as well as in specialty retailers mainly in the Chicago area. Jamba Juice intends to start offering the product throughout its locations as soon as possible.
Jamba is hopefully close to the end of a restructuring that should favorably position the company for growth in the future. The company now operates 307 owned facilities, mainly on the West Coast, and has 443 franchisees in the US, plus 19 international locations. At the end of 2011, Jamba had 10 license agreements in place, including one with Nestlé (OTCPK:NSRGY), with roughly 30,000 points of retail distribution selling its branded products.
While Jamba is mainly famous for its core Smoothie offering, the company has introduced several other items, like frozen yogurt and breakfast wraps, in an effort to complete its offering and increase the average check. The company targets a 30% attachment rate for a beverage with another item (currently at roughly 20%). Adding premium teas to its menu seems an interesting move that puts the company in more direct competition with other players. The name of the game, recently, seems increasing customer choice, as Starbucks (NASDAQ:SBUX) also moved into the juice business through the acquisition of Evolution Fresh Inc. for $30 million, and added beer and wine at some of its locations.
Jamba's move may also signal that the company is now ready to go on the offensive, having finally completed its re-franchising effort that lead to a decrease in revenues, but also to a healthier balance sheet. Here is a brief chart showing how the company lost between 10% to 20% in Y/Y revenues in the last two years, while moving to a better margins licensing and franchisee business model.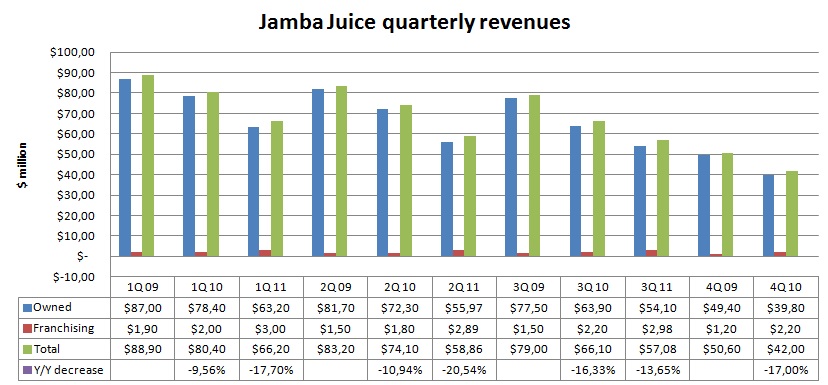 While the immediate impact of the Talbott Teas acquisition on revenues may not be very large, it could certainly represent another move in the right direction of building a more complete product offering, both for its own shops and for its licensing platform.
The recent addition of JambaGO, a mini smoothie shop concept that will be targeting elementary, middle, and high schools and college campuses as possible locations, seems also another indication that the company is not simply looking at improving its same-store sales, but targeting every possibility to make its brand more visible and increase revenues.
Given the expected size of the markets that the company is targeting, a new margin rich business model, the new management's recent track record and today's limited market cap, Jamba could certainly represent an interesting story to follow in the next few years.
Disclosure: I am long JMBA.