Oil prices have run higher this week on rumblings around OPEC and the potential for production cuts between it and Russia. In recent reports, I proposed an OPEC put was in place as a result, setting a floor for oil prices. But as this story fades and is questioned, I expect the firmness of this floor to be tested. Oil prices should fall toward $30 again and likely breach it as market confidence in action wanes. At $30, I expect rhetoric to pick up pace again, and by $25, emergency action on production cuts to occur.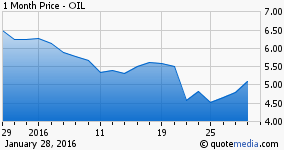 See The OPEC Put - Sets a Floor for Oil Prices for background and reference links.
When oil breached the $30 mark, we started to hear rumblings around OPEC about the possibility of an emergency meeting to cut oil production. The Nigerian oil minister seemed to give away OPEC's price target for oil in comments indicating discomfort under $30. Oil rose on the news and indication, but the story was quashed the next day as reporters queried other oil ministers at the same conference. It became clear that some members of OPEC were asking for an emergency meeting, but that formal discussions had not yet occurred.
The story erupted again more recently as oil again tested the $30 mark. This time we noted more interest from a growing group of OPEC members, and recognition by leading members of OPEC. The Russian energy head was also asked about the possibility of cooperation, and he responded that it was a possibility. No formal meetings were scheduled, but something appeared to be in the works. The Qatar head of OPEC indicated the issue was being evaluated.
Given the rumblings, and the growing intensity of them around the $30 mark, I determined these cracks in the cartel were indicative of a downside limit for OPEC. Thus I said an OPEC put was in place, with a soft floor at $30 and more solid footing somewhere near $25 in my opinion. In other words, when oil approaches $30 we should see some movement toward action, but if oil breaches the level and approaches $25, we'll likely see OPEC call an emergency meeting and cut production. The impoverished members of OPEC simply cannot withstand lower pricing. I do not believe Saudi Arabia can starve OPEC members for the sake of defending market share from America?
Over the last two days, we've started to see critical analysis of the OPEC issue. Several news reports are questioning it, pointing to distrust between OPEC and non-OPEC members and other reasons. But I respond, at a certain price point there is incentive enough for cooperation no matter the concerns or the history.
It's important to realize that when lip service alone can move the price of oil, producers like Russia are less likely to actually act. However, as doubt intensifies, faith in the prospect of action will fade. For this reason, and the fact that any emergency meeting would not occur until February or even March without severe and swift price decline, according to my references, oil prices should come back down off their latest heights.
| | |
| --- | --- |
| Energy Relative Issues | Week-to-Date (thru 11:40 AM Friday) |
| SPDR S&P 500 (NYSE: SPY) | +0.3% |
| iPath S&P GSCI Crude Oil (NYSE: OIL) | +2.7% |
| United States Oil (NYSE: USO) | +1.3% |
| Energy Select Sector SPDR (NYSE: XLE) | +1.5% |
| SPDR S&P Oil & Gas E&P (NYSE: XOP) | +3.1% |
| Market Vectors Oil Services (NYSE: OIH) | +3.6% |
| Exxon Mobil (NYSE: XOM) | -0.2% |
| BP p.l.c. (NYSE: BP) | +4.8% |
| EOG Resources (NYSE: EOG) | +5.7% |
| Baker Hughes (NYSE: BHI) | +3.4% |
I expect we will test the OPEC put, and oil prices will again drift toward $30 and fall through it, with the beginnings of that move possibly starting today. Next week, I would expect it to pick up steam, taking oil toward its previous lows. OPEC and Russia will likely then face the test with more rhetoric, and depending on price action, emergency action. I do expect the OPEC put to eventually be exercised and investor doubts in it to be exorcised. I cover markets closely and invite relative parties to follow my column here at Seeking Alpha.
Disclosure: I am/we are short USO.
I wrote this article myself, and it expresses my own opinions. I am not receiving compensation for it (other than from Seeking Alpha). I have no business relationship with any company whose stock is mentioned in this article.