Stock assets are at a collective crossroads. The reasons to go higher? Federal Reserve determination to force investors as well as corporations out of cash with their zero-percent rates and a 7%-plus earnings yield (E/P) for the S&P 500. According to Bloomberg, the spread between the earnings yield and the 2% offered by the 10-year Treasury bond is the widest ever recorded since the data have been tracked (1962).
Of course, there are plenty of reasons for bears to don their caps. The U.S. economy — the world's largest — hasn't experienced a weaker post-recession recovery in GDP since the 1940s. Europe's service sector is already flashing contraction signals with a recessionary PMI below 50. And there's simply no sugar-coating the adverse effect of soaring gasoline prices.
Since February 8, when I offered a low-risk ETN (and corresponding method) for reducing risk in portfolios, I have been expecting a pullback. It hasn't quite happened yet. Nevertheless, markets do not require much in the way of a reason to sell off. (In other words, even a perma-bull should anticipate corrective activity of 5%.)
The question then becomes… what might be attractive in a flight from riskier assets? I've got my eye on China.
Keep in mind, The People's Bank of China explained that it would lower bank reserve requirements by 50 basis points on February 24. What's more, HSBC's China manufacturing index (preliminary) only rose from 48.8 in January to 49.7 in February. The fact that the number is still below the 50-level suggests that the Chinese central bank may loosen credit further. In fact, mainland Chinese shares jumped nearly 1% on the report.
All that said, I'm digging even deeper. I'm considering the impact of a soft landing for China's economy such that its rare earth metal production comes into play.
Unlike the reflation that we've been seeing in stocks, oil and precious metals, hard asset producers haven't felt the same amount of love. On the other hand, Xinhua reported today that China is developing a 5-year plan for its new materials industry. Specifically, officials at the Ministry of Industry and Information Technology explained that, "the government will make full use of its rare earth resources to expand the industrial scale of new materials made with rare earth."
But that's not all. Chinese exporting of rare earth metals (REM) may be impacted by the reality that China is planning to rapidly expand REM in its own manufacturing and high-tech industries. In particular, with China's plan to promote is rare earth application rate in high-end manufacturing to 70% by 2015, there may not be enough REM supply for the world at large.
True, rare earth supply shortage paranoia has made the rounds before. That said, even a technical analyst would have to like the recent momentum for Market Vectors Rare Earth Metals (NYSEARCA:REMX). The current price is furthest above its near-term 50-day trendline in 10 months. And for the first time in 9 months, the price ratio of REMX:$SPX is holding above a 50-day moving average as well.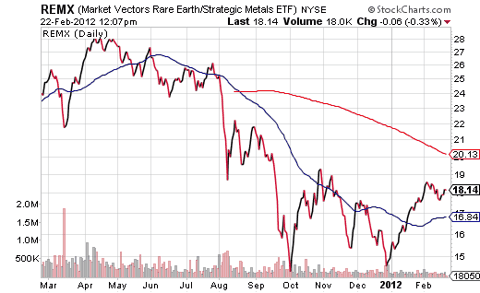 Disclosure: Gary Gordon, MS, CFP is the president of Pacific Park Financial, Inc., a Registered Investment Adviser with the SEC. Gary Gordon, Pacific Park Financial, Inc, and/or its clients may hold positions in the ETFs, mutual funds, and/or any investment asset mentioned above. The commentary does not constitute individualized investment advice. The opinions offered herein are not personalized recommendations to buy, sell or hold securities. At times, issuers of exchange-traded products compensate Pacific Park Financial, Inc. or its subsidiaries for advertising at the ETF Expert web site. ETF Expert content is created independently of any advertising relationships.