After a poor 2015, Time Warner (NYSE:TWX) has started the new calendar year in strong fashion having risen about 10% from last year's closing price. The stock suffered last year to conflated fears surrounding the ongoing threat of digital content distribution to the traditional television advertising and subscription model as well as the lowered earnings guidance for 2016 reported in November. The latter reflects Time Warner's plans to bump investment into programming in this fiscal year, but the former is something that weighed heavily on all media companies, and in particular after Disney (NYSE:DIS) announced losses in subscribers for ESPN. While it's undeniable that cord-cutting is posing a threat to the current subscriber/advertising model as users migrate to lower priced digital packages from the likes of Amazon (NASDAQ:AMZN) and Netflix (NASDAQ:NFLX), the threat this poses to Time Warner seems to be overblown for a few reasons.
Time Warner: Breaking it Down
Firstly and most obviously is that Time Warner's revenue mix naturally leaves it in a better place to deal with the ongoing changes in content distribution. The company consists of three divisions: Turner, HBO and Warner Bros.
The Turner segment, which made up just under 40% of revenue in the first three quarters of 2015, is the media network arm of the company with the majority of revenue coming through subscriptions. Importantly, the vast majority of Turner's revenue comes from just four networks (Cartoon Network, CNN, TNT, and TBS), which will naturally make it more attractive to smaller packages, and the mix towards subscription revenue over ads means the company can at least experiment with cutting advertisements drastically compared to other providers in order to appeal to viewers. Those who have higher exposure directly to TV advertising revenue will face higher risk. That's of course before mentioning the popularity of Turner's offerings and the flexibility in other measures, such as the potential to increase rates in the face of declining cable users.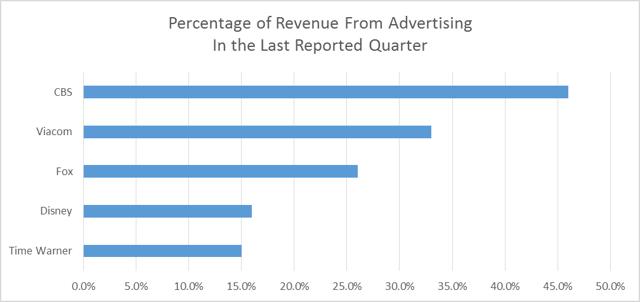 These factors will provide relief, but the wider trend problems remain, especially among younger viewers, who are increasingly "cord-nevers" rather than cord-cutters. Here the company can look to the future growth potential of HBO, which remains significant, as well as the Warner Brother's division, whose feature film and video games provide some diversification in any case. If content is king, and judging by Netflix's aggressive plans for its own original content it certainly is, HBO is one of the contenders for the crown in terms of quality and popularity of its offerings (just think Game of Thrones and Sopranos for example). In 2015, HBO received 43 Primetime Emmy Awards, a new record and the most for any single network. In this sense investment into HBO programming is a no-brainer and is necessary anyway to compete with a growing Netflix subscriber base and growing push to original content. If the cord-cutting phenomena does indeed develop into a generational snowball effect then the company can easily explore some integration of HBO and Turner which has so far been resisted.
Fundamentals Remain Relatively Strong
Over the past five years the fundamentals of the underlying business have largely been strengthened, mainly due to margin expansion. The company's five-year average operating margin compares favorably to their immediate peers with the trailing twelve month number coming in at nearly 26%.
While the increasing margin has been primarily driven by cost cutting it does also give them scope to retain more for investment in original content for their growing HBO division for example, which seems to be the direction the company are taking judging by management comments. Importantly in that respect is to break down the total group margin by segment and doing so shows that their strongest division (at least in terms of operating margin) is actually HBO, with the Q3 2015 figure registering 38%. This bodes particularly well both in terms of the cord-cutting/cord-never fears since HBO is probably going to be the driver of future growth as more content moves online, and there is significant scope to sacrifice some of the higher margins here and in the Turner division in order to go after top-line growth for the company. While the Warner Brother's segment is the lowest margin division it has also showed impressive growth, with an encouraging film line-up including Batman v Superman: Dawn of Justice and Suicide Squad to come in 2016.
Looking at cash flow, and unsurprisingly the company is a cash cow, with a very stable five year free cash flow margin that is comfortably in double digits and cash return on invested capital (CROIC) that has increased every year since 2010. This reflects well on the growth in free cash flow (up 35% since 2010 at a rate of 6.2% CAGR), again largely due to cost cutting measures, but at 7.8% in 2015 (i.e. about $8 per $100 of invested capital) this is lower compared to their immediate peers Disney, Viacom (NYSE:VIA) (NASDAQ:VIAB), Fox (NASDAQ:FOX)(NASDAQ:FOXA) and CBS (NYSE:CBS).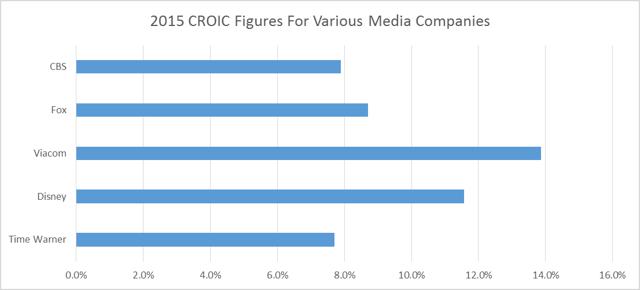 Unlocking Value
The last point throws up a "problem" in how Time Warner unlocks the significant value of its assets. Often you can use CROIC as a guide to the strength of a company's competitive advantages, but in the case of Time Warner though the question is less about the quality of their brands and content which are already top notch. The question is about how they are monetizing them, and although they are obviously very cash generative there is also a lot more potential there to go after.
With that in mind it's not that much of a surprise that larger shareholders are angling for ways to unlock that value, with everything from a total sale of the company to the spin off HBO being mentioned in financial media. It would be interesting to see what companies would bid for the whole of Time Warner, especially since former would-be-acquirer Fox now looks to be in absolutely no position to go after them. A spin-off of HBO may on the face of it seem attractive but would only go to satisfy misguided short term desires and it's hard to argue that spinning off the division with the most potential is in the long term interests of the company or shareholders. The reasoning for a spin-off has so often been on comparisons to Netflix and its market value and growth. On the face of it there is logic there when you compare Netflix's enterprise value of around $40bn to the value of the whole of the Time Warner group of $77bn (including net debt). The issue with that is two-fold. Firstly, if anything Netflix needs to be more like HBO rather than the other way around, and secondly Netflix is absurdly overvalued anyway even if it is growing faster. Shareholders would be better served in the long-run by the company investing in content in HBO and Warner Brother's and to let the distribution battle play itself out: top quality content will make money whichever way it goes. The company itself could also get aggressive and go on do acquisitions to strengthen these divisions, but there are also adequate opportunities to cross-link their existing divisions more closely.
In a media segment that has seen plenty of turbulence over the last year, Time Warner has been unfairly rocked by cord-cutting fears. Whichever way the long-term trend ultimately ends up, its effect on Time Warner's business is very much overblown. The shares currently trade at 13 times forward earnings and 15 times trailing twelve month free cash flow offering an attractive entry point even without the potential near-term catalysts moving forward.
Disclosure: I/we have no positions in any stocks mentioned, and no plans to initiate any positions within the next 72 hours.
I wrote this article myself, and it expresses my own opinions. I am not receiving compensation for it (other than from Seeking Alpha). I have no business relationship with any company whose stock is mentioned in this article.