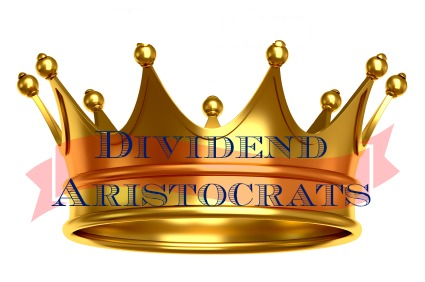 Building on the success of the ProShares S&P 500 Dividend Aristocrats ETF (BATS:NOBL), ProShares has a fund that tracks mid-cap, dividend growth stocks. The ProShares S&P MidCap 400 Dividend Aristocrats ETF (REGL) is almost a year old and currently has 18.25 million in total assets. This ETF tracks the S&P 400 Mid-Cap 400 Dividend Aristocrats Index and the holdings are re-balanced quarterly. This index is composed of companies in the S&P 400 that have consecutively increased their dividends for at least 15 years.
Here are the sector weightings: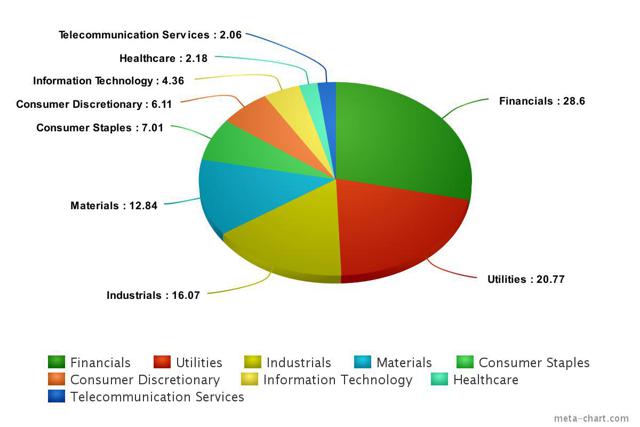 There are currently 44 holdings and they are equally weighted:
ATMOS ENERGY CORP (NYSE:ATO)
NATIONAL RETAIL PROPERTIES INC (NYSE:NNN)
BLACK HILLS CORP (NYSE:BKH)
AQUA AMERICA INC (NYSE:WTR)
WGL HOLDINGS INC (NYSE:WGL)
FEDERAL REIT (NYSE:FRT)
LANCASTER COLONY CORP (NASDAQ:LANC)
RENAISSANCERE HOLDINGS LTD (NYSE:RNR)
STANCORP FINANCIAL GROUP INC (NYSE:SFG)
OLD REPUBLIC INTL CORP (NYSE:ORI)
APTARGROUP INC (NYSE:ATR)
MSA SAFETY INC (NYSE:MSA)
BEMIS CO INC (NYSE:BMS)
ALBEMARLE CORP (NYSE:ALB)
TOOTSIE ROLL INDUSTRIES INC (NYSE:TR)
GRACO INC (NYSE:GGG)
QUESTAR CORP (NYSE:STR)
VALSPAR CORP/THE (VAL)
OWENS & MINOR INC (NYSE:OMI)
CARLISLE COS INC (NYSE:CSL)
UGI CORP (NYSE:UGI)
A. O. SMITH CORP (NYSE:AOS)
COMMERCE BANCSHARES INC (OTC:CBSH)
SONOCO PRODUCTS CO (NYSE:SON)
BROWN & BROWN INC (NYSE:BRO)
MEREDITH CORP (NYSE:MDP)
DONALDSON CO INC (NYSE:DCI)
VECTREN CORP (NYSE:VVC)
LINCOLN ELECTRIC HOLDINGS INC (NASDAQ:LECO)
CLARCOR INC (NYSE:CLC)
CDK GLOBAL INC (NYSEARCA:CDK)
TANGER FACTORY OUTLET CENTERS INC (NYSE:SKT)
RPM INTL INC (NYSE:RPM)
MDU RESOURCES GROUP INC (NYSE:MDU)
MERCURY GENERAL CORP (NYSE:MCY)
NATIONAL FUEL GAS CO (NYSE:NFG)
TELEPHONE AND DATA SYSTEMS INC (NYSE:TDS)
FACTSET RESEARCH SYSTEMS INC (NYSE:FDS)
NORDSON CORP (NASDAQ:NDSN)
JOHN WILEY & SONS INC (NYSE:JW.A)
EATON VANCE CORP (NYSE:EV)
SEI INVESTMENTS CO (NASDAQ:SEIC)
CULLEN/FROST BANKERS INC (NYSE:CFR)
POLARIS INDUSTRIES INC (NYSE:PII)
This next chart compares the performance of REGL to the overall S&P 400 mid-cap index: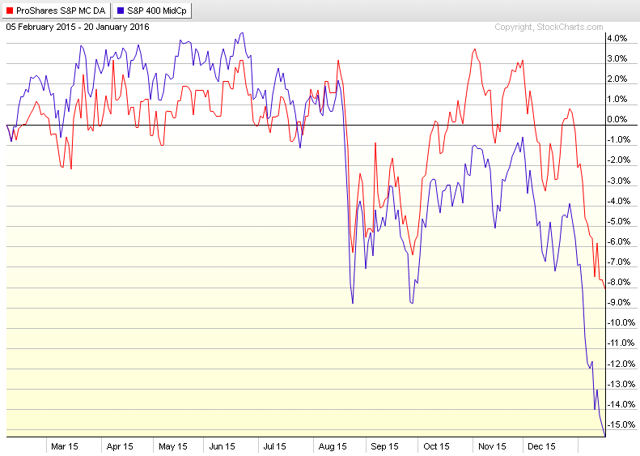 REGL did outperform the broader index but it has only been around for one year, so I don't put too much emphasis on these comparative results. Next, let's look at how REGL stacks up against it's competition:
| | | |
| --- | --- | --- |
| Fund | Yield | Expense Ratio |
| REGL | 1.54% | |
| iShares S&P Mid-Cap 400 Value ETF (NYSEARCA:IJJ) | 1.96% | 0.25% |
| SPDR S&P 400 Mid Cap Value ETF (NYSEARCA:MDYV) | 2.33% | 0.15% |
| Vanguard S&P Mid-Cap 400 Value ETF (NYSEARCA:IVOV) | 2.12% | 0.20% |
| Guggenheim S&P MidCap 400 Pure Value ETF (NYSEARCA:RFV) | 1.79% | 0.37% |
| First Trust Mid Cap Growth AlphaDEX ETF (NASDAQ:FNY) | 0.51% | |
| Vanguard Mid-Cap Growth ETF (NYSEARCA:VOT) | 0.81% | |
| Guggenheim S&P Mid-Cap 400 Pure Growth ETF (NYSEARCA:RFG) | 0.61% | |
| WisdomTree MidCap Dividend ETF (NYSEARCA:DON) | 2.81% | |
| SPDR S&P 400 Mid Cap Growth ETF (NYSEARCA:MDYG) | 1.70% | |
| iShares Morningstar Mid-Cap Growth ETF (NYSEARCA:JKH) | 0.43% | |
| iShares Russell Mid-Cap Growth ETF (NYSEARCA:IWP) | 1.09% | |
| iShares S&P Mid-Cap 400 Growth ETF (NYSEARCA:IJK) | 1.02% | |
| Vanguard S&P Mid-Cap 400 Growth ETF (NYSEARCA:IVOG) | 1.12% | |
| PowerShares Fundamental Pure Mid Cap Growth Portfolio ETF (NYSEARCA:PXMG) | 0.73% | |
REGL is the only ETF that is centered on the dividend growth strategy, while the rest use other growth-oriented factors with less focus on consecutively rising dividends. I personally agree with the dividend growth strategy wholeheartedly, but I'm extremely critical of expense ratios when looking at any ETF, which leaves me not loving REGL very much.
If the goal is achieving a high yield through mid-cap stocks, then WisdomTree's DON would be the best choice, with a yield of 2.81% and an expense ratio of .38%.
So if the goal is to find the optimal ETF for mid-cap growth, then the best options are VOT, MDYV, and MDYG. This is mainly due to the low expense ratios of .09% and .15% which is quite a bit lower than the .30% of REGL. Expense ratios should be a high priority as it will eat away your returns if you settle for sub par expenses, especially if you are investing for the long-term as most dividend growth investors certainly are. As much as I love the dividend growth strategy, REGL is not worth it to me because of the expense ratio, so the value and growth ETFs such as VOT, MDYV, and MDYG would make better choices. The stocks selected by value factors can end up being dividend growers in the long run, so the value strategy is often compatible with dividend growth investing. In addition, the volume of REGL is very low so far (2,148 annual volume), and that is not a good sign. If only Vanguard or Schwab (NYSE:SCHW) would have released a series of low-cost, dividend growth ETFs then I would be very excited, but ProShares choice of funds for dividend growth could be better, even though I embrace the principle of dividend growth investing.
Disclosure: I/we have no positions in any stocks mentioned, and no plans to initiate any positions within the next 72 hours.
I wrote this article myself, and it expresses my own opinions. I am not receiving compensation for it (other than from Seeking Alpha). I have no business relationship with any company whose stock is mentioned in this article.