With so many mixed earnings results and dividend cuts lately, wouldn't it be swell to find some high dividend stocks actually growing earnings and increasing their dividends?
We've written about GasLog Partners MLP (NYSE:GLOP) in some of our previous articles. Like many dividend stocks related to energy, the market has given GLOP a very cold shoulder over the past year.
However, that just changed this week when GLOP jumped over 18% after it reported strong earnings, so now it has actually outperformed the S&P 500 over the past month and year-to-date.

GLOP owns eight LNG (Liquefied Natural Gas) carriers that operate under long-term charters with subsidiaries of BG Group. GLOP also has options and other rights under which it may acquire additional LNG carriers from GasLog Ltd.

(Source: GLOP website)
Fleet: GLOP's fleet is currently contracted out long term, with expirations from May 2018 to December 2020, plus additional extension options, which most likely will be renewed due to oncoming LNG volume and LNG vessel shortages in the next few years.

Distributions: GLOP's management announced its Q4 distribution this week - it goes ex-dividend on 2/4/16.

You can track GLOP's price and current dividend yield in the Energy section of our High Dividend Stocks By Sector Tables.
Distribution Coverage rose to a very impressive 1.43x in Q4 thanks to robust DCF growth. Management increased the distribution by 10% for Q3 2015 and maintained it for Q4 2015: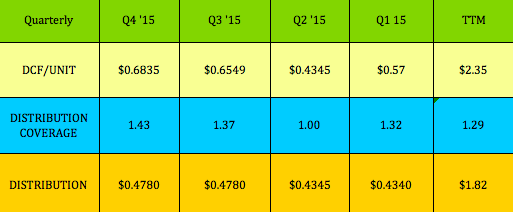 GLOP's management has done a good job of growing DCF and the distribution coverage ratio since the IPO: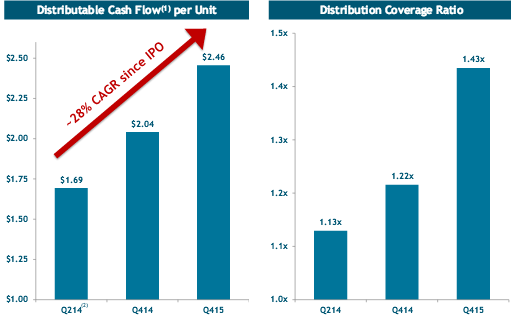 (Source: GLOP website)
Options: GLOP doesn't yet have options available, but we do track over 30 other option-selling trades in our Covered Calls Table and our Cash Secured Puts Table.
Earnings: In its first full year since its 2014 IPO, GLOP has put up some strong growth numbers over the past four quarters - over 75% revenue growth, over 70% adjusted EBITDA growth, and over 166% DCF growth: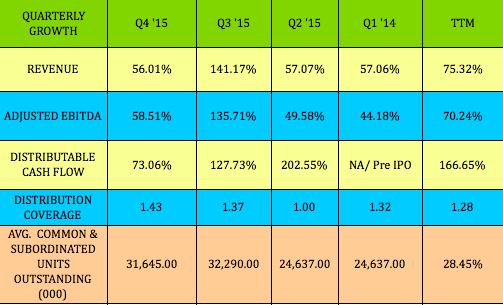 GLOP reported record revenues, adjusted EBITDA, and DCF in Q4: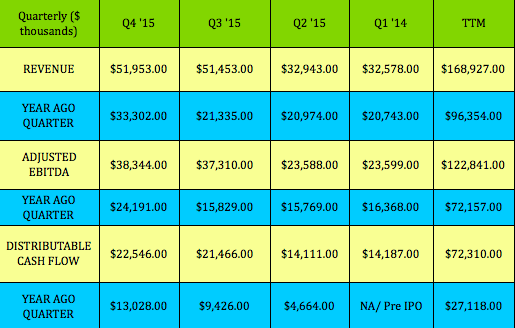 How'd they do it? As they added dropdown vessels, which were accretive, revenues, adjusted EBITDA and DCF rose substantially: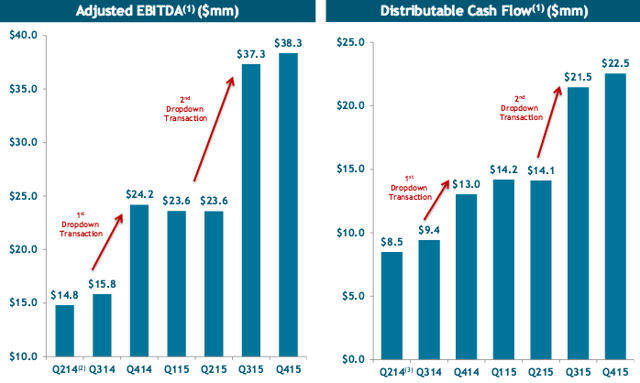 (Source: GLOP website)
What about future growth? GLOP has acquisition options on 12 more vessels from GasLog's fleet. The dark blue represents the current contract length and the teal represents contract extension options for GLOP's current fleet and these available dropdown vessels: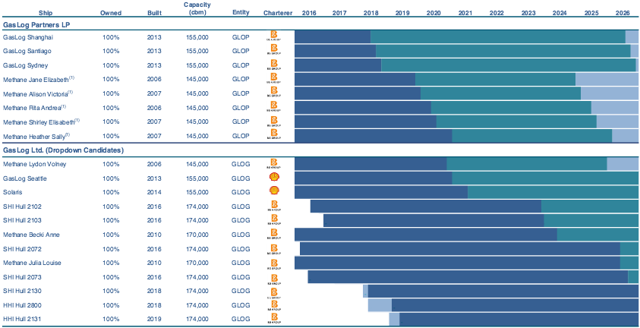 (Source: GLOP website)
Analysts' Targets: After its $2-plus rise on 1/28/16, GLOP is currently above analysts' low price target of $13.00. However, it's still over 64% below their mean price target of $23.13.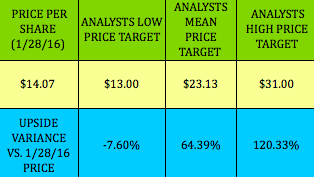 Valuations: This table compares some of GLOP's valuations vs. two other stocks we've written about - Golar LNG Partners (NASDAQ:GMLP) and Dynagas LNG Partners (NYSE:DLNG). As you can see, these are all high dividend stocks, and they all have low price/DCF valuations with good distribution coverage ratios. GLOP has the added attraction of being very cheap on a price/book basis.

Financials: GLOP doesn't win in the ROA/ROE/ROI or operating margin categories, (although a 51% operating margin is still pretty impressive), but it does have one winning valuation - its debt/equity ratio is much lower. In fact, it reduced its debt by over $30M in the fourth quarter.

Capital Structure: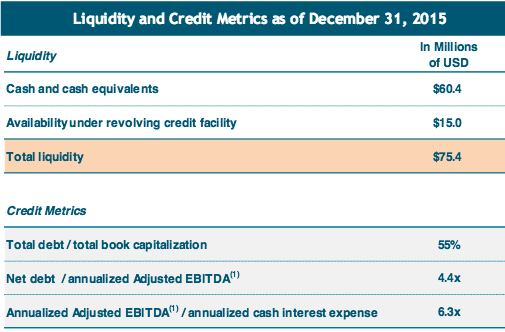 GLOP's management is currently negotiating the refinancing of its 2016 debt maturities and expects to close the deal in Q1 2016: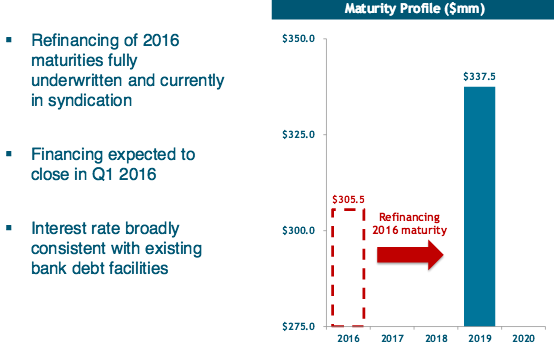 (Source: GLOP website)
All tables furnished by DoubleDividendStocks.com, unless otherwise noted.
Disclaimer: This article was written for informational purposes only. Please practice due diligence prior to investing in any stocks mentioned in this or any other of our articles.
Disclosure: I am/we are long GLOP, DLNG, GMLP.
I wrote this article myself, and it expresses my own opinions. I am not receiving compensation for it (other than from Seeking Alpha). I have no business relationship with any company whose stock is mentioned in this article.